Jennifer Lines and Andrew McNee in The Taming of the Shrew. (photo by Tim Matheson)
Bard on the Beach celebrates its 30th season with an eclectic, nontraditional mix of three Shakespeare plays – a western Taming of the Shrew, a Bollywood All's Well that Ends Well and Coriolanus, a political drama with gender reversal – and a stage version of the Oscar-winning movie Shakespeare in Love.
A Western-style Shrew
How do you present Shakespeare's tale of a strong-willed woman brought to her knees by a tormenting husband in today's #metoo world? Can you justify staging a misogynistic play in the 21st century? That was the dilemma facing director Lois Anderson, who played the female lead in 2012. Her solution? Take some liberties with the script – nip it here, tuck it there, add in some role and speech reversals, set it in the American Wild West of the 1870s. While purists may bemoan the surgery, there is a lot to like about this production.
In Shrew, Lucentio (Kamyar Pazandeh), the son of a wealthy merchant from Pisa, comes to Padua to study and is smitten by Bianca (Kate Besworth), the lovely younger daughter of Madam Baptista (Susinn McFarlen). He is resolved to marry her but the good Madam insists that her older daughter, Katherine (Jennifer Lines), must be married off first. Unfortunately, Kate has the reputation of being an über shrew and none of the local men sees her as wife material. Enter Petruchio (Andrew McNee), a down-on-his-luck Veronan who has come to Padua to "wife it wealthily" and sees Kate (and her dowry) as both a challenge and an answer to his prayers.
Their first meeting is a fiery battle of evenly matched wits and an insight into things to come as the "taming" journey begins from a spontaneous marriage proposal, through the outlandish wedding to the honeymoon in a canvas tent on the range. The scene with Petruchio's men lounging around the campfire singing in harmony about tumbleweed is a harbinger of Kate's metamorphosis from the shrew to the good wife.
Meanwhile, back in Padua, now that Kate has been married off, Bianca's admirers are set to woo her. Lucentio and Hortensio (Jewish community member Anton Lipovetsky) disguise themselves as tutors to vie for her affections. Lucentio wins the battle of the swains, the couple elopes and Hortensio consoles himself by marrying a wealthy widow. Kate and Petruchio return to Padua to celebrate the nuptials and a wager is made among the three grooms as to which wife will be the most obedient and come when called. Although Kate is the one who appears to obsequiously respond, she makes her final exit with a bang.
Lines is stellar as Kate. We see her feisty side when she lassoes her sister Bianca and drags her around the room, when she throws a flowerpot out of a window onto a mocking crowd below and when she breaks a lute over Hortensio's head – Lipovetsky plays the part with great comedic timing. We also see Kate's more vulnerable side, as she sits alone contemplating her spinsterhood and what is, in essence, the bullying she endures from the townsfolk.
Petruchio's character has been made into a kinder, gentler soul, more palatable to today's sensibilities, but the nice guy doesn't always mesh with the mean one Shakespeare wrote. That said, McNee is strong in his portrayal and you cannot help but like him. It helps that the chemistry between the two leads is palpable – their characters are outsiders who have finally found their soul mates and revel in the discovery.
The production values are high for Shrew. Mara Gottler has done a stellar job with the costumes, the colourful frocks worn by the women, the cowboy dusters and the urban togs of the localites. Cory Sincennes' set is simple, with the opening scene of Padua City's main street readying for a summer fête easily morphing into the Baptista sitting room or a saloon. Gerald King's lighting design and Malcolm Dow's western sound design, replete with sounds of galloping horses in a very funny pony express scene, complete the theme.
This Shrew is certainly worth seeing but it would have been better with the original script, acknowledging the culture of the Elizabethan period regarding the treatment of the "fairer" sex and opening the dialogue about how far women have come in the past 400 years and how much further there is to go. After all, you don't take the antisemitism out of Merchant of Venice or the elder abuse out of King Lear – and you should not take the misogyny out of The Taming of the Shrew. Shakespeare's works, warts and all, should be looked at through a 16th-century lens, not a modern one.
The Bard in India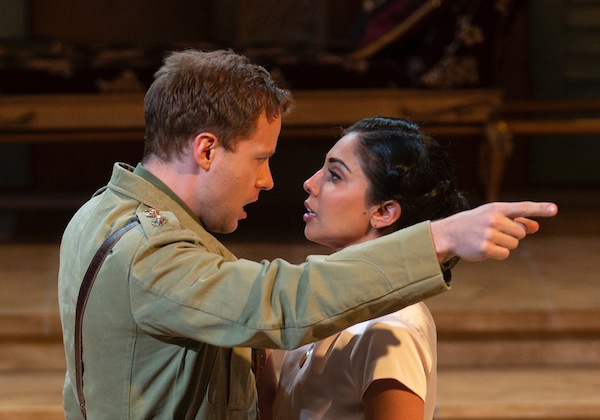 All's Well that Ends Well defies classification into one of Shakespeare's genres – comedy or tragedy. Bard on the Beach plays it as the former and it pays off, with an audience-pleasing feast of colour, music, bhangra dancing and swordplay.
The setting is 1946 India in a country on the cusp of independence from British rule prior to the partition with Pakistan, which divided the country into Hindu and Muslim nations. The story revolves around Helena (Sarena Parmar), an upper-class Hindu physician's daughter and ward of the aristocratic British Countess (Lucia Frangione), who falls in love with the Countess's soldier son, Bertram (Edmund Stapelton). Bertram is dismissive of Helena, considering her beneath his station.
However, Helena is determined to have him. The Viceroy (Bernard Cuffling) is ailing and near death. Helena, remembering her now-deceased father's various remedies, offers to treat the Viceroy in exchange for the right to marry any man of her choosing. But, while she gets her wish and Bertram is forced to marry her, he abandons her to go to battle. He leaves behind a letter stating that he will not live with Helena as her spouse until she retrieves a ring he is wearing and bears him a child.
In Delhi, Bertram meets virginal but coquettish Diana (Pam Patel) and seduces her (so he thinks) but Helena has previously met with her and made plans to trade places with Diana in the bed chamber. This deception allows her to meet Bertram's conditions and finally convince him that she is worthy of him – although why she would want such a cad is beyond comprehension.
Helena's journey of self-discovery is symbolized by her sartorial choices, as she changes from Western garb to a traditional sari by the end of the play, paralleling the Indian journey from colonization and British rule to independence.
It is nice to see the diversity of cast in this production and the use of Hindi dialogue, particularly by Diana's mother, the widow (Veenesh Dubois). Parmar is lovely as Helena, Cuffling a grouchy but avuncular Viceroy. David Marr as Lafeu, the minister, is hilarious and Jeff Gladstone as Parolles, one of Bertram's military mates, steals the show with his slapstick antics. Newcomer Patel as Diana is a breath of fresh air. The ensemble dancers under the direction of choreographer Poonam Sandhu and the two Gurkha guards, Munish Sharma and Nadeem Phillip, bring authenticity to the onstage movement.
This show is all about the visuals – the set, the costumes, the dancing and the lighting. Kudos to costume designer Carmen Alatorre for her stylish choices and to set designer Pam Johnson for the stunning terracotta arched set, which transitions from a palatial Delhi home to a Punjabi marketplace brimming with colour and activity. Co- directors Rohit Chokhani and Johnna Wright, with their talented cast and crew, have created a gem. This fusion of East meets West is a winner.
Fall for Shakespeare
As director Daryl Clonan – who helmed last year's hit, As You Like It, Beatlemania-style – said to the opening night crowd of Shakespeare in Love, this play is a love letter to the theatre. Not only that but it is great fun. The costumes, the acting, the set, the ambience, all do honour to its namesake 1998 film starring Joseph Fiennes and Gwyneth Paltrow. The movie took the cinematic world by storm, winning seven Oscars, including best picture, and this summer's stage version is set to wow Vancouver audiences.
The story is set in period, the early 1600s. The Bard (dashing Charlie Gallant) is suffering from writer's block as he works on a new play, Romeo and Ethel and the Pirate's Daughter. His inspiration ultimately arrives in the form of muse Viola De Lesseps (Ghazal Azarbad), the daughter of a wealthy merchant, who dreams of acting on stage. However, as women were not allowed thespian careers at that time, she has to disguise herself as Thomas Kent in order to audition for Shakespeare's new play. As Kent, she gets the part of Romeo.
Meanwhile, Shakespeare meets Viola and falls for her – and she for him, although she has been promised to Lord Wessex, a nasty fortune-hunting aristocrat who plans to whisk her away to his family's Virginia tobacco plantations.
This show has something in it for animal lovers (the dog Spot is a scene stealer), movie buffs and, of course, Shakespeare mavens, who will delight in identifying the various lines from the Bard's repertoire, the play-within-a-play, mistaken identities, swordplay, a balcony scene, an in flagrante delicto moment and more.
The ensemble cast is terrific and Gallant and Azarbad are sublime in their portrayals of the two lovers, who enjoy some steamy moments behind the bed curtains. Jennifer Lines has a small but memorable role as a regal and stately Queen Elizabeth I. Mention must also be made of newcomer Jason Sakaki, who plays Sam, the young boy who plays Juliet until opening night, when his voice changes, giving Viola a chance to tread the boards without hiding her gender. Kit Marlowe (Austin Eckert), one of Shakespeare's competitors, has been given an enhanced role in this rendering and he helps Shakespeare muddle his way through Sonnet #18: "Shall I compare thee to a summer's day…."
Four Jewish community members are involved in this production. Warren Kimmel – last seen at Bard as Shylock in The Merchant of Venice – plays Fennyman, a local impressario who takes a share in one of Shakespeare's plays and, while it is a small role, Kimmel plays it to the comedic max. Anton Lipovetsky makes the unctuous groom Lord Wessex utterly repellent, Mishelle Cuttler provides a potpourri of baroque melodies as sound designer and musical director, and Tara Cheyenne Friedenberg's work as movement coach adds energy and playfulness, as it does in The Taming of the Shrew.
Set and costume designer Cory Sincennes once again keeps the set simple, a stark sepia-coloured Globe Theatre, but goes all out on a colourful feast of costumes.
This will likely be the hit of the season.
Three of the four Bard productions are up and running; Corialanus opens Aug. 21. For the schedule and tickets visit bardonthebeach.org or call 604-739-0559.
Tova Kornfeld is a Vancouver freelance writer and lawyer.