In The Fifth Season, Shadi Habib Allah focuses on Palestinian writer and teacher Ziad Khadash, who wants his students to know what freedom feels like. (photo from Vancouver Jewish Film Centre)
The Sir Jack Lyons Charitable Trust Student Film Prize is awarded annually to two students from Jerusalem film schools. Selected by a jury, the winners receive a monetary prize and the opportunity to present their films and meet industry professionals in Canada. This year, Shadi Habib Allah and Alex Klexber are coming to Vancouver and Toronto with their award-winning short films.
The event Celebrate Jerusalem, hosted by the Jerusalem Foundation with the Vancouver Jewish Film Centre, will take place at Congregation Beth Israel on May 8, 7 p.m. It will feature the screening of Habib Allah's The Fifth Season and Klexber's HaYarkon Street and a Q&A with both filmmakers. It will also feature the screening of Avi Nesher's The Wonders, a "mystery, comedy, psychological thriller, political intrigue and romance" all rolled into one.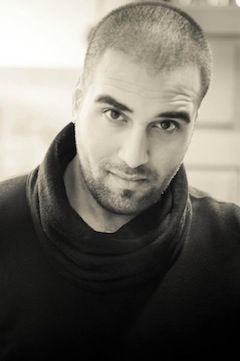 Born in Nazareth, Habib Allah received his bachelor's from the Jordan University of Science and Technology, where he studied architecture. He began his studies at the Sam Spiegel Film and TV School in 2015, and the 15-minute The Fifth Season is his first-year film. In it, Palestinian writer and teacher Ziad Khadash wants his charges to know what freedom – physical and intellectual – feels like.
At first, Khadash just wants his class to be over; he has lost his enthusiasm for teaching. He asks his students at Amin al-Husseini boys school in Ramallah to write about the difference between summer and winter, not really caring what the assignment might bring. But, for whatever reason, when a student asks why there are only four seasons, not five, Khadash becomes inspired.
Having grown up in Jalazone refugee camp, Khadash knows what it means to not be free. He notes that his mother, 68, has not ever seen the sea – his students will be more fortunate. He leads them in a mini-rebellion at the school, in which they state, "We come here as a creative generation, a democratic generation, to take over the school, to take it over for a few minutes – a cultural, intellectual, creative takeover, not a violent, armed takeover." Their demands include "no more school uniforms," "tear down the school wall," "a monthly field trip to the beach," "the right to express ourselves freely in class."
Khadash is an odd bird – for example, he doesn't believe in marriage, as it leaves no room for the imagination – but he seems like a good person, a positive role model for his students.
About The Fifth Season, the Lyons film prize jury wrote, "The film brings to the screen a teacher and educator with a unique educational approach, which the director manages to translate into a complex and rich cinematic language. Effective editing weaves together narration with staged and illustrative scenes that represent the film's protagonist, who wishes to release his students from the shackles of reality and thought, using unlimited imagination.
"The visual boldness, and the expression of freedom and liberty as universal values by cinematic means, indicate that a promising talent is evident in this debut film."
Childhood is also the focus of Klexber's four-minute film HaYarkon Street.
Born in Ukraine, Klexber is now a fourth-year animation student at the Bezalel Academy of Arts and Design. He moved with his parents to Israel at the age of 6 and grew up in Rishon Lezion, south of Tel Aviv. His short film recalls his younger days – with images drawn both from his memory and from his artwork of those early years.
With animation and other techniques, Klexber tries to recreate the HaYarkon Street neighbourhood of old, and it is both fun and touching to watch. Viewers will most certainly remember their own youthful sketches and wonder from where some of those ideas came.
"Klexber's short film movingly combines the world of imagination and reality," wrote the film prize judges. "He manages in a few minutes to create a unique world, rarely seen in Israeli cinema. With sensitivity and imagination, the director depicts a specific memory of his, but the theme and approach are universal. This is a personal story related to the Israeli experience of immigration and affinity to the place. The simple name given to the film is in fact the basis for a host of memories, ambitions and dreams.
"The prize is awarded to the film in order to encourage the director to continue exploring this world."
According to his bio, Klexber "created his first stop-motion short, Junkyard Episodes, while attending high school and also started making live action YouTube videos with his friends that became popular in Israel." During his army service, in his free time, he "continued making YouTube videos and animation shorts, including the short film The Paintbrush (2010), that combined live action and stop motion." And, he "composed original music on all his videos and short films."
Celebrate Jerusalem also features, appropriately, a film that casts the city as one of its main characters, The Wonders.
"For me, Jerusalem was a great city for film noir, for something that explored the darkest side of the human experience while trying to reach for the higher element of the human experience," said Nesher in an interview at London, England's 2014 Seret film festival, where The Wonders screened.
The Wonders ponders the secular – via graffiti artist and bartender Arnav – and the (un)holy – Rabbi Shmaya Knafo, the leader of a cult-like group, who is kidnapped. Among the other characters are "a hard-boiled investigator," "a gorgeous mystery woman" and Arnav's former girlfriend. Animation helps bring to life Arnav's active imagination and the film blurs the lines between fact and fiction.
Celebrate Jerusalem is a free event. To register, visit vjff.org/events/event/the-wonders.