In DANCE:CRAFT, dancers Heather Dotto and Joey Matt interact with and reinterpret five elements – glass, metal, wood, fibre and ceramics – created by B.C. crafts artists. (photo by Michael Slobodian)
After years of development, DANCE:CRAFT will see its world première May 20-22, 7 p.m., at the SFU Goldcorp Centre for the Arts, Fei and Milton Wong Experimental Theatre. Among the craftspeople who contributed their creativity to the show is Hope Forstenzer, a glassworks artist, who also happens to be the director of the Gertrude and Sidney Zack Gallery.
"I was asked to be part of the project in October of 2016 and, at the time, the thinking was that it would take about two years to develop," Forstenzer told the Independent. "It wound up taking longer than that for lots of reasons – I think one of the primary dancers went on maternity leave and, then, right as the project was about to begin rehearsals, COVID shut everything down.
"Initially, Joe [Laughlin] and I had all kinds of discussions and brainstorming sessions about ways to incorporate pieces into the dance. We rethought quite a bit of it when we started up again, and we wound up with some very interesting stuff that was quite different in some ways than we originally imagined. I think it's going to be quite a bit different than any of us originally thought – the world isn't what it was in October 2016."
DANCE:CRAFT is described as "an exploration of two dancers interacting with numerous craft objects in a reconfigured theatre setting. It's craft seen through the lens of dance and remixed, a look at our relationship to objects, creating and interacting with them."
Presented by Joe Ink – which is led by Laughlin – and SFU Woodward's Cultural Programs, DANCE:CRAFT also features five virtual reality films that give viewers a look into the artists' studios.
"I've made six large blown glass rock-like pieces with lights inside of them, a large acrylic box full of glass balls, and 12 hanging cylinders in various sizes," said Forstenzer.
The whole creative endeavour began as a research project focusing on dance and art. Laughlin conceived of the concept and the dancers are Heather Dotto and Joey Matt. They worked with five B.C. artists, facilitated by the Craft Council of British Columbia, curators of the show. In addition to Forstenzer, Stefanie Dueck (metal), Patrick Christie (wood), Deborah Dumka (fibre) and Debra E. Sloan (ceramics) provide the five elements that the dancers and Laughlin reinterpret.
"I have been thinking about the earth, the environment, the elements, evolution, geography, migration and humans," says Laughlin in the press release. "The tactile sensation of handmade objects juxtaposed with the ephemeral quality of the dancing body triggers a memory experience. Being immersed in an environment and watching the body respond to texture and colour is what anchors us in time and space. We are looking for connections between communities and the natural world, geography and the human family."
Laughlin added, "The process for creating a dancer incorporates fibre, sinew, muscle, bone, water, pressure, agitation and repetition. Craft is a transformative process that incorporates stone, fibre, wood, metal, water, pressure, agitation and repetition."
DANCE:CRAFT asks audiences to consider, "How do objects further extend the language of the body and its narrative possibilities?"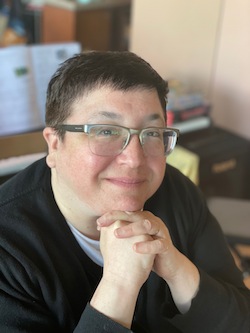 "I come from a theatre background and have done a great deal of work with dancers and actors," said Forstenzer in contemplating this question. "Objects – props, costumes, sets, and all things like them – become part of a performance completely. A knife becomes part of an arm, to use for harmless or harmful purposes; a table becomes a second stage if someone stands on it; a mask hides a face. The best performances use performers, environments and objects to tell a story fully. I think what we'll see with DANCE:CRAFT is a full storytelling collaboration, in which the artists have given works to Joe, and he has created a story to tell with them.
"This has been a fun project to work on," she continued. "It's not that often you get to do a collaboration like this. I'm really excited to be part of it."
Tickets for the performance are $30 ($25 for students and seniors) and they can be purchased at eventbrite.ca.