Roger Sherman's Florentine Films crew chows down at El Babor restaurant in the Haifa area. (photo from Florentine Films)
It might seem absurd that an American filmmaker, who, until five years ago, thought that falafel and hummus were the only ingredients of Israeli cuisine, would introduce the world to the Israeli food and culture scene. But documentarian Roger Sherman – who has won an Emmy, a Peabody and two Academy Award nominations – seems to be the right guy to whet the world's appetite for Israel's diverse and innovative dishes.
"The reason I'm doing the film is because I found a food culture that no one in the world knows about. This is the best-kept secret," Sherman told Israel21C during a quick interview in the lobby of a Tel Aviv hotel before setting out to film final pickup shots for his documentary, The Search for Israeli Cuisine.
Sherman discovered Israeli cuisine five years ago when he made an introductory visit to the country he'd heard so much about in the news.
"I was knocked out by what I saw, what I ate and how gorgeous the country is. Who knew that there was a gorgeous beach that runs the whole length of the country? Israel has incredible mountains and desert," said Sherman, who finally came for a visit at the behest of a foodie tour-guide friend.
Sherman, married to the founder of influential gourmet food and wine magazine Saveur, said the country's culinary revolution is unknown to many because most foreigners only associate Israel with "political drama and biblical history."
"They don't realize it's so much more," he said. "Israel has a food scene that I had no clue about, a restaurant scene that rivals New York, London and Paris. I think people are going to be shocked, surprised and very pleased with what they learn from watching this film."
The two-hour PBS special is to be completed by October. Sherman admitted that he has enough material for a six-hour miniseries but prefers to pack the choice shots into 120 minutes, leaving the remaining 150 hours of footage on the editing floor.
Private backers as well as a successful Kickstarter campaign have helped support Sherman in the two-year researching and filming process. He interacts with interested would-be viewers via Facebook, Twitter, a blog and Instagram almost daily.
"The primary audience is American public television but it will be shown around the world. American public television is a fairly high demographic of people who like to travel, and a lot of people that like to travel like to eat, and they like to see new things and explore the world," said Sherman. "It's also for people who like to open their minds even if they don't travel or are interested in surreptitiously going on adventures. And I think this is going to be an adventure."
The Florentine Films documentary tries to answer the question "What is Israeli cuisine?" To do this, Sherman's team crisscrossed the country, filming at more than 100 locations.
While the question is simple enough, the answer is not clear cut.
The film introduces audiences to the country's leading chefs, innovative farmers, home cooks, boutique winemakers, craft beer brewers, world-class chocolatiers, cheese artisans, restaurateurs, food journalists, street foodies and traditional bakers. Some of them believe Israeli cuisine can be defined as a hodgepodge of traditions, while others say it's too early to brand the delicious concoctions being created at local eateries.
"What we have here is confusion food. It's all mixed together beautifully: traditional spices, techniques, dishes that intermingle with all the influences. After [service in] the army, we Israelis go to study abroad or [travel] to the Far East, India or South America. We get to know Thai and Vietnamese food, Mexican flavors. Some [return] and open restaurants. It all becomes Israeli food," chef/baker Erez Komarovsky says in the documentary.
Chef Maoz Alonim of HaBasta restaurant is one of those against labeling Israeli cuisine as such.
"So, what is Israeli food? Domestic food. We have our inspirations from ingredients that used to be cooked here for hundreds, thousands of years. I really do not think that I serve Israeli food," Alonim says. "I serve domestic food again and again and again. And what makes it Israeli? Sure, I take fresh ingredients from Israel and I can import the fresh oysters from France, but does this make it Israeli? No, that just makes it oysters that I really like."
For Sherman, the American looking in, there is definitely a "something" that makes gastronomy in Israel different from elsewhere.
He shows Israeli-American chef Michael Solomonov, a James Beard Award winner and guide for the film, stopping at a Yemenite grill in Tel Aviv, where he is served 17 salads as an appetizer. The salads are an international sampling of Arab, Iraqi, Arabian, Moroccan, Russian, Eastern European, Italian, Turkish, Moroccan and Greek dishes – obviously, all made in Israel.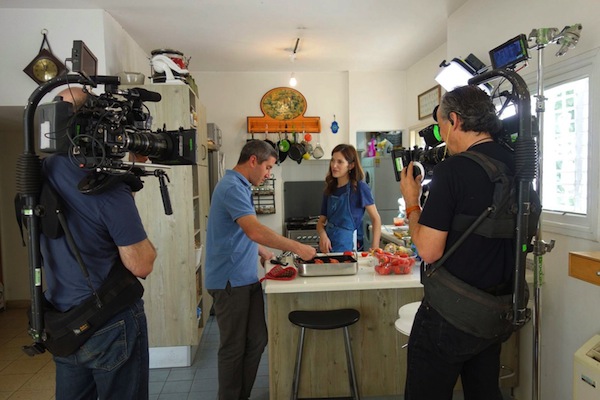 "In America, it's identifiable. But here, people say it's too soon to have a cuisine. There are people that love the idea of a melting pot, everybody coming together. But there are also people who do not like this idea; they want to keep cultures separate," Sherman said.
"Israeli cuisine is the amalgamation of dozens of cultures that are taking remarkable local ingredients and either trying to stay true as much as they can to their traditions or updating and upgrading."
Sherman contends that Israeli cuisine only came into existence in the 1980s. "You have a country that began with no kitchens in private homes because, if you lived on a kibbutz, and many people did, you ate communally. And, if you talked about enjoying food, people would slap you. 'We're here to survive, we're trying to create a country,' they'd say," Sherman explained. "Until at least the mid- to late-'80s, 'cuisine' was a four-letter word. You didn't mention it."
Today, of course, Israeli cuisine is simmering in pots around the country – and even beyond. He pointed out that three of the best new U.S. restaurants as chosen by Bon Appétit magazine are dedicated to Israeli cuisine. "Israeli cuisine is now proliferating, accelerating … in the past year, Israeli cuisine places have opened all over the world. Israeli cuisine is a force," he said.
The Search for Israeli Cuisine is not only focused on the kitchens of Israel. Sherman spotlights Israeli agri-tech and how Israeli farmers and engineers are changing the way the world eats.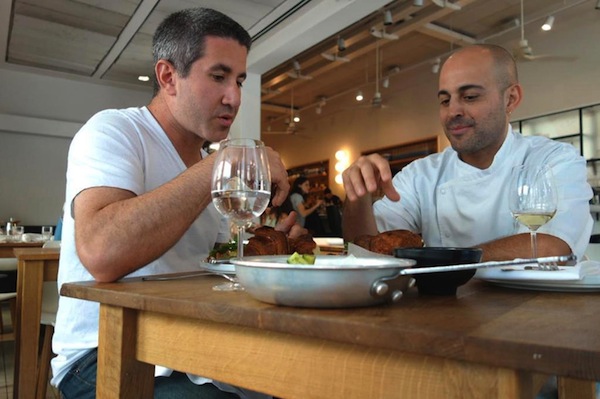 "This is another reason I'm doing the film. If you go back, Israel was a Third World country for most of its existence. Now, it's not just a First World country, but it is leading the world in many ways," he said. "I don't think many people know that Israel's high-tech agriculture has changed the way the world eats, beginning with drip-irrigation methods and going to seedless watermelons, cherry tomatoes, soon-to-be seedless lemons. Israelis know all this stuff but people around the world don't."
Sherman said viewers will be flabbergasted to hear that "farm to table" and "locally sourced" are standard practice in Israel. "People will think that's fantastic because it's such a big deal in the U.S. right now, what is your carbon footprint," he explained. "Here, the whole country is accessible in two hours."
Eating is a sensory experience, and a food-focused documentary has to instil the enjoyment of cuisine through the big screen. "People who watch our teaser, which is five minutes long, say, 'Oh my God, that made me so hungry,'" Sherman said. "So, if I can do that in five minutes, imagine what I can do in two hours. We're telling really interesting stories about people who are passionate about what they do. The people I have found have been wonderful in sharing their passion to the world."
Israeli-American chef Solomonov takes viewers into the lives of everyone – Jews, Christians, Arabs, Druze and Bedouins – changing the food landscape of Israel.
"Israeli cuisine reflects humanity at its best. People need to know that, regardless of what they see on TV, regardless of their political stance, the best way to relate to Israel is through its food and culture," Solomonov says in the film.
Sherman admitted that, prior to his visit, he realized that he'd "never thought much about the Israeli people. It became clear that most people I meet don't know much about the Israeli people either, and they're surprised at what I reveal."
And that's why he doesn't see The Search for Israeli Cuisine as simply a foodie movie.
"I'm calling this a portrait of the Israeli people told through food," said the same filmmaker who profiled preeminent restaurant owner Danny Meyer in The Restaurateur. "It's not a cooking show, it's not recipes; the food is at the heart of it but it's really about these amazing people doing these dynamic things."
Israel21C is a nonprofit educational foundation with a mission to focus media and public attention on the 21st-century Israel that exists beyond the conflict. For more, or to donate, visit israel21c.org.