There were 28 tables of four playing on June 7 at the annual bridge event honouring Marjorie Groberman. (photos by Cynthia Ramsay)
More than 100 people gathered to play bridge at the Jewish Community Centre of Greater Vancouver on June 7 at a special annual event in honour of Marjorie Groberman, who passed away in 2011.
Leah Deslauriers is the former coordinator of JCC Seniors, which is now called Adults 55+ and headed by Lisa Quay.
"Marjorie Groberman was a driving force behind the JCC Seniors department for many years," Deslauriers told the Independent. "She, along with some other ladies, started a duplicate bridge club at the JCC in 1995. When Marjorie passed away, [her daughter] Hildy Barnett and I created this event in her memory. We named the bridge club after Marjorie, as well."
Barnett sponsors the meal and door prizes for the annual lunchtime event, and covers extras the club might need, said Deslauriers. For the lunch, "many players baked or brought dessert items for everyone."
"There were 28 tables of four, so there were 112 people in attendance," she said. "The club generally has up to 20 tables during regular play, so this was a very large event."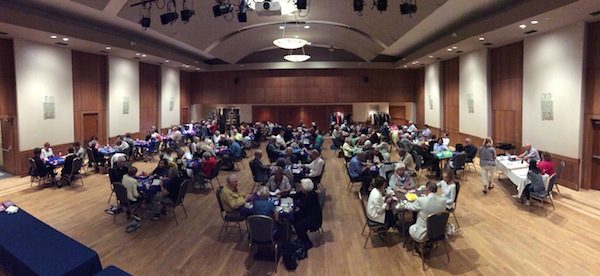 The bridge club at the centre started in 1995 with four tables, explained Deslauriers. "Some of the original ladies, who still play today, subsidized the club so it would continue. The original club director was Connie Delisle, who taught many people how to play the game. Then Cathy Miller became director in 2006, when Connie had to retire. Cathy retired at the end of last year and the current director is Bryan Maksymetz, who is a Canadian bridge champion."
Anyone who knows how to play duplicate bridge may attend. "It is very special," said Deslauriers, "as many of its regular players are over 80, and many are over 90. I believe Ethel Bellows is the oldest player at the moment. Many of the players come 30 minutes before game time, to socialize over coffee and cookies, and it's a very warm and friendly game, as far as bridge goes."
The Marjorie Groberman Open Duplicate Bridge Club currently has more than 350 members, Quay told the Independent. Play takes place on Tuesdays and Thursdays. "The JCC also offers an array of bridge lessons for beginners on up, as well as practise opportunities for skill-building," she said.
For more information, contact Quay at 604-257-5111, ext. 208.