On Dec. 14, JWest announced a $5 million gift from the Dayhu Group of Companies in association with the Ben and Esther Dayson Charitable Foundation. The visionary gift is part of a match that was initiated by the Diamond Foundation's historic $25 million gift to support the development of the new Jewish Community Centre of Greater Vancouver site.
The Daysons have a long and significant history within Vancouver's Jewish community. Ben and Esther Dayson both immigrated to Canada from Russia in the 1920s. In 1936, the couple was married in the original Jewish Community Centre in Vancouver, located on Oak and 11th. First settling in Saskatchewan, they moved with two small children to Vancouver in 1949. After a short time running a "15 cent store" in Marpole, Ben Dayson founded Dayhu Investments, which later became a leading real estate investment, development and property management company. The generations that followed Ben and Esther (née Nemetz) have carried on their parents' and grandparents' legacies, becoming successful in their own rights and continuing to give back to the community.
Shirley Barnett (née Dayson) and her brother, Philip Dayson, have fond memories of attending the JCC. As teenagers, they attended high school dances, went to youth group meetings, and learned the importance of volunteerism and giving back, all through spending time at the JCC. 
"Fundamentally, we believe that the Jewish Community Centre plays an integral role in an inclusive and healthy Jewish community, and it will provide a welcoming social, cultural, recreational and educational asset for all to enjoy," said Barnett. "Our family has long appreciated the celebratory and community aspects of the Jewish Community Centre. The JWest project is the most important undertaking in the history of this region, and we hope that our gift inspires others to contribute to this space that will be a critical resource for thousands of people of all ages and from all walks of life."
JWest is a partnership between Jewish Federation of Greater Vancouver, the Jewish Community Centre of Greater Vancouver and King David High School. The project will deliver a community centre with expanded space for the Vancouver Holocaust Education Centre, a new theatre and, in the second construction phase, a relocated high school and two residential towers that will provide mixed-use rental housing.
"It was the desire of our parents to support those both within the Jewish community and those in the wider community," said Philip Dayson. "The Jewish Community Centre is not only the heartbeat of Jewish life in Vancouver, but it also continues to have an inclusive atmosphere that welcomes all. We are particularly thrilled that this project will bring much-needed social housing along with vital programs and services. We're privileged to be able to support this community and this transformative project."
"The Dayson family have been pillars in Vancouver's Jewish community for more than three generations and, through this generous gift, they have demonstrated their continued commitment to Jewish life in Vancouver," said Alex Cristall, JWest capital campaign chair. "We gratefully acknowledge the support this project has received from the Government of British Columbia, the Government of Canada and community members for this once-in-a-lifetime project."
For more information about JWest, visit jwestnow.com/about.
***
Gordon and Leslie Diamond will receive the 2023 Yakir Keren Hayesod Award in recognition of their committed leadership and unwavering devotion to Israel and to Keren Hayesod through their generosity and leadership with the Jewish Federation of Greater Vancouver.
The Yakir Award – Keren Hayesod's highest honour – is bestowed upon individuals whose sense of mission, dedication and perseverance on behalf of their homeland and their nation have made an outstanding, long-term contribution to the state of Israel, the Jewish people and Keren Hayesod. The Hebrew word yakir means beloved, notable, worthy and, accordingly, the Yakir Award reflects the ultimate devotion and clarity of vision that a community leader can show. 
Jewish Federation nominated the Diamonds for the honour and this is the first time in two decades that a Western Canadian leader has been selected for it. The official ceremony will take place in Israel on the country's 75th anniversary of independence.
***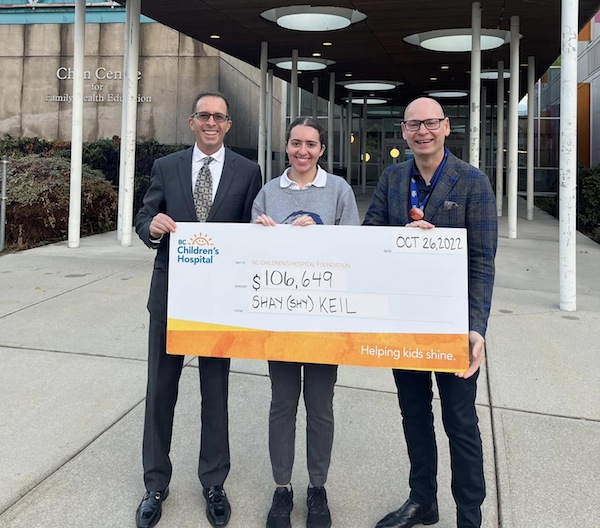 Shay Keil and his daughter Tali Keil presented a $106,649 cheque to B.C. Children's Hospital Foundation chief executive officer Malcolm Berry in late October. It was Keil's second annual 30/30/30 campaign, marking his 30-plus years with Scotiabank and the goal of raising more than $30,000 by Sept. 30. He thanked other donors and the Keil Investment Group team: Angela Wadsworth, Vilma Castellani, Claire Brinkworth and Lydia Leung. In November, Keil was chosen by the Globe and Mail Report on Business as one of the 2022 Canada's Top Wealth Advisors: Best in Province.
***
The national board of directors for Ben-Gurion University Canada (BGU Canada) has announced that
 is the new national president. He brings a wealth of volunteer leadership experience to his new role, plus a deep passion for philanthropy in the Canadian Jewish community.
Altman is the immediate past president of the Montreal chapter of BGU Canada, where he served for four years. He currently sits on the board of governors of Ben-Gurion University of the Negev and is the vice-president of La Société pour les Artistes en Milieux de Santé. He has been involved with many other organizations over the years.
Altman practised as a CPA for 50 years. He retired from his role as partner at Crowe BGK, where he remains as a consultant, and is the president of J. Altman Investments Inc.
BGU Canada thanks Mitchell Oelbaum, immediate past president, for his passionate service and unwavering commitment to the university.