ORT South Africa Cape chief operating officer Debbie Staniland, right, with Harris Lorie, former education development manager of World ORT and programming co-chair of Limmud UK 2013, and Dr. Lydia Abel, ORT SA Cape director, at Limmud UK in 2013, where they were among the presenters. (photo from ORT SA Cape) 
While there are innumerable reasons why people choose to volunteer, children often are inspired by the actions of their parents. Therefore, it is not surprising when two sisters who live on opposite sides of the world are both engaged in tikkun olam, repairing the world.
Linda Steiner is a longtime resident of Richmond and a stalwart at Congregation Beth Tikvah, notably for her leadership role in Isha l'Isha. Formerly known as the Women's League, Isha l'Isha is a grassroots shul-based organization that promotes friendship and sisterhood through a wide array of programming, including self-improvement activities like Zumba and self-defence. The group also supports the synagogue's youth program and hosts Shabbat programs that encourage women to find their place on the bimah.
Supported in part by Beth Tikvah's gift shop, another aspect of the group's mandate is tikkun olam. The 80 women currently involved contribute to organizations like Covenant House, Dress for Success and Chrysalis, all local charities that help those less fortunate in Greater Vancouver. And, they host speakers, the next of which will be Steiner's sister, Debbie Staniland, from ORT SA Cape, the branch of ORT servicing South Africa's Western Cape. On Sept. 15 at Beth Tikvah, Staniland's topic will be LEGO Robotics for Under-privileged Youth in South Africa: Getting Children Off the Streets and into Enriching Environments.
Staniland explained in a Skype interview with the Jewish Independent that ORT in South Africa and, specifically, ORT SA Cape functions differently from ORT in most of the world. She said that, before the general elections of 1994, which saw the African
National Congress elected with Nelson Mandela at the helm, ORT South Africa was primarily a fundraising organization feeding funds to ORT programs internationally – it had little to do on the local front. In 1994, however, it gained new status as a nonprofit organization and was able to focus on educational programs for students and teachers in South Africa, as a way to build the country one child at a time.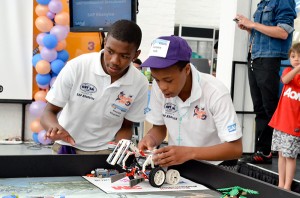 Staniland is ORT SA Cape's chief operating officer. When in Vancouver, she will describe the great strides ORT has made in reaching children through after-school education programs, as well as in teacher training. According to Staniland, as ORT helps educate teachers and children in the Western Cape, they are planting the seeds for lasting social and economic improvement. Having worked for ORT first as a volunteer for five years and then as a professional for the past four, Staniland is very familiar with the successes and challenges of the organization.
Her talk will focus on the specialized LEGO robotics programs that ORT SA Cape uses in its after-school education program, which is designed to provide hands-on enrichment in technology, mathematics and literacy. ORT SA Cape director Dr. Lydia Abel said of the program, "The kids are instantly enthralled by the LEGO robotics and they soon discover that the only way they can build them is by reading the how-to program and, suddenly, it's all they want to do."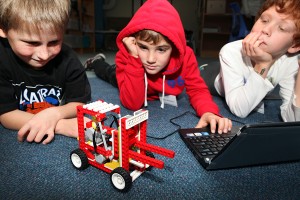 Staniland hopes to reach a wide audience when she speaks at Beth Tikvah. She is aware of the significant immigration of South Africans to the Lower Mainland in the late 1980s and 1990s, her sister being one of those immigrants. Staniland hopes that many "ex-South Africans" will be interested in reconnecting and finding out how those who stayed in the country are helping to build a better South Africa. "It's a way to help those who have immigrated to connect," said Staniland. "They understand many of the challenges we face and it will be nice for them to know what we are doing."
Staniland's lecture on Sept. 15 will start at 7 p.m. Admission is $10 (refreshments will be served) and an RSVP is requested by Sept. 9 to the synagogue office, 604-271-6262 or [email protected].
Michelle Dodek is a freelance writer living in Vancouver.