Diane von Furstenberg was born Diane Simone Michelle Halfin in Brussels, Belgium. (PR photo)
Character. Intelligence. Strength. Style. That makes beauty." These timeless words of wisdom were expressed by the iconic Diane von Furstenberg.
Born Diane Simone Michelle Halfin in Brussels, Belgium, 18 months after the liberation of Auschwitz – where her mother, Lily Nahmias, was among those interned – von Furstenberg was taught from a young age, "Fear is not an option." Following this motto has helped her become a legendary designer, with a business that was worth some $300 million in mid-2017, according to Forbes.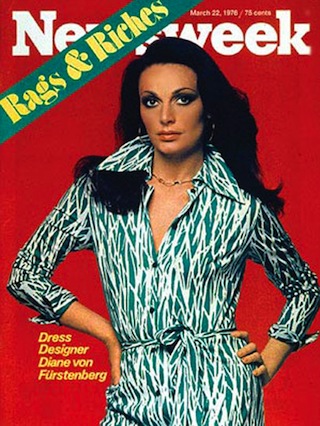 Von Furstenberg married Austro-Italian Prince Egon von Furstenberg in 1969. Soon thereafter, in 1972, she introduced her blueprint classic wrap dress. She made the cover of Newsweek, among other publications, in 1976, after selling five million dresses worldwide. Today, the quintessential wrap dress is on display at the Costume Institute at the Metropolitan Museum of Art, as von Furstenberg has been a major contributor to women's fashion.
It was crucial, on a personal level, for von Furstenberg to be financially independent. She never wanted to rely on a husband or anyone else to pay her bills. Divorcing in 1972, she was determined, as a single mother of two, to make her dreams come true. A degree in economics helped her land a job as an apprentice in a textile house, which was where she learned the art of fabrics.
Von Furstenberg's passion for prints began when she received the gift of a Pucci-designed outfit from a lover. And the idea of the silk, jersey wrap dress came to her when she saw Julie Nixon Eisenhower on television donning a wrap top with a skirt.
The wrap dress was considered both ageless and timeless: worn by women of varying cultures and sizes, from working women to the more wealthy. The wrap dress became a symbol of independence and power for a generation of women.
During this time, while ascending in her career, von Furstenberg lived a vibrant life. She had relationships with both men and women, she dressed the famous and traveled the world. She found love again with her present husband, Barry Diller. Though she had to relinquish the title of princess, she was still deemed royalty in the fashion business.
And her empire extended through the years to other domains. She wrote several books, including the memoir The Woman I Wanted to Be. She started a collaboration with the Gap, designed rooms and suites for Claridge's hotel in London and starred in her own reality show, House of DVF.
Life was not without its challenges. She has battled cancer and, at one point, almost lost her business, but von Furstenberg prevailed.
The importance of her Jewish heritage became publicly apparent in the 1980s. It was then that she began her longtime commitment to preserving the memory of the Holocaust, and she became a prominent fundraiser for the United States Holocaust Memorial Museum in Washington, D.C.
Von Furstenberg is a philanthropist, giving back through various initiatives. For her, the empowerment of women has always been at the forefront – "Every woman can be the woman she wants to be!"
Ariella Stein is a mother, wife and fashion maven. A Vancouverite, she has lived in both Turkey and Israel for the past 25 years.