An experimental date palm orchard in the southern Arava Valley, where water consumption and response to salinity is monitored. Based on data measured in these lysimeters, local farmers are advised on recommended quantities of irrigation water daily. (photo from Zehava Yehuda)

"Growing up in Israel, I have been aware of the water problem [since] quite early in my childhood," said Dr. Zehava Yehuda. "When I graduated, however, the country was still relying mostly on rain. We could still expect rain-blessed years, and the Sea of Galilee to overflow occasionally."
Over the last two decades, however, only once has there been a year with enough rain to allow for the opening of the Degania Dam, which regulates water levels in the Sea of Galilee (the Kinneret) and the lower Jordan River.
Yehuda spoke on Nov. 27 at a Winnipeg Friends of Israel event at the city's Temple Shalom. She recently moved to Winnipeg with her family and is currently working at the local Jewish National Fund office as program and communications coordinator, while searching for a research position.
"I graduated from the Hebrew University, faculty of agriculture, department of soil and water, worked on iron uptake in plants, and did post-doctoral studies on phytoremediation of soils contaminated with heavy metals," said Yehuda. "Phytoremediation is the use of hyper-accumulator plants that tolerate and are able to absorb high concentrations of specific metals.
"I worked as a lab manager and associate researcher at the HU, and as a soil and water researcher at the Centre for Agricultural Water Use Efficiency Research, Southern Arava Research and Development Experimental Station, Yotveta."
According to Yehuda, soil and water are fundamental resources affecting all forms of life, food security and ecosystem sustainability.
Israeli water authorities have been streamlined to funnel through one office to simplify management and five large-scale desalination plants have been built, she said. Desalinated water now accounts for about 85% of domestic urban water. However, the plants were built late in the crisis.
"Israel is facing a five-year drought that is depleting the country's most important bodies of water and deteriorating their quality," said Yehuda. "Israel had not foreseen a sequence of arid years like this.
"The cumulative deficit in Israel's renewable water resources before the current rain season amounts to approximately two billion cubic metres – an amount equal to the annual consumption of the entire state.
"There are many reasons for the current water situation," she said. "First, Israel is situated in an arid region, where 60% of the county is desert. Meanwhile, population growth and standard of living have grown significantly.
"This not only has dramatically increased water consumption, but it has also aggravated the load on the coastal aquifer, one of the three major water resources in the country. Israel has also committed by peace treaties to transfer about 85 MCM [million cubic metres] to Jordan and the Palestinians … and, in fact, it transfers much more.
"Most of the water consumption in the world is used for irrigation. Israel has been recycling water for agriculture for decades. About 90% of fresh water is reused.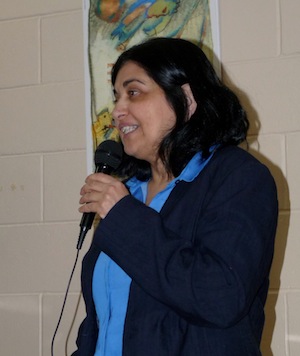 "Since the invention of drip irrigation in Israel, efforts have been directed to improving drippers, irrigation regimes and understanding plants' actual water consumption to efficiently use water in agriculture."
Further to this, Israel focused on innovative technologies to turn an older, expensive desalination solution into a more practical one, by improving the membranes that remove the salt and reducing the energy needed to run the plants.
"As of today, about 40% of drinking water in Israel is supplied as desalinated seawater, and this percentage is expected to grow even more," said Yehuda.
Because the membranes also strip the water of other essential nutrients, she said Israel's water authorities have been supplementing the desalinated water with, for example, "magnesium, a mineral critical for proper heart functioning, among other functions," but it is expensive to do so and "[a]dding it to all desalinated water would significantly raise its cost."
Another concern with desalination is that the brine (removed salt) is being returned to the sea, and the ecological implications for the sea are not fully known.
"With all this desalinated water available, both the population and the Israeli authorities wrongly assumed that Israel had solved her water problems, and that saving water was no longer a necessity," said Yehuda. "The authorities have since changed their position back to the need to save water."
Plans have recently been approved to build more desalination plants to better meet the growing need for water during the dry months and to redirect unused desalinated water during the winter months to the Sea of Galilee; in a sense, using the lake as a reservoir.
"The current crisis has led to the realization that a comprehensive master plan for policy and for institutional and operational changes is required to stabilize the situation, and to improve Israel's water balance with a long-term perspective," said Yehuda.
"Despite the fact that water pumping from the Kinneret was massively reduced, I do not expect water levels to return to what they were 15 years ago when Lake Kinneret – Israel's biggest fresh water source – and underground aquifers were full. Hopefully, resources will not continue to deteriorate."
Yehuda provided a rundown of the different water-related experiments with which she has been involved, including an experimental date palm orchard in the southern Arava Valley, where water consumption and response to salinity is monitored. Based on the data collected, local farmers are advised on recommended quantities of irrigation water daily.
Event attendee Carina Blumgrund said, "We all know that Israel is at the forefront of developing smart resources to irrigate, and that they had done drip systems and are always trying to research how to be proactive, like taking advantage of the heat to have off-season production and export to Europe … but we don't really know about the details…. It was really interesting hearing about current issues. I had no idea about water levels…. And I didn't know about the treaties, about sharing with neighbours."
Rebeca Kuropatwa is a Winnipeg freelance writer.