The New Kosher: Simple Recipes to Savor and Share by Kim Kushner is a beautiful cookbook with more than 100 recipes that reflect many cultural traditions. There are full-color photos aplenty (by Kate Sears), easy-to-follow instructions, and each recipe has its own brief introduction.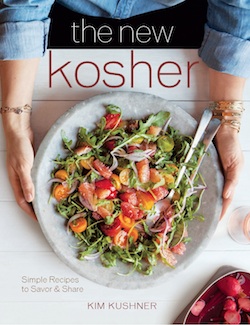 Kushner's bio notes that she spent "childhood summers in Israel with her extended family," and there "learned to cook by eating, and by participating in family feasts." In The New Kosher, she writes: "I was raised in a modern Orthodox home in a vibrant kosher community in Montreal and first learned to cook from my mother, who was born in Morocco and grew up in Israel. My mother's life revolves around food, and her generosity through her love of feeding other people has been the greatest influence on my cooking."
Now living in New York with scads of education and experience behind her, including the cookbook The Modern Menu (2013), there can be no doubt that the meals, salads, appetizers and desserts in The New Kosher will make for good eating – and for good sharing with family and friends.
Since it's almost Chanukah, here are two recipes from the book, one for latkes and one for an applesauce that would go with them quite nicely or, as Kushner recommends: "It's delicious on its own or served alongside roasted potatoes or even sliced brisket, and both kids and adults love it."
KIM'S QUICK LATKES
(makes about 24)
5 Yukon gold or red potatoes, about 2 lb (1 kg) total weight, peeled and cut into large chunks
1 large yellow onion, cut into large chunks
2 large eggs
1⁄3 cup (2 oz/60 g) all-purpose flour
1 tsp baking powder
kosher salt and freshly ground pepper
1⁄2 cup (4 fl oz/125 ml) rice bran
oil or canola oil
Preheat the oven to 400°F.
In a food processor, combine the potatoes, onion and eggs, and process with quick on-off pulses until the potatoes and onion are chopped into small pieces, about 30 seconds. Add the flour, baking powder, one teaspoon salt and 1⁄4 teaspoon pepper and process until the ingredients are well combined, a couple of seconds longer.
In a large frying pan, heat the oil over medium-high heat. Using an ice-cream scoop … scoop up the potato mixture, drop into the hot oil, and flatten with a spatula or fork to about 1⁄4–1⁄2 inch thick. Cook only four latkes at a time so you don't crowd the pan. Once the edges are browned, carefully flip the latkes over and cook until the underside is crisp and golden, about two minutes per side. Transfer the latkes to paper towels to drain. Repeat with the remaining potato mixture. You can serve them right away, but Kushner likes to arrange them in a single layer on a baking sheet and put them in the oven for three to five minutes to give them a final crisping.
To freeze the latkes, let them cool completely, then freeze them in a single layer in large lock-top plastic freezer bags for up to one month. To serve, thaw in the refrigerator overnight and reheat in a 375°F oven until piping hot, eight to 10 minutes.
If you like, sprinkle the latkes with truffle salt just as they come out of the frying pan but, if you plan to do this, reduce the kosher salt to 1⁄2 teaspoon.
VANILLA BEAN APPLESAUCE
(makes 3-4 cups)
10–15 apples (any variety), 3.5–4 lb (1.75–2 kg) total weight, peeled, quartered and cored
1 vanilla bean, split lengthwise
In a large pot, combine the apples, vanilla bean and 1⁄4 cup water and bring to a boil over high heat. Reduce the heat to medium, cover and cook for 35-50 minutes without stirring. (The water will prevent the apples from scorching.) The timing will depend on how many apples you use: the more fruit, the longer the mixture will need to cook. To test for doneness, pierce the apples with a fork. They should be extremely soft and almost falling apart.
Carefully remove the vanilla bean from the pot and let it cool for a few minutes. Then, using the tip of a sharp knife, scrape the seeds into the pot and discard the pod.
Let the apple mixture cool for about five minutes longer. If you prefer a smooth applesauce, transfer the mixture, in batches, to a food processor, and pulse until smooth. If you prefer a chunky sauce, use a potato masher to mash the fruit to your desired consistency. Let cool completely, then transfer to one or more glass jars. The applesauce will keep in the fridge for up to two weeks.