Who would have thought a solution to ice stickiness would come from a semi-tropical country like Israel?
Prof. Hanna Dodiuk heads up the department of polymers and plastics engineering at Shenkar College in Ramat Gan. She specializes in adhesion and adhesives science and technology, characterization and formulation of polymer adhesives, special coatings, surface and interfaces analysis, nanotechnology and aging of polymeric materials.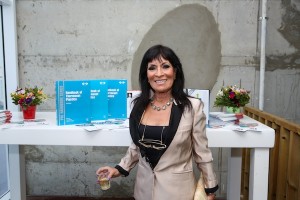 Born in 1948 in Krakow, Poland, to two Schindler's List Holocaust survivors, the family made aliyah to Israel in 1949. Dodiuk served in the air force, and then studied chemistry at Tel Aviv University. In 1979, she joined the Israeli Armament Development Authority (ADA), also known as Rafael. From September 1991 to June 1997, Dodiuk was the ADA's director of its materials and processes department.
Her research led to the creation of a surface to which ice cannot stick, a material she created while on sabbatical with a large bio company in Germany. "They invited me to develop surfaces that don't adhere to anything, that are easy to clean, and that have super-hydrotropic surfaces," she said. The company needed this to develop what Dodiuk referred to as "a microfluidic machine."
"This small machine can only work with very small water droplets at minus-12 degrees," she said. "To take such a little amount, you have to ensure the fluid is not absorbed on the surfaces."
In her research, Dodiuk turned to biology and nature, studying how leaves react with water.
"While most leaves are weighted by water, lotus leaves, even if in mud and water, aren't, so they remain fresh and clean forever," she said.
Using a high-resolution microscope, Dodiuk found that the morphology of the lotus leaf is very unique. "It has small mountains of microns that have a very small circle in the diametre of a nano range, which is 10 to minus-nine metres. A water drop cannot enter the width between two nano particles, so it begins to fall off and slide. Therefore, the water doesn't add weight."
Dodiuk said this is not a new chemistry concept. It has been used in Teflon-like materials for years. But, while Teflon works well with oil, water can still get it wet and weigh it down.
Early on, Dodiuk found great success with the lotus leaf. Three years into the research, ADA asked her to help create a super-hydrotropic coating usable on glass to prevent ice from interfering with navigational systems by sticking and blocking the view. Dodiuk found a lab that would allow her to imitate ice adhesion in Quebec, where she conducted the experiments.
"We're the only [technology] in the world that can reduce the adhesion of ice," said Dodiuk. "You cannot avoid it totally, but you can reduce by a factor of 18. If you reduce the adhesion of ice by a factor of 18, you really avoid ice adhesion."
This surface has numerous significant applications. "Airplane wings can take off, but the special coating that was so great at reducing the adhesion of ice was simply not durable," she said. "If, for example, they were to apply very high winds, it would start coming off and nano particles would be lost, as the adhesion of the micro and nano particles wasn't good.
"With the lotus plant, if its surface is damaged, it will repair itself. But, technology doesn't know [how] to repair itself, so they had to find another solution. That is when the University of Massachusetts stepped in with funding and lab facilities."
Aided by two university students in the plastics engineering department working to create a special film with the right properties at a very low cost, Dodiuk said they are now halfway to completion. The final product will be a stick-on film, like Scotch tape, but with nano particles on one side, not visible to the naked eye. It will be able to be applied to anything, from windows and wings of airplanes to car windows during the winter.
"We always laugh at the end of the day," said Dodiuk. "Israel [doesn't] have an ice-adhesion problem, yet we invented the solution.
"Once you talk about super-isophobic, easy-cleaning or self-cleaning [technologies], everyone is sold.
"Even with textile, it would be one that never gets dirty. For things to get dirty, the dirt has to adhere. If you avoid adhesion, you'll stay clean forever. Can you imagine not needing to wash your things, as nothing will adhere to [them]?"
"Can you imagine all of New York and Vancouver never needing to be cleaned?"
The potential application possibilities are endless and multi-directional, with spin-offs that can be used in elemental technology, like car or high-rise windows with no need to clean off dust or dirt. "Can you imagine all of New York and Vancouver never needing to be cleaned?" asked Dodiuk.
"With this special coating, those windows will remain totally clean. Just a little bit of rain will take off all the dust. The rain won't stick to the window, only to the dust."
Through it all, Dodiuk emphasized, she succeeded in accomplishing all of this work, to date, in a "male-dominated environment. I really think [women] should go into science and technology. [Many women] are going into many areas today, but not science and technology."
Rebeca Kuropatwa is a Winnipeg freelance writer.