I always look forward to reading whatever Adeena Karasick writes, even though I know I won't understand all of it. To be generous to myself, I'd say at least 20% of her latest publication, Massaging the Medium: Seven Pechakuchas (Institute of General Semantics, 2022), went over my head – or will require a few more reads and some discussions with friends to get the most out of it.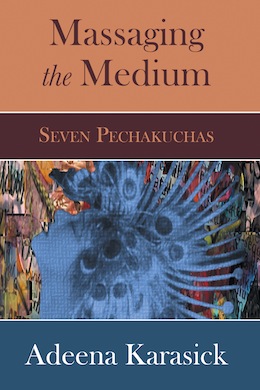 Massaging the Medium is part of the Institute of General Semantics' Language in Action series, which "publishes books devoted to creative modes of expression that can open the doors of perception and foster better understandings of the nature of language, symbols, communication and the semantic, technological and media environments that we inhabit."
The preface is written by Maria Damon of the University of Minnesota. She explains, "For anyone still unfamiliar with the format, pechakucha – Japanese for 'chitchat' – is a highly stylized presentation form that comprises a public speech accompanied by 20 slides for visual demonstration, each of which is shown for 20 seconds, while the speaker addresses their (his/her) topic. Initiated in 2003 by a pair of architects working in Japan, the format (trademarked and copyrighted, by the way, in true contemporary entrepreneurial style) has spread to encompass a worldwide enthusiasm for a storytelling/info delivery style that relies on the visual as much as, or even more than, on the verbal."
Given Karasick's "dazzling linguistic pyrotechnics on page and stage," writes Damon, the pechakucha format is ideal, "as the propulsive energy that characterizes her writing and reading style is given sharper urgency for being trapped in a small temporal space…. These seven tours de force of serious play celebrate meaning and unmeaning, communication and miscommunication, the happy errors/eros of semantic and sonic slippage, the glories of the im/p/precise."
This description is better than I could ever give. I had to look up several terms, such as 'pataphysical – "a 'philosophy' of science invented by French writer Alfred Jarry intended to be a parody of science," according to Wikipedia. "Difficult to be simply defined or pinned down, it has been described as the 'science of imaginary solutions.'"
I also had to look up some of the names of people Karasick cites as if they're old friends. While I've heard of folks like Jacques Derrida and Marshall McCluhan, and of Jewish texts such as The Zohar, my knowledge barely touches the surface. I think that's part of why I have such fun with Karasick – I've no preconceptions going into my reading of her work and, while I don't take it all in, I do feel as if my mind expands from the experience. She is at once academically rigorous, poetically versatile and sensically nonsensical, or nonsensically sensical (I'm not sure which would be most accurate).
In her introduction, Karasick notes that the seven pechakuchas comprising this book were originally created for and presented at academic literary conferences that took place during the period of 2013 to 2019. For a printed publication, she had to adapt them.
"The visuals," she notes, "consist of both found and original collaged material which both speak to and against the text. And each of the original slides were embedded with audio and video clips, gifs, other forms of kinetic digital media such as montages of sound poetry," pop songs, movies and more. "What is illustrated here, however, are stills from the digital live motion presentation and, although originally all consisting of 20 separate components, they are now of slightly varying length."
I can't even begin to simplify any of the pechakuchas, in order to give an example of their content and form. Best to experience them yourself. Not everything will land – I enjoyed the first few most – but they do offer the possibility of changing how you think about many things. The list includes but is not limited to language, technology, physiology, time, space, cyberspace, mysticism, consumerism, reality, truth. As does any good Jewish text, it will raise more questions than it answers.