"Do it! Just do it!" Cherie waves her hands impatiently, puzzled by my hesitation. We are sitting on the white sofa in her bright living room on Point Grey Road. Behind us, through the large picture windows, I see the waters of Burrard Inlet shimmer in the morning sun, framed by the blue mountains of the North Shore.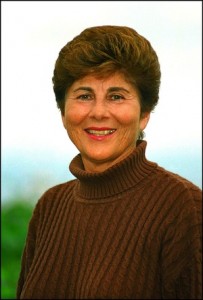 It is mid-morning and light is streaming into the comfortable open space, where each corner bears Cherie's personal stamp: the beautiful flower arrangement on the glass-top coffee table, the white sculpture on a stand, the painting above the fireplace and the colorful blanket thrown casually over the back of a cozy armchair. Further in, two low steps up, is the large dining room table with the eight high-back, white leather chairs. Behind it, a cupboard with glass doors displays Cherie's collections of china, glasses of all sorts and other small trinkets. More artifacts are displayed on the heavy, black wood buffet against the wall. The kitchen is small, but efficient, just off the dining room. From where we are sitting, we can see the entrance door and, on the right, a small corridor leading to the second floor where a large triptych, my own painting, hangs over the stairs. One entire wall of the hallway is covered with books.
Books are Cherie's world.
I met Cherie at a party, a casual encounter in a room full of people. Despite her friendly manner, I was intimidated by her, knowing that she and her husband were not only affluent, but also people who could be defined as pillars of the community. Little did I know that, in time, we would become close friends; much more, that she would become my mentor, giving me all her support and encouragement in my attempt to publish my first book.
Sylvia Barbara, nicknamed "Cherie" by her father, was born in in the middle of the Great Depression, in the small town of Kamsack, Sask. Her father, a general practitioner, delivered her himself, since the local obstetrician was too drunk to perform. Both parents were Jewish immigrants from Poland and Russia, now living in this tiny town of 2,000, including many Doukhobors and First Nations. As a child, Cherie became keenly aware of the racism against minorities, and saw her father trying to offer assistance to those in need at every opportunity. Growing up in Kamsack was a very long way from Cherie's later life in Vancouver. But, as I was to find out when I got to know her better, her modest childhood was the foundation for her generosity of spirit, her lack of prejudice, her warmth and her humanity.
Slim, well-groomed, her brown-reddish hair cut short, her dress casual but of good quality, Cherie was unaffected and friendly, a mover and a shaker. Once she made up her mind about a certain activity, there was nothing that could stop her. Speaking in quick, concise words, waving her hands about, she passionately advocated her ideas.
As I said before, books were Cherie's world. She and her husband Buddy owned a bookstore for some time and later promoted writers whenever they could. Cherie would invite writers to speak and even subsidized them by paying their expenses. She was the founder of the Jewish Book Festival, which she tirelessly supported and organized, and now bears her name.
But I digress. Let's return to that particular sunny morning in Cherie's living room, where she listens to me worrying about the crazy idea of publishing a book.
"How can I do this? I have never done it before, what if it fails?" I am quite anxious. Perhaps the work is not good enough, perhaps I shall lose all the money lent to me so generously by friends, and perhaps I won't find a publisher, perhaps, perhaps. But Cherie will have none of that. Doubt and fear of failure are not in her vocabulary.
"Do it! Just do it!" she urges me.
We revisit all the risks and all the benefits of this adventure. She tells me again and again that The Trials of Eve, the largest, most daring and risky work I have ever done, has to be published; it has to be launched into the world. She cajoles, encourages and prods me into taking the plunge. She is willing to help edit my poems; she will help with information and with whatever is needed for the publication process. "Just do it!" she says again and again.
And I did do it. The book came out in due time, first as a limited edition that won the Alcuin Citation Award and, later, as an expanded soft-cover version; both a victory of Cherie's indomitable spirit.
When Cherie became ill with the cancer that would eventually take her life, she took it in her usual commonsensical style, bravely fighting her way through without complaining. While visiting her, she told me about her swimming routine at Kitsilano Pool and about her efforts to publish her own book as a special gift to her grandchildren. We would take long walks on the beach, soaking in the beauty of English Bay. She, as usual, continued asking about my activities rather than talking about herself, her warmth and interest flooding over me like sunshine. Later, when she lost her hair due to the harsh chemotherapy she endured, she bought an elegant wig, always putting on a brave front, always concerned about her appearance, but almost never talking about her illness. Only when it became apparent that she was losing the battle did she begin making remarks about luck and fate. She became obsessed with the urgency of finishing the book that she was working on, and kept writing as much as she was capable of in her condition. The book was published before her death.
My last visit with Cherie in her white, sunny living room, took place shortly before her death. Her illness had taken a huge toll. Her body, devastated by the disease, was like a shadow of itself, transparently thin, her face lined, her voice a whisper. She still wanted to know what was happening in my life, but this time she also talked about her own death. I could barely answer her, my voice choking in my throat, tears welling in my eyes. We said goodbye and I left. It was the last time I saw my friend, Cherie.
After this, she refused all visits other than family. She wanted us to remember her as the vibrant, energetic and lively person she had been. And this is how I remember her. But each time I walk past her house, which has now been sold, a dull ache in my chest reminds me that I have lost a very rare, true and irreplaceable friend.
For information and a full schedule of events for the Cherie Smith JCCGV Jewish Book Festival, which runs Nov. 22-27, visit jewishbookfestival.ca.
Pnina Granirer is a visual artist who has exhibited locally, nationally and internationally and whose work is found in numerous private and public collections. Over the years, she has written short essays and poetry, some of which were published in Pnina Granirer: Portrait of an Artist by Ted Lindberg (Ronsdale Press). The Trials of Eve, a work of 12 mixed-media drawings and 12 poems, received an Alcuin Citation Award. This work is in the special collection of the Glenbow Museum in Calgary. The soft-cover edition features a lengthy essay written by the author. Granirer is currently in the process of working on a memoir. This article was originally written in 2009.