The Sir Charles Tupper Secondary School Grade 11 history class for which King David High School teacher Anna-Mae Wiesenthal (middle row, second from the right), did a presentation on the Holocaust. Their teacher, Bonnie Burnell, is to Wiesenthal's left. (photo from Anna-Mae Wiesenthal)
"They were in awe of the Holocaust survivor," said Bonnie Burnell, a teacher at Sir Charles Tupper Secondary, describing the reaction of her students to survivor Robbie Waisman's talk at a Yom Hashoah assembly at King David High School (KDHS) on April 24. "Looking at him as he spoke at the podium, they could scarcely imagine him on the inside of a Nazi concentration camp."
Students from Prince of Wales Secondary School and, of course, from KDHS also joined the assembly, which was organized by KDHS teachers Anna-Mae Wiesenthal and Aron Rosenberg, and included Cantor Yaakov Orzech chanting El Malei Rachamim.
The multi-school initiative was led by Wiesenthal, who is currently pursuing a master's degree in Holocaust and genocide studies. Last year, she went to Austria and Poland with the Sarah and Chaim Neuberger Holocaust Education Centre of Toronto. In addition to teaching about the Holocaust at KDHS, she has been giving presentations at various public schools. She told the Jewish Independent that students have been very engaged and have asked many questions. This outreach led to the recent assembly at KDHS, where other schools' students were invited to attend.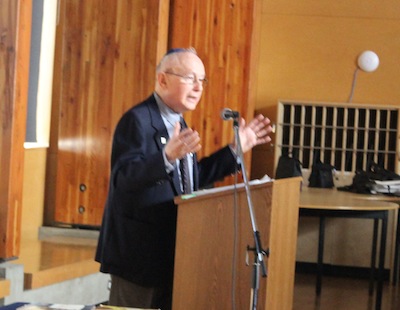 "My students, in general, were impressed with the ceremony and glad that they had made the decision to come," Burnell said. "We have had a real focus on racism in our curriculum this year, and this visit definitely adds something of central importance to that subject."
Wiesenthal, who has taught at KDHS since 2006, became interested in focusing more on Holocaust education after attending an educators seminar at Yad Vashem in 2012.
"I feel Holocaust education is about giving voice to the millions of victims who were murdered simply because of who they were, and honouring their legacy and our history," explained Wiesenthal. "It is about remembering the vibrancy of Jewish life both before and after the war. It is about preserving memory for future generations and across cultures. It is about taking the knowledge of unprecedented horrors, and keeping them in front of us so that we remain vigilant about our humanity in the face of genocides today."
Wiesenthal also admitted to being inspired by a possible kinship with renowned Nazi hunter Simon Wiesenthal. Her great-grandfather, Mattityahu Wiesenthal, was a Russian boy saved from forced conscription in the Russian army by being "thrown across the river" from Russia into the town of Skala in Austria-Hungary, as many boys were at that time. As an orphan in Skala, he was taken in by Moshe Efroyim Wiesenthal, who supported many such refugee orphans, and the young boy took the family name Wiesenthal to honour his patron. Wiesenthal does not know if Moshe Efroyim was directly related to Simon Wiesenthal, but the latter remains one of her heroes, and she has been in touch with his granddaughter, Racheli Kreisberg.
Wiesenthal also recently initiated a pilot project at the Vancouver Holocaust Education Centre (VHEC), in which KDHS students trained as docents (museum guides) lead other students through the exhibit.
Another project was an art exhibit at KDHS, where her Jewish History 11 class viewed a video of a Holocaust survivor's testimony, chose an aspect of the testimony that stood out for them and then created a work of art based on that aspect. Each work was accompanied by an artist's statement, a picture of the survivor and why the student chose the testimony they did. Contributions included painting, sculpture, writing and music. "The quality of expression was very moving," said Wiesenthal.
Rabbi Stephen Berger, head of Judaic studies at KDHS, said he is thrilled with the work Wiesenthal has been doing.
"She shares her passion with her students and fulfils the talmudic dictum, 'Words that leave from the heart, penetrate the heart,'" he said. "Our school and students benefit immeasurably by having her as a teacher of history and Holocaust studies."
Matthew Gindin is a freelance journalist, writer and lecturer. He writes regularly for the Forward and All That Is Interesting, and has been published in Religion Dispatches, Situate Magazine, Tikkun and elsewhere. He can be found on Medium and Twitter.