Theo Budd as CB, Eric Biskupski as Beethoven, Erika Babins as CB's Sister and Ryan Nunez as Van in Dog Sees God: Confessions of a Teenage Blockhead, which runs June 8-11 at CBC Studio 700. (photo by Javier Sotres)
It would be interesting to know what Peanuts creator Charles M. Schultz would have thought of Bert V. Royal's Dog Sees God: Confessions of a Teenage Blockhead, which premièred several years after Schultz passed away. Described as an "unauthorized parody" of the well-known cartoon strip, it seems more serious in its imagining of Charlie Brown, Lucy, Linus and the rest of the gang as teenagers.
Presented by Awkward Stage Productions next week, June 8-11, the show isn't part of Awkward Stage's regular season, said Jewish community member Erika Babins, who plays the character CB's Sister. "This project sprung from a night of hanging out with friends and we were all lamenting the lack of opportunity to really sink our teeth into a meaty and relevant piece of theatre," she explained. "I'm an artistic associate for Awkward Stage and I was chatting with artistic director Andy Toth, who more or less said, 'This sounds like a show that Awkward Stage should be a part of.' So, we've had the benefit of the support and connections that Awkward Stage has in the theatre community and as a not-for-profit, but we are producing it as a collective of emerging artists."
The Wikipedia entry on the play goes into detail about the plot. In short, after CB (Charlie Brown) and his sister (Sally) hold a funeral for their dog (Snoopy), which degenerates into an argument, CB goes on a mission to determine what happens to us after we die. Among many other things, we find out that CB loves Beethoven (Schroeder) and they hook up, but Matt (Pig-Pen) can't accept the relationship, so he harasses Beethoven, who eventually commits suicide. Also part of the story is that Van's Sister (which would be Lucy, with Van being Linus) has been "institutionalized for setting the Little Red-Haired Girl's hair on fire."
"The only thing I would add," said Babins about the Wiki synopsis, "is that the whole play is bookended within the context of CB writing a letter to his old pen pal." The pen pal has the initials CS, referring to Schultz.
"The target audience for this play is anyone who is a teenager now or remembers being a teenager," said Babins. "There is a lot of swearing and heavy subject matter so parental guidance is advised and it is probably not appropriate for elementary school-aged children."
The promotional material for the Awkward Stage production notes, "Dog Sees God shines a light on homophobia, drug use, pedophilia, suicide, eating disorders, teen violence, rebellion, sex, mental illness and self-identity. And it's funny!"
"I was taught at theatre school that comedy comes from the characters not realizing they're doing something funny, and these characters definitely don't know they're being funny," Babins said. "For them, everything that is happening to their group of friends is the worst thing ever but, for the audience, it's an opportunity to look back and laugh at the dramatic highs and lows that are adolescence."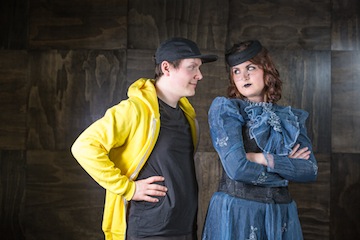 She describes her character as "a bit of an outcast herself. She's younger than the other characters and, as such, is not included in their tight-knit group. She spends the course of the play drastically altering her persona in an attempt to figure out where she actually belongs. Without giving too much of the story away, she does find her way back to a close relationship with her brother, who she grew up admiring."
Babins added, "One of CB's big arcs in the play is trying to decide on what he thinks happens after you die, and each of his friends has a very different answer for him. Though none of the of the answers is expressly Jewish, it's an interesting lens to look at how these teenagers interpret religion in a secular small town."
Directed by Sarah Harrison, Dog Sees God previews at CBC Studio 700 on June 8, 8 p.m., and opens there June 9, 8 p.m., with performances June 10, 7 and 9:30 p.m., and June 11, 2 p.m. Tickets are $21, with $1 of every ticket sold going into the profit share for the cast and creative team (the preview is two-for-one). For tickets, visit dogseesgodvancouver.brownpapertickets.ca.