Springfield Collegiate Institute students walking into Auschwitz. (photo by Jim Osler, SCI)
Holocaust education is commonplace in Jewish schools. But, in public schools, discussion about the Shoah is at each teacher's discretion. Some 14 months ago, teachers at Springfield Collegiate Institute public school in Oakbank, Man., decided they would take 30 Grade 11 and 12 students to see Second World War sites firsthand.
Despite that Oakbank is home to few Jewish families, the school has been inviting Holocaust survivors to speak to students and has been educating its students about the Holocaust for years. Last year, teachers Jim Osler and James Chagnon made the decision to take things further.
"While this was not on a topic brought up in a regular class, we organized activities outside of class time for these students in the evenings and on the weekends to educate them a little more," said Chagnon of preparing the students for the 12-day trip, which started March 20.
"We visited a synagogue and talked to a rabbi about what it means to be Jewish, because we don't have any experience with that," Chagnon told the Independent. "We went and met two Holocaust survivors, who talked about their experiences in the camps. And we went to a conference on antisemitism hosted at the Rady JCC [in Winnipeg]. So, we did a lot of prep work outside of the school with these guys to make sure they'd be ready for what they'd be experiencing."
Chagnon referred to a recent study that found that only about 30% of Canadian high school students had awareness or knowledge of the Holocaust.
"I had always taught English here in the school in addition to history – novels like The Diary of Anne Frank – and these seem to be getting pushed to the wayside," said Chagnon. "The younger generations these days, especially in a community like ours that doesn't have a big Jewish population … it's just something I don't think parents have a lot of experience with and, so, it's not passed onto the kids. So, if they don't learn about it in school or as part of our programs or clubs, they maybe aren't going to learn about it at all."
The school had wanted to take more than 30 students on the March trip, but had to stick to that maximum for logistical reasons. Participating students had to fundraise to pay their way.
Madison Stojak, in Grade 12, and Anna Palidwor, in Grade 11, were both born and raised in rural Manitoba, and had little knowledge or interaction with Jews prior to attending Springfield Collegiate.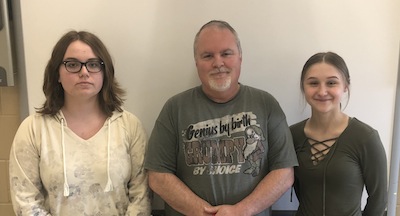 "Hearing Holocaust survivors' stories and then going to the camps, like Auschwitz and Birkenau … you could remember what the survivors said and picture it, what they must have gone through while they were there," Palidwor told the Independent. "How we felt while we were there has stuck with everybody after we came back. Also, we're more aware of the race issues that are out there… That's definitely stuck with me … realizing it's still here, wherever we go, the hate."
While the school group was at the Warsaw Ghetto, a man on a motorbike drove by and gave the middle finger to a group of Israeli students who were standing beside them. "After all that, you're just more aware of it, anywhere you go," said Palidwor.
Both Stojak and Palidwor have talked about their experiences with family and friends.
"When I shared it with my family members, it was kind of surreal to them," said Stojak. "They were like, 'How could other people treat people like this? How could this happen? How come no one stopped it?' They were questioning the same things I think all of us were questioning on the trip."
"One of the strong points we really tried to push on the students, in terms of their learning, to understand, is that this isn't the first time this has happened," Chagnon said. "We definitely want it to be the last time, so we can't just sit by and be passive bystanders anymore. When you see antisemitism, you are now obligated to call it out, draw attention to it, so we can change the way the world works."
When the students returned from the trip, they were taken aback by some of the reaction they heard from fellow students who did not go.
Stojak said, "I hadn't heard any comments before the trip like these – until they realized we were there … people started making rude comments … hateful comments. I think they were saying it to get us upset, and I also think that they're really undereducated and don't understand how serious it is.
"One comment someone said to me was, 'Don't touch me with your Holocaust hands!' That's what someone said to me. And, as soon as he said that, I said, 'What did you just say?' And he repeated it. I looked at him and said, 'You didn't just say that to me. That's ridiculous. Do you know how many millions of people died there? That's not something you should be saying.'
"I stood up immediately and shut it down," said Stojak. "It made me feel sick to my stomach. How could someone make a comment like this? When he said that, I pictured standing there at Auschwitz or Birkenau and thinking, how could someone be so ignorant to say that?"
"These kinds of comments are making us want to be more active," said Palidwor, "and to explain it to more people who weren't there and tell them what the Holocaust is."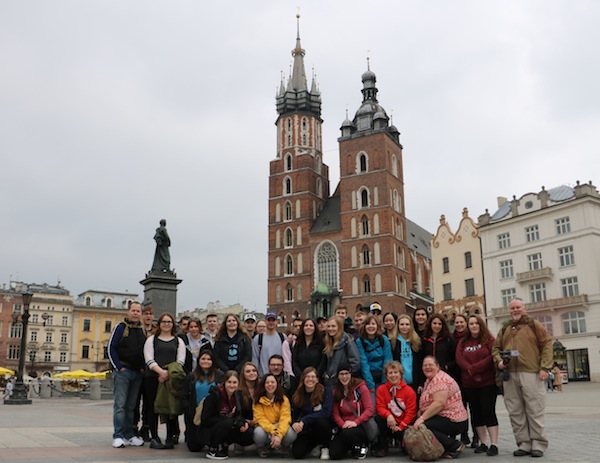 One of the things that stuck in Chagnon's mind from the trip was the incident with the Israeli students. He noticed that there were a dozen security personnel with the Israeli student group but none with the Canadian school group.
"One of my students said, 'Wow, I didn't understand how bad it was – that these kids on a school trip from Israel have to be accompanied by security guards,'" said Chagnon. "That kind of struck me and I made sure to point it out to my students. It gives you a bit of perspective for the Jewish community – how scared they must be all the time – that they can't send students to learn about the history of their people, their culture and religion, without having to send security with them."
Another thing that stood out for Chagnon occurred when the group was visiting a Jewish cemetery and noticed that locals use the cemetery as a bathroom stop for their dogs.
"I'm a guest in their country, but I was shaking, I was so angry," he said. "I couldn't believe people would show such indignity to a group of people who suffered so much already.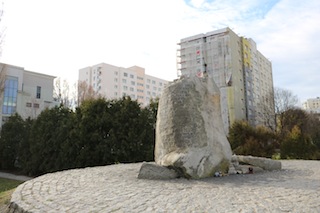 "We had a nightly debrief at the end of every evening," he continued, "where we sat around and talked about the day, how we felt about it and our reactions to it, and that's one thing I brought up … that some of this stuff may seem to have gone away … maybe it isn't as bad as it was, but that doesn't mean it's not there, just bubbling under the surface, waiting for an opportunity to pop up.
"For me, that's the reason we did a trip like this, and I know Jim [Osler] feels the same way.… They say people who don't study history are doomed to repeat it and, for me, that's very true. You have to talk about these things, even the ugly things in history, so we don't let it happen again."
Rebeca Kuropatwa is a Winnipeg freelance writer.