A ziplining selfie: Dangling over river gorges in Clayoquot Plateau Provincial Park. (photo by Baila Lazarus)
The mission: to explore British Columbia from as many geographical perspectives as possible. The means: a 10-day road trip on Vancouver Island. The locations: whatever would take us off the city or country roads. The result: eight ways to see the province like you've never seen it before.
From the air
1. Nothing says "new perspectives" like sleeping in a ball suspended from three trees about 15 feet in the air. Making Lonely Planet's 2014 list of top 10 extraordinary places to stay, the Free Spirit Spheres near Horne Lake, about 45 minutes north of Nanaimo, are just that. Designer Tom Chudleigh has built three round wooden "rooms" about 10 feet in diameter, so guests can feel like they're sleeping in a tree, but with all the amenities of a hotel room. A perfect "glamping" scenario, the rooms have electricity and are outfitted with dishes, a small fridge and a few appliances, and the site has showers, a full kitchen and even a sauna. Prices start at $155 per night. freespiritspheres.com.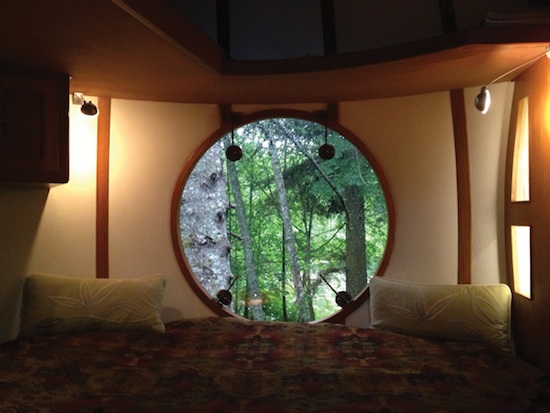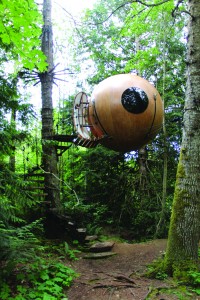 2. Search ziplines on Vancouver Island and you're bound to come up with three: WildPlay, south of Nanaimo; Adrenaline, west of Victoria on the way to Sooke; and West Coast Wild, 45 minutes east of Ucluelet. We chose the latter due to its number of lines (six) and lack of suspension bridges (a request by my co-traveler). The $99 cost was a great deal for two hours of stunning scenery, a guided nature walk and exhilarating zipping. Even for non-risk-takers, this is a great adventure. Sit and hang on for a smooth ride or test your mettle by hanging upside down and striking a pose. wcwild.com.
3. One of the best values of the trip was a floatplane tour from Victoria Harbor with Harbour Air Seaplanes. The $100 30-minute tour takes off from in front of the Empress Hotel and flies over the Capital District, passing over the Strait of Juan de Fuca and Saanich, offering a glimpse of Butchart Gardens from the air. harbourair.com.
From the water
4. Tofino and Ucluelet – indeed, much of coastal British Columbia – are known for their whale-watching excursions. For an alternate option, try a bear-watching trip instead. These boats ply the inlets and shorelines, giving passengers a more varied view of the topography and making it easy to spot and follow wildlife. (Unlike trying to anticipate in which square metre of ocean a whale might breach.) On a tour with Jamie's Whale Watching, we spotted a mother and two cubs and were able to watch them forage for food right by the water's edge for about 45 minutes, giving everyone the opportunity to get a good look – and good shots. jamies.com.
5. It's not often you can get a view of the shoreline from a kilometre out without standing on a boat or floating platform of some kind, but at low tide near Tigh-Na-Mara in Parksville, it's a mud-walker's dream. Meander through ankle-deep puddles or stick to the muddy flats, examine tracks left by crabs or other marine life and lose yourself in the vastness. Turn around, and the buildings on the shoreline look like miniatures.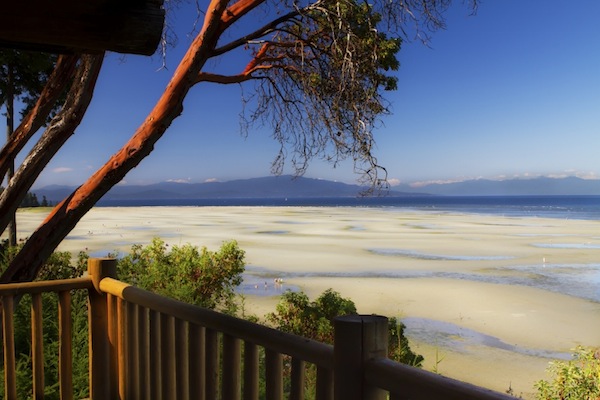 From underground
6. Don a helmet with headlamp, some sturdy shoes and gloves and you're ready for caving in Horne Lake Provincial Park. About an hour from Nanaimo, these tours – offered through the park – give a glimpse into the world of beautiful crystal and rock formations, and geological history. Tours range from a Family Cavern 1.5-hour tour for $26 to a High Adventure four-hour tour for $125. Note this is not a walk in the park. There is very rough terrain and the caves are very cold. hornelake.com.
From high above
7. If you're interested in getting a bird's-eye view, but still want to be standing on terra firma, two locations near Victoria offer outstanding vistas. Driving up the Island Highway about 30 minutes from Victoria, take the turnoff to Whittaker Road and keep right to go up Ebedora Lane. At the top – where the Aerie and Prancing Horse are located – you'll have stunning views of Saanich Inlet.
8. Across the inlet, stand in the shadow of history as you make your way up Observatory Hill. Built in 1918, the Dominion Astrophysical Observatory was, for a short period, the largest functioning observatory in the world. The road winds up the hill, offering lookouts with views to most of Saanich.
Baila Lazarus is a freelance writer, painter and photographer. Her work can be seen at orchiddesigns.net.