Jerry, left, and Keith Wolfman. (photo by Matthew Gindin)
I'm vacillating between anxiety and bliss," said Jerry Wolfman. After 50 years of working alongside his younger brother Keith in what was once their father's store, Vancouver's Three Vets is coming to an end.
"The anxiety comes from thinking about what happens the day after the doors close," Jerry explained to me from behind one of the two cash registers at the front of the store. "The bliss comes from the freedom that will follow."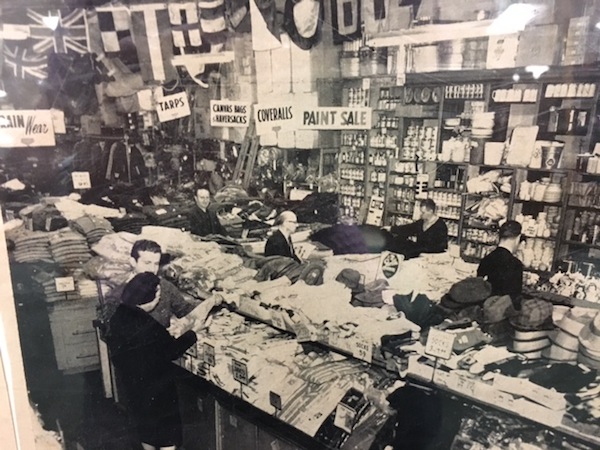 The camping equipment and military surplus store first opened its doors 70 year ago, at Prior and Main streets. The building of the Georgia Viaduct forced the store's move to its current location, on Yukon Street at 6th Avenue, which will close Oct. 29. A giant banner over the front door announces, "Closing Out Sale: Up To 70% Off!"
Inside, the shelves are still littered with camping goods, gadgetry, clothing and hunting equipment. Through a small door on a side wall, First Nations masks and decorated wooden paddles can be glimpsed, belonging to Jerry's other business, selling indigenous arts and crafts, which, he said, he plans to continue.
Keith is a little more sanguine about the future, at least on the surface. "What am I going to do? I'm going to take a chair yoga class and go swimming at the JCC." He said he might also help members of his family with their business or kibitz around with other side projects.
Both Keith and Jerry grew up helping in the store, which was founded by their father, Bill Wolfman, and two other army veterans. Wolfman senior began the business with the idea of ending a shortage of bedding in logging and mining camps by using military surplus.
Keith and Jerry's early trajectories seemed to point away from involvement in the business. Jerry went to college to study anthropology but didn't see a future in it. Keith went traveling, at one point backpacking overland from Istanbul to Kathmandu through Iraq, Iran and Pakistan. Both brothers made their way back to their father's store in their 20s, however, and haven't left.
Jerry said it was their love of camping and the outdoors that resulted in the expansion of the store from a military surplus provider to "the great outdoor store" their sign declares them to be. Eventually, their range of merchandise expanded even further, to include housewares, emergency preparedness supplies, rain gear, travel accessories and other odds and ends that struck the brothers' fancies. They also offered repairs for lanterns and stoves. The business often served police officers, firemen, ambulance personnel and film crews.
Some years ago, Keith and Jerry were approached by a land developer to sell the store, but they refused. The next offer they received was too good to turn down.
Other factors influencing their decision to close up shop, said Jerry, was the increase in big-box competitors, the growth of the online marketplace and increasing property taxes.
Earlier this year, on April 24, Three Vets announced the closure on its Facebook page. "It has been an absolute pleasure helping all of you with your outdoor needs," said the statement. "We have enjoyed helping you get ready for camping trips, hiking treks, summer camp and other outdoor activities and we loved hearing about your adventures when you returned home. We can't thank you enough for all the support you have offered us over the years."
The Wolfman brothers have not just received support but given it in abundance, supporting a number of causes and organizations in the Jewish and general communities.
Matthew Gindin is a freelance journalist, writer and lecturer. He writes regularly for the Forward and All That Is Interesting, and has been published in Religion Dispatches, Situate Magazine, Tikkun and elsewhere. He can be found on Medium and Twitter.