Adam Bogoch and Cynthia Ramsay at Main Street Brewery, where they discussed, among other things, Adam's documentary film about Vancouver Talmud Torah. (photo by Adam Bogoch)
As I watched filmmaker and writer Adam Bogoch briefly consider jaywalking across Main Street to meet me at Brassneck Brewery, I held my breath. Thankfully, he decided to cross at the lights and, together, all body parts intact, we headed into the crowded tasting room and found two places at the bar.
We had lots to talk about that sunny, humid day in July – he was excited to share with me, and Jewish Independent readers, news of a commercial project he was just completing. The final product, Vancouver Talmud Torah Onward: The 100-Year History, will première on Sept. 17 at Rothstein Theatre. While the event has sold out, there will be other opportunities for community members to see it.
"… there have always been community-minded individuals who have been ready to step forward and guide the Talmud Torah onward, and keep the light of Jewish learning alive."
Adam chose to frame the work with an article from the Jewish Western Bulletin, the predecessor of the JI. Written by Harry Wolfe, the short item appeared in the Sept. 2, 1948, issue of the JWB, which was dedicated to the imminent opening of the then-new building at 26th Avenue and Oak Street, and featured a lengthy history of the school's first 30 years. What is interesting about Wolfe's quote – and Adam's decision to use it – is that it recognized both the numerous (recurring) problems that faced the school, as well as the fact that "there have always been community-minded individuals who have been ready to step forward and guide the Talmud Torah onward, and keep the light of Jewish learning alive." Hence, the name of the film.
"It's extremely challenging to create a documentary on an institution that doesn't feel like a puff piece. Honestly, that was the first obstacle to overcome," said Adam in an email interview. "I have my own personal perspectives on religion and community politics that I didn't want clashing with the mission of the movie. So, the only way I could get around this was to locate the heart, that something that we can all relate to.
"Luckily, this was almost instantaneous. While going through the archives, I found a superb article in the Jewish Western Bulletin … written by Harry Wolfe in 1948…. It perfectly encapsulated the trials and tribulations of the school and how the success or failure of the institution was, and still is, solely on the backs of the community. It also stated that, despite major setbacks, there have always been those willing to put their tucheses on the line for VTT.
"The reasons they did this were numerous and we explore some of them in the movie," he said. "But, even when I went to VTT, there was a love that pervaded the halls of the school. No matter where you fell on the religious, financial or political spectrum, there was a place for you. That's an institution worth talking about and one worth fighting for.
"That's not to say that it's perfect. Nothing is, and the movie doesn't shy away from that, which, aside from being a vital part of storytelling, is part of the fun of it. But, hopefully, the film helps to keep the school (and the community) on the right track."
It certainly kept Adam on track, making "sifting through hundreds of hours of footage far easier. If it didn't fall under the umbrella idea, it got cut."
The film project was funded, said Adam, "by the generosity of Syd Belzberg and by multiple donations made to the VTT Alumni Fund." It took more than three years to complete – and that was after years of discussing the idea of a documentary. It was a concept for which his father, David Bogoch, in his capacity as alumni chair, advocated "with many different boards."
"Frankly, it took awhile for excitement to build," said Adam. "At first, only my dad, who's a wealth of information on the topic, truly saw a story worth telling. By the time we knew the school would be celebrating its 100th anniversary, things really began to take shape. Past board members and individuals in the administration embraced my dad's ideas and he convinced me to helm the project."
In addition to funding the documentary, the VTT Alumni Fund has been financing the digitization of the archives, said Adam.
"I spent the first two years of this project doing research. This included the expansive VTT archives, the Jewish Western Bulletin, the Jewish Museum and Archives of B.C. and Rozanne Feldman Kent's book The Vancouver Talmud Torah: 1913-1959 and Beyond."
While he did most of the legwork himself, he received "some significant assists" from his dad. "As well," he said, "I was lucky enough to work with a small crew on certain days. So much visual content came from [VTT's] Jennifer Shecter-Balin, and she simply must be praised." He gave a lion's share of the credit to film editor Thomas Affolter. "The broad strokes of the project may have been due to my experience as a writer," said Adam, "but he has a director's mind that added a real sense of professionalism and cleanliness that is immediately evident on screen."
The decision of who to interview was a collaboration between Adam and his dad. "We had suggestions given to us by [VTT head of school] Cathy Lowenstein, as well as by staff members, but most of the 46 faces featured were our decision," said Adam.
"… we have an all-star lineup of community members of all different ages, occupations, experiences and perspectives. It's like the Ocean's Eleven of the Jewish community."
In his 1948 article, Wolfe wrote, "We have attempted to give credit where it is due, but many will have to remain unmentioned because of modesty or because research could not uncover names." Adam said he faced the same challenge and is expecting to receive "a few remarks on missing faces. But, it's important to note that some people were unavailable or had no interest in being on camera. The movie also couldn't be unbearably long, so we had to cap at a certain number of individuals. But, we have an all-star lineup of community members of all different ages, occupations, experiences and perspectives. It's like the Ocean's Eleven of the Jewish community."
This is Adam's favourite aspect of the documentary, "that it provides voices from all corners of the community. Sure, we could have always featured more. There will always be factions that we didn't include. However, we have 46 featured faces. Each with their own perspective. Some of which are in conflict with one another. But all of them are shooting for the same goal – a prosperous Jewish day school that welcomes everyone."
Adam gave the school credit for its hands-off approach to the content. "Some of these opinions [in the film] are not what the school endorses. But they understand that they are just opinions. Informed discussion is vital for growth, and we can't shy away from it. At the end of the day, we had very little interference from the school; and what little we did have made the project stronger, kinder and still just as honest."
He added, "The board and admin have been so supportive of this journey, and they must be acknowledged for their bravery in embracing something that wasn't completely shiny and beautiful. That tells me that they're confident in the quality of their school.
"Another thing that interested me about VTT Onward," he said, "was that I was honouring my family roots. My grandfather, Dr. Abraham (Al) Bogoch was a giant in the community, especially when it came to VTT. My dad has followed in his footsteps in a way that I think exceeds my grandfather's influence. My connection is different, but this is one way that I can contribute to something that's been integral to the Bogoch family."
Adam himself is a VTT alumnus – class of 2005. By the time I first met him, he had moved to the next level of his Jewish education and was at King David High School. The reason for that meeting, in 2009, was the screening of his first feature film, Avoid Confrontation – he was 17!
From April 2010 through March 2011, we ran a series in the JI that that followed the production process of his second feature film, Complexity, from concept to completion. And I interviewed Adam in July 2011 about the short film Eye of the Beholder, co-written by David Kaye and Vanessa Parent, which he directed.
When we were organizing our beer-tasting and informal interview this summer, I was shocked how long it had been since I'd written about his work. It wasn't like we hadn't kept in touch. We get together every so often to catch up on each other's lives, though generally over coffee and pastry.
The idea for the beer-tasting interview originated in the spring, while we were at Thomas Haas café on West Broadway. There, Adam made an offhand comment about having to come back another time to take a proper photo of the cappuccino (it might have been a latte). Lo and behold, he writes about coffee for the food blog Hidden Gems Vancouver.
While he initiated that blogging gig, and does enjoy content writing immensely – blogs, websites, ghost-writing – he said, "ultimately, I do it to supplement my other works."
His resumé includes "writing and rewriting film outlines and treatments, as well as penning works for the visions of others," but his passion remains screenwriting.
"Writing and directing two feature films as a teenager, before I could truly comprehend what story really is, was the best training for what I do now. But it's a constant learning experience," he said. "I've also been lucky to have been trained by some of Hollywood's most influential writers and professors. Experiences I'll never forget."
At Brassneck, we discussed how to construct a plot, as well as successful and not-so-successful adaptations of books to the screen. Our beer choices oddly echoed our personalities, with me tending toward the darker beers, only accidentally ordering the aptly named Klutz Kolsch, a blonde ale, and Adam ordering the likes of Hibiscus Wit (which he has in abundance), Wingman (I'm sure he makes a great one) and Sunny Disposition (which he also has, both in temperament and in looks, with his broad smile and ginger locks).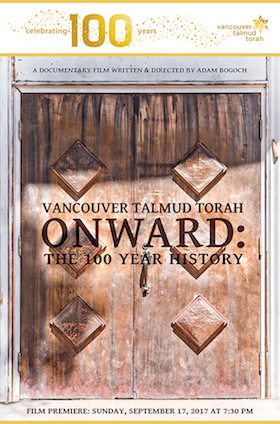 As we took our interview and beer-tasting to Main Street Brewing on East 7th Avenue – and had some much-needed food – we talked about VTT Onward, the Jewish Independent's upcoming Chai Celebration (don't make any other plans for the night of Dec. 6!), more about film adaptations and a bit about the challenges we each face being self-employed in the arts.
"At the end of the day," said Adam, "I've picked a profession that is highly competitive and doesn't operate in any way like 'mainstream' careers. It's a constant barrage of rejection and uncertainty. But I've been extremely fortunate to have signed with a tornado of a manager, Liz Hodgson. She's been responsible for the careers of some notable A-list talent, both in front of and behind the camera. She's been mentoring me consistently – one of the most common ways for writers to break into the industry on a significant level – and is currently representing my next two projects, one of which I've been rewriting for over six years."
This latter script has almost been made four times, and has received multiple offers, said Adam. "I've taken none. This is because there's always been something that has kept me from releasing it. That, or the deals haven't been right.
"Recently, I've been working with my manager on a rewrite that will hopefully allow me to let it go…. Without over-talking it, Between Me (current title) is about a teenager battling his three personality projections who seek to push and pull him towards utterly catastrophic directions."
We decided that Brassneck's Bivouac Bitter could possibly represent the teenager's negative id, its Raspberry Changeling (which was sour, not sweet) his super ego. To describe his whole character, Adam thought Main Street's Old Knights Pale might be appropriate. We found the teen's positive id at 33 Acres Brewing on East 8th Avenue, in Nirvana, appropriately enough.
Despite having a little more to eat at 33 Acres, the beer-tasting was having an effect on me. After more discussion about life, the VTT film screening, which was then only in the planning stages, and the JI, which Adam described at one point as the "printed record of history," we parted ways. He was decidedly more peppy, but I slowly made my way safely home. When I looked at my watch, I couldn't believe that six hours had gone by.
A real tête-à-tête had obviously been overdue and the beer-tasting a good idea – at least for deep conversation. As for an interview, not so much. While I took the odd note, all of the material for this article comes from an email interview after the fact.
I will next see Adam at the Sept. 17 première of VTT Onward. Even though I've seen it, I'm looking forward to it. I'm not the only one who was impressed by the rough cut. A few others have seen it.
"I'm blown away by the response," said Adam. "I had no clue it would be received as well as it has been so far. I'm now confident that the community at large will find something in it that moves them and, therefore, I'm thrilled to be able to share it.