Jenn Griffin and Paul Herbert in Firehall Arts Centre's production, The Enemy, which runs to Dec. 1. (photo by Pedro Meza)
A doctor in a small B.C. town discovers that the main tourist draw, the springs, are polluted. As she tries to raise the alarm, she runs into harsh resistance – after all, the town's economic well-being is completely dependent on the tourism the springs, spa and waterpark attract. Among other things, her findings are discredited, the truth is characterized as "fake news," and she ends up regarded as a pariah instead of a saviour.
This very current-day scenario is actually based on Henrik Ibsen's 1882 play An Enemy of the People, the themes of which are as relevant as ever. Firehall Arts Centre artistic producer Donna Spencer has adapted Ibsen's drama, not only bringing the spa to British Columbia, but making the character of Dr. Stockman a woman in her version, called The Enemy, which runs at the Firehall until Dec. 1.
Spencer, who also directs the production, said in a press release, "Recently, we witnessed a decision south of the border that many of that country's constituents did not support for good reasons. But the majority of those who had the power to vote supported the choice, angering thousands and potentially impacting hard-earned freedoms and rights. With the Firehall's presentation of The Enemy, I have adapted Henrik Ibsen's drama – which asks the question, is the majority always right? – and applied it to a contemporary issue not unlike the one faced by Ibsen's version of Dr. Stockman. In this contemporary context of The Enemy, the role of Dr. Stockman is written as a female and illustrates the challenges that women face when confronting and disputing the 'powers-that-be' or, as some would say, 'the old boys' club.'"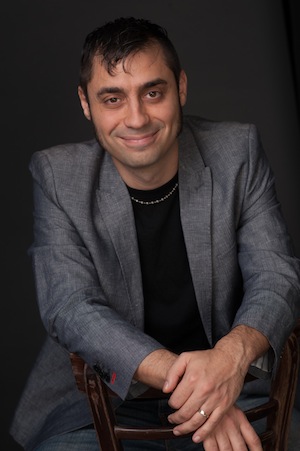 Jenn Griffin plays the role of Dr. Stockman in The Enemy. Jewish community member Michael Scholar Jr., is also part of the cast.
"I play the role of David Horseman (after Captain Horster in the Ibsen), who is a pilot who charters flights to remote fishing and hunting locations across B.C.," Scholar told the Jewish Independent. "He's someone who used to work for oil companies, but is now his own boss, trying to keep a low profile, and stay out of political frays. David is a friend of Dr. Stockman, who tries to help her when she is censored and vilified. Throughout the story, we find the otherwise complacent David find his political voice, when he sees a restriction on freedoms of expression come to his small town."
The Enemy explores the role of the media, the mob mentality, political extremism, corruption, elitism, the environment.
"Theatre is a very powerful medium," said Scholar, who is also the founding artistic producer of November Theatre. "The way in which ideas are communicated in theatre are through emotion, images and even moral ambiguities. There have been scientific studies done on what happens to theatre audiences when they experience a play live, showing that, when a play is effective, the mirror neurons are firing on all cylinders, creating an emotional, engaging experience that can lead to feelings of empathy and, therefore, understanding.
"The poetic form of theatre, with its use of imagery and physicality, allow for abstract thought and even an awakening of the mind and spirit that is unlike any other form," he explained. "The ancient Greeks presented dramas to allow their people to wrestle with moral issues communally. It was an important form of public discourse. And The Enemy and other socially conscious theatre are carrying on that tradition."
Scholar said he is excited to be working with Spencer.
"I've known Donna for years, and am thrilled to be working with her and this amazing cast," he said. "Some great friends of mine are in this show, like my old U of A school chum Daniel Arnold, Green Lake cast mate Donna Soares, and clown extraordinaire Peter Anderson. And I'm getting to know some other incredible talents, like Sharon Crandall, who I saw at Bard [on the Beach] this summer; Paul Herbert, who I've seen act since living in Edmonton; Agnes Tong, who was great in Les Belles Soeurs; Braiden Houle, who just did Kill Me Now at the Firehall; and our leading lady, Jenn Griffin, who I know as a playwright and is doing incredible work as Dr. Stockman."
One of the many intriguing aspects of the play – both Ibsen's original and Spencer's adaptation – is how the hero, Dr. Stockman, is portrayed. The doctor is not a sympathetic character, in ways that liberals and progressives especially should note. Dr. Stockman considers herself superior to her critics and those who believe them. A recent article in the New York Times – about why Ibsen's play is seeing so many remounts in the United States these days – compares some of Stockman's language to that of Hillary Clinton's "basket of deplorables" statement, "or other comments that people – perhaps audience members themselves – have made that imply that those they disagree with are inferior."
There is an excellent article in a 2010 issue of Public Health Ethics that can be found online. In it, Terrance McConnell uses Ibsen's play to examine the competing responsibilities of a physician: to their own ideals, to their family, to their fellow citizens and to public health.
"One message of the play is that those with vested interests will try to silence the idealist," writes McConnell.
"A second message in the play concerns how the idealist is portrayed by others," he adds, giving examples of how Dr. Stockman's opponents succeed in branding the doctor as crazy.
"In this age of divisive rhetoric," said Scholar, "this play wrestles with the concept of speaking truth to power even at great personal cost. Ibsen's story is sadly still relevant today, and Donna's adaptation puts it in the here and now. I think this production will elicit much discussion, and I look forward to being a part of that."
The Enemy runs at various times Tuesdays through Sundays at the Firehall Arts Centre, with post-show talkbacks Nov. 22 and 29. Tickets start at $20 and can be purchased from firehallartscentre.ca or 604-689-0926.