"Panty By Post is about shipping a piece of self-love in a little package," says Natalie Grunberg. (photo from Natalie Grunberg)
Underwear. We all wear it and it's not something most of us think too deeply about – until our own pairs look too disheveled, torn or worn out to warrant further use. But Vancouverite Natalie Grunberg thinks a lot about underwear – panties, specifically.
She started considering these hidden pieces of apparel on a trip to France in 2009. "I was inspired by the lifestyle I saw," she told the Independent. "I loved the way the women dressed, the kind of confidence they have when they're walking down the street and looking so lovely, even if it's just to get a baguette." As she spent time in French stores, she noticed the beauty of French underwear and lingerie and, not long after she landed at YVR, she started her own company, Panty By Post (pantybypost.com).
"I feel like there is value in putting yourself together well, and it starts with your underwear," she said. "Panty By Post is about shipping a piece of self-love in a little package – the sexiness, self-respect and confidence of the French comes to your doorstep like self-esteem in a box."
Grunberg, 39, is a native Vancouverite and member of Congregation Or Shalom who has been vacationing in France since the age of 14. That French influence had a profound impact on the Grunberg kids. Paul, Natalie's brother, owns the French restaurant L'Abattoir in Gastown, while Natalie, formerly a high school teacher, gave up her day job two years ago to focus on her business. The learning curve was steep and those first five years, she said, were "like a mini MBA where I taught myself the skills I needed."
At first, she imported sexy, lacy panties. Then she surveyed her customers to find out what they were looking for in terms of panties and bras. She learned that her mostly North American customers wanted beautiful underwear that was comfortable and durable, "nothing poofy or scratchy. They need to be able to wear them under their business suits or under their jeans," she explained. So, she created her own label and forged a manufacturing relationship with a Colombian company. "I prefer working with Colombia over China because they offer really great working conditions and give their workers health care and support for single moms," she said.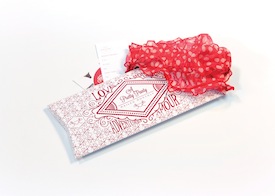 Who buys panties by post? It's an admittedly unusual way to source your underwear but Grunberg's demographic ranges from 25 through 65. "Sometimes, it's a mom buying for their daughter or themselves, other times a husband or boyfriend is purchasing for their partner, but this is not for the bargain shopper," she insisted. "Our customer is not the Costco shopper who buys a Haines pack of 10 underwear. Rather, these are women and men who understand the quality and value of a good panty."
The Panty By Post transaction starts on the internet with monthly panty subscriptions starting at $15 and increasing depending on the style and type of panty. Grunberg includes a handwritten note in each box of panties she ships and can personalize the notes if her customers have a specific message they want to relay. Some have been monthly subscribers for the seven years she's been in business. Others prefer to use Panty By Post for special occasions like a bridal shower gift or Valentine's Day treat.
There's a massive difference in the mindset of French versus American women, Grunberg noted, and it goes well beyond the panties they choose. "French women focus on buying good quality instead of volume. They 100% understand the value of wearing beautiful underwear, not just for your partner, but for yourself. North American women are more focused on comfort and don't see the value of those little details. We don't care as much about quality because we're more focused on buying a lot."
Grunberg is determined to change that mindset. "It's not OK to sacrifice beauty for practicality because we can have it all," she said. "It's not about impressing a man, it's about taking pride in your appearance. I'm on a mission to change the panty drawers of North American women. I want to bring the experience of France directly to your door."
Lauren Kramer, an award-winning writer and editor, lives in Richmond. To read her work online, visit laurenkramer.net.