The Burying Ground core duo is Woody Forster and Devora Laye, centre. On their newest album, they are joined by, left to right, Clara Rose, Joshua Doherty and Wynston Minckler. (photo by Mary Matheson)
The Burying Ground had a busy spring and summer planned, with dozens of performances scheduled around the release of their new album, A Look Back, this month. Then COVID-19 arrived and all those shows had to be canceled. Nonetheless, the band has carried on, releasing two singles already, and the full album comes out today, May 15.
"It was hard to let go of all the plans we'd been looking forward to but there's not much we can do about that part so we haven't let it get us too down (yet)," Jewish community member Devora Laye told the Independent. Laye, who is part of the core duo of the band, with partner Woody Forster, was philosophical.
"I do think it is important to recognize that we are all grieving in different ways and having to accept the disappointment that comes with all plans changed, canceled or on hold," she said. "I also want to acknowledge that these plans feel small and that is why I think for me, personally, I haven't gotten too down about my/our situation. It is a small struggle in the overall picture. We are OK. We are grateful to have what we need, to have each other and to be in this beautiful place by ocean and forest. I feel very sad for people who are suffering the most from this pandemic."
While yet to live stream a concert, Laye and Forster are making plans for online shows. In the meantime, they are working on new material, which Forster said they "are hoping to iron out in the coming months."
"I've been playing some guitar and Woody has been playing mandolin, which has been really fun!" said Laye, who does washboard, saw and vocals. "We have also been spending more time working on harmonies … [and] finishing up some original songs…. We're thinking we'll have enough material for another album later this year or by early next year."
Their new release, A Look Back, was recorded in January. Forster said the band – he and Laye, plus Wynston Minckler (upright bass), Clara Rose (fiddle and harmonies) and Joshua Doherty (harmonica and harmonies), who have been accompanying the duo on the road for the last couple of years – were planning to be touring with hard copies of it, starting in the spring, to help fund its creation.
"The plan was to hit the road with our new CD on May 1st to play a handful of gigs on Vancouver Island and release the album to those audiences first," said Laye, who had spent hundreds of hours booking the album shows. "We were looking forward to a 10-day tour to California, starting May 15th, including Northwest Folklife Festival in Seattle. June 5th, we were scheduled to play our local album release show at the Rogue Folk Club at James Hall in Vancouver; we were over the moon to play our album release at one of the best venues around.
"Anyhow, to sum it up – we were expecting to raise enough to press the physical album through our March and early April shows, however, because those didn't happen, we didn't have the funds to press the album just yet."
Hence, releasing the two singles in advance, as well as allowing people to pre-order the album. But pragmatism wasn't the only deciding factor.
"We really miss playing with the band and playing for crowds and, to be honest, as soon as the final masters came in, I was very eager to share at least some of the music with our family, friends and fans ASAP!" said Laye. "It's a way to connect with people during the quarantine – I miss the in-person connections and energy from live shows but, for now, we will hope that our songs and the songs we've chosen to cover will be a little taste of that connection. I like to imagine that people who are listening to our music are also dancing in their kitchens – or wherever else they like to dance, in a socially distant way."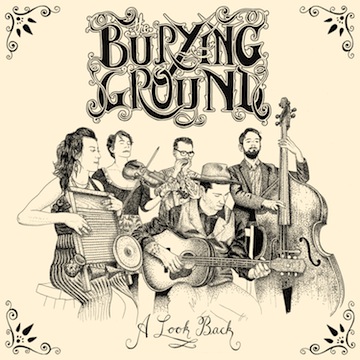 The first single released, on April 17, was "How Long." On the band's Facebook page, Laye notes that it "is the very first song that we wrote for the Burying Ground. It's a song about waiting for hard times to pass and better days to come."
"'How long 'til my luck's gonna change' is the chorus," she told the Independent. "We typically play this one with crowd participation, which always puts a smile on our faces and helps us connect with the audience. It's a relatable song about hard times and 'bad luck.' It's a song that deals with struggle, not knowing when the struggle will end. We felt like it's relatable to our times right now. When I chatted to our recording engineer, Marc L'Esperance, about our release plan/idea, he mentioned that 'How Long' is his favourite song off the album and thought it would be an appropriate song to release first."
"How Long" was first recorded in 2014 and it appears on the Burying Ground first album, Big City Blues. Country Blues & Rags was their next recording, followed by The Burying Ground. (For more on the Burying Ground, see jewishindependent.ca/reinventing-old-time-music.)
On May 1, the band released the second single from A Look Back. Called "Please Don't Talk About Me When I'm Gone," Laye said she first heard the song on a Washboard Rhythm Kings recording made circa 1930. "I love it," she said. "The music and the words. A couple years back, we heard Leon Redbone's version (who happens to be one of Woody's favourites). Redbone's take on the song struck a chord with us and the rendition we've recorded is more in that vein."
"Our music is and always has had a deep connection to older traditional styles that we love to pay homage to," Forster added. He said the leading song on the new album, "Diving Duck," was one of the first blues songs he ever learned, "so it felt like a fitting tune to kick the album off with. The recording I first heard of this song was with Sleepy John Estes and Yank Rachell, two great early blues musicians whose guitar and mandolin playing left an early mark for me musically."
"Behind These Eyes" also has personal meaning for Forster and was one of the early songs that he wrote for the Burying Ground. "It stems from a story my grandfather had told me about his father and his two uncles, who went overseas to fight in the First World War in 1914," explained Forster. "The war left one of his uncles unable to mentally deal with the things he had seen upon returning home. It was a powerful conversation for me and I feel like, with the current awareness now of PTSD that did not exist at that time, it made me really think about what he may have gone through."
About the song "C Rag," Forster said, "All of us being big fans of the guitar virtuosity of Gary Davis and his contribution to fingerstyle guitar, we felt that this instrumental number fit perfectly into the record." And the Burying Ground pays tribute to another great American blues and ragtime musician on A Look Back, Arthur ("Blind") Blake, doing their interpretation of Blake's "Hey Hey Daddy Blues."
The new album also includes the song "You Gotta Live So God Can Use You."
"Early gospel music played such an important role in all of the music that we love from the early 20th century and we wanted to have this represented on our record," said Forster. "The song may date back to the late 1800s, though I am not sure, but it is definitely the oldest tune we play."
Rounding out the album is the Burying Ground's take on "My Blue Heaven."
"In the last couple years," said Forster, "the band has been experimenting more with including early jazz songs into our repertoire and 'My Blue Heaven' instantly sat really well with the band. Devora's saw playing gives it a dream-like quality, which seemed to suit the song so well and made it a fitting number to close the album with."
In addition to A Look Back, Forster and Laye have put online for purchase the album Dire Wolves by the Dire Wolves.
"We've been wanting to put the album up online for awhile but, as we haven't been a real band for some years now, it's slipped our minds," explained Laye. "When the quarantine time began and we had all this unexpected time on our hands, we figured it'd be a good time to get it up online. We love the album!"
The album was recorded in 2010, said Laye, but released in 2012. She, Forster, Doherty (who has been a member of the Burying Ground since the beginning) and Blake Bamford (lead vocals, guitar) comprised the group.
"Those boys played music together pre-Dire Wolves, in a group called the Whiskey Jacks (2004- 2007). I sat in on washboard for a handful of Whiskey Jacks gigs!" said Laye. "We also played with Joseph Lubinsky-Mast, who has become one of Vancouver's finest and most in-demand upright bass players; he toured and recorded with the Burying Ground until the end of 2018. We've all been friends for a long time and, back then, we didn't really know anyone else playing traditional styles of folk (blues, stringband) music.
"When Blake Bamford, aka Big Fancy, moved up north to a rural farm in Fort Fraser, B.C., the Dire Wolves split ways," she said. "Woody and I were left without a band, without a guitar player and lead singer and wanted to continue playing music in a similar vein. That's when he started learning guitar – and it became his main instrument. I got more serious about percussion and I started to sing (in public)!" Thus, the Burying Ground came into being.
While grateful for their relatively good situation, Laye admitted, "The uncertainty is tricky. Do we continue booking tours? Do we wait it out? All events have been canceled for the summertime. Will September be different? Woody and I are booked for a two-week tour (as a duo) in October. Will that happen? I would normally be contacting venues on our route to book, I haven't. Artists are at a loss as to how to go forward…. So many venues don't even know how they'll make it through this."
She concluded, "I hope we can come out of this to a better, more connected, world. A world where we take care of each other: humans, plants, animals and the planet that sustains us.
"We miss playing shows and connecting with people all over," she said, "and really look forward to whenever it is that we can do that again."
The band's website is theburyingground.com.