"Poplars" by Darcy Mann.
The Vancouver Art Gallery's Art Rental and Sales space is not yet a well-known feature, but the nonprofit program has been quietly promoting emerging and mid-career Canadian artists on the gallery's main floor. According to the website, "Whether you are you staging a home for sale, have an empty wall in your board room or love contemporary art but can't decide what to purchase, you'll find what you're looking for in the Vancouver Art Gallery's Art Rental and Sales Showroom. With more than 1,000 works by 200 Canadian artists, Art Rental and Sales has the largest selection of copyright-cleared, original art for rent in British Columbia…. All the artwork in the rental program is consigned by the artists, who receive the majority of the fees collected. The remaining proceeds are donated to the Vancouver Art Gallery."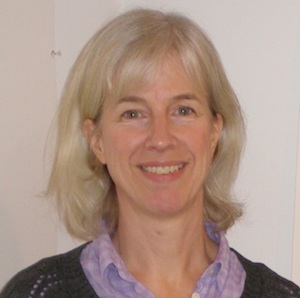 Darcy Mann is the next artist to have a feature exhibit in the space. Her charcoal drawings of British Columbia forests have been so successful with both the rental and sales part of the program that VAG offered to feature her work for three months.
Mann hasn't always focused on forest drawings. She started her artistic life with figurative compositions. In an interview with the Independent, she talked about her life and the evolution of her themes.
"I always liked art. When I turned 10, I got a birthday gift from my mother – a pencil and some drawing paper. It was the best birthday gift of my childhood, the only one I remember," she said.
After high school, she continued her art education in British Columbia and Nova Scotia, and later received an MFA in Texas. In 1987, in the course of her graduate studies, she had to spend a term abroad and she chose Israel, an experience that made a huge impression on the young artist. She and her husband, who is also a professional artist, then went to New York, where they lived for 14 years. "That's where we really understood what art was," she said. "But, of course, we couldn't make a living as artists. We both had daytime jobs. I worked for an advertising agency. We kept practising our art and participated in several group shows. There is a wonderful place there for Jewish artists – Synagogue for the Arts."
When their firstborn son was three, they returned to Vancouver, but Mann didn't return to work. With the support of her husband and his family, she became a stay-at-home mom and a full-time artist. "Many artists experience financial challenges. We are willing to sacrifice material things, to live simply, for the sake of our art and our kids," she said.
"I stopped painting and began drawing when my son was born – [I] didn't want the chemicals in the paints to interfere with nursing the baby," she said. "I also switched to forest scenes from figurative. You need to do much less talking when you paint forest. I don't like talking and I don't like discussing my art or explaining anything."
Even when her son was older and she resumed painting with oils, she concentrated on the large forest landscapes. But she never gave up on drawing.
"Paintings and drawings are both satisfying in different ways," she explained. "They complement each other. Painting is fluid. You can move paint around, remove some, add some, use different brushes, layers. A painting can change. It is chaos. While drawings stick to order, drawings are solid. When you use pressed charcoal, it's there, on paper. You can't erase it. But I need both. When I paint, I miss drawing. When I work on a drawing, I need to paint."
Mann paints in her Marpole studio. "I paint and draw from photographs. I love going out with my camera during summer and fall, when it's warm outside. Especially fall – it's when I take the most interesting pictures. Not in winter though – too cold."
After printing her photos, she starts the next phase of the process – assembling collages. Once she has the photographs, "… to get an image I want, I have to separate the background from the foreground" of each image. "I go through dozens of pictures. It's like solving a puzzle, selecting which pieces fit where. I cut the pieces and glue or tape them together. I do it all by hand – I don't trust computers. The whole thing is like taking a ball of mixed-up necklaces and untangling them, before creating a new image."
Mann's paintings and drawings are straightforward on the surface, but the underlying mystery shimmers in most of her compositions, a hint of a story, a token of a concept, as if the artist didn't really abandon the figurative but just concealed it behind a bush or in the midst of this thicket.
"For me, esthetics is the most important," she said. "The best of my works happen when I allow myself to lose conscious control, when my hand and my intuition take over. The idea is still there, but not controlled by me." That's why she often listens to audio books when she is at her easel. "With an audio book engaging my thoughts, it's easier to let the intuition fly."
Several years ago, she answered the VAG Art Rental and Sales call for artists and sent them some of her forest drawings, thus beginning a long association. Mann is the featured artist at the VAG Art Rental and Sales Showroom from Feb. 3 to May 2. Her artist talk, on March 4, 7 p.m., is free and open to the public.
Olga Livshin is a Vancouver freelance writer. She can be reached at [email protected].