Apple clafouti (photo by Barry A. Kaplan)
From Sybil Kaplan: A couple of years ago, I discovered clafouti, the French dessert of fruit, covered with a batter, baked and served warm. What I loved most was that it was good year around, it could be made pareve and it looked elegant.
MASTER CLAFOUTI
Works for peaches, plums, nectarines, cherries, pumpkin, pears, apples. Makes six to eight servings.
1 cup non-dairy creamer or pareve whipping cream (with/without sugar)
1/3 cup sugar (or substitute)
4 large eggs
1 tbsp vanilla
1/2 cup flour
Preheat oven to 350°F. Butter a baking dish or deep glass pie plate. Place non-dairy creamer, sugar, eggs, vanilla and flour in a blender or food processor and blend until smooth. Place fruit overlapping in bottom of baking dish. Pour batter on top. Bake 30-40 minutes. Serve warm or at room temperature.
APPLE CLAFOUTI
6 apples
1 cup non-dairy creamer or pareve whipping cream
1 tbsp brandy
1/4 cup raisins
4 eggs
1 tbsp vanilla
1/2 cup flour 
Follow directions for master clafouti. Makes six servings.
CLAFOUTI WITH PEACHES
6 large sliced peaches
2 1/4 cups non-dairy creamer or whipping cream
3 eggs
3 egg yolks
1 1/2 tsp vanilla
6 tbsp sugar
cinnamon
Grease baking dish. Preheat oven to 350°F. Place peach slices in baking dish. Whisk together non-dairy creamer, eggs, egg yolks, vanilla, sugar. Pour over peaches. Sprinkle on cinnamon. Bake 30-40 minutes until knife inserted in centre comes out clean. Makes six servings.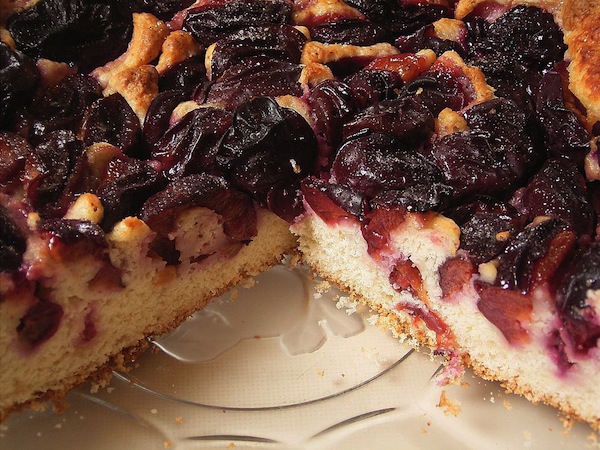 From Esther Tauby: This is a Rosh Hashanah cake that my Aunt Rose made up and my mother always makes for the holidays – as do I. Enjoy!
PLUM CAKE
2 cups flour
1 1/2 cups sugar
1/2 cup oil
3 eggs
2 tsp baking powder
1/2 cup water
1 tsp vanilla
6-8 prune plums
pinch of salt
Cream oil and sugar. Add eggs, beat well. Add flour, baking powder, salt, then vanilla. Use Pam or cover nine-by-13 cake pan with foil or parchment. Pour in half the batter. Cut plums in half lengthwise, place face down in batter. Cover with rest of batter. Bake at 325°F until golden brown, about 30 minutes.