Morgan Carrier and Shira Laye are LACAR. (photo from Morgan Carrier)
Nearly a decade ago, Shira Laye set out to explore the world of jewelry design. In 2013, she and her partner Morgan Carrier established LACAR – a combination of their surnames – a line of beautiful, wearable art, with influences ranging from "the dark side of Victorian mourning jewelry, to the architectural shapes of art deco and the great jewelry eras of the past." I am the proud owner of several LACAR pieces.
Growing up in a large family, each child has to intentionally carve out her individuality. In our household of five siblings, this was no less true. From a young age, Shira, one of my younger sisters, had a particular talent for assembling stylish and unique outfits, with a remarkable flair for accessories. It was her childhood love of ancient artifacts and art, however, that originally sparked her love of jewelry.
Shira's first brushes with the ancient world happened on a 1993 family trip to the Holy Land. "My first big trip as a kid to a faraway destination was our family trip to Israel, where I spent time in museums looking at ancient artifacts and pieces of jewelry from a long time ago, imagining that I was somewhere where someone might have worn that," she recalled in chat over a coffee and sandwich at a café on Main Street. In fact, while I was spending much of my summer in a decidedly less artistic environment, in a microbiology lab at the Technion, most of the rest of the family was heading out to explore the ruins of Katzrin and the Old City, the springs at Ein Gedi or the collection at the Israel Museum.
In Israel, Shira got her first inklings of what she might like to be when she grew up. "I spent a lot of time illustrating what I saw and I decided that I wanted to become an archeologist. Not because I wanted to discover an ancient civilization, but rather I was sure I would unearth a treasure. A couple of years later, as a teenager, I went on another trip to Israel and spent the day on a dig with our older cousin, which was fun but a little bit disappointing. I decided I didn't want to be an archeologist anymore – we didn't find anything remotely shiny, it was just a hot day in the sun. I realized the only way to find treasure was by buying it at the store or learning to make it myself. And so, my fascination with ancient art and artifacts and jewelry of all kinds remained."
After studying art history, Shira signed up "on a whim" for a course in jewelry making at Vancouver Community College. "I made just a simple silver band and a hammered cuff that I gave away as a gift," she recalled. "And then I didn't do anything for a little while, until I met a friend that had a home studio and traded me in exchange for doing some simple tasks like filing and sanding. She showed me some techniques … I really liked it, so I signed up for a program in New York, at Studio Jewelers in Midtown."
At the time, I was living in Manhattan and Shira joined me there to study jewelry design and experience what the city has to offer. "It was a really great time," she said. "I was equally as inspired by being in New York, living there, as I was by the techniques I was learning in school…. I ended up extending my stay to apprentice with a jeweler, a pretty unique guy, a little bit out there. It was a lot of running around. I knew where to buy pearls in one area in the jewelry district or where to get this from that person. It wasn't as much technique as I would've liked. After I came home, I continued to learn more technique, as I still do to this day."
Shira established her own line soon after and began taking on custom work, "which was a way to learn to expand my techniques," she said. "And just by necessity, I would take on a project and I'd be like, OK, I get to learn how to do this! It was a great way to learn. And then, as time went on, Morgan was spending more and more time with me in the studio, and I'd show him how to do different finishing techniques or he'd help throughout the whole process of making a piece. He's really natural with anything that's hands-on and design oriented and, in no time at all, he was contributing to the design process as well. So, it just made sense to team up officially since that's what we were doing unofficially." The two came out with their first collection, Oculus, in 2013.
Of their work together and his background, Morgan shared, "I'm a handy guy with a background in the arts and construction. I studied theatre at UBC and then went on to a brief film career after studying documentary film studies in Paris for two years. I am always building or sculpting something, so it wasn't a stretch in skills for me to pitch in. Shira would bribe me into date nights at the studio and we would listen to an episode of This American Life while slowly depleting a glass of red wine. It was romantic, but it also involved a lot of sanding, filing and polishing between sips of wine and, before I knew it, we were collaborating on designs. In our case, life partners make great business partners. This is my third or fourth career in life, and I'm loving it. It combines all the skills I've been mastering in other jobs over the past 20 years."
Morgan said they both love "creating objects of beauty that appear simple but require problem solving in making them. We love that the possibilities are endless."
It's the shared love for objects of beauty that is key to making a successful collaboration, Shira said. "Every piece is a collaboration because even if it starts out as one person's idea, it kind of morphs as we discuss it together, the idea comes to fruition. It ends up having little bits of both of us. We're really lucky because we definitely have our own ideas, but we really share a similar esthetic. Our design processes are a little different but we really work well together; we're good team. One of us might have an idea for a motif and then bring it to the other person. It may change slightly or be applied to a different piece or shape."
LACAR make their home at Main and Broadway, a new studio space they share with fellow jeweler Anita Sikma. "I've spent years building up a studio and the repertoire of tools that I have on hand," Shira said. "Now, I have a nice new bench that Morgan built for me since the move. I have on it all kinds of hand tools, files, hammers, measuring tools, steel blocks, a Fordham, safety goggles, and then we also have a lot of big tools."
The move means that LACAR can expand their repertoire, Shira said. "We work in silver and bronze primarily for our collections, but our work is available in gold on a make-to-order basis. We can work in any metal – platinum, white gold – anything. We'd love to experiment with other mediums in the future. Now that we have a big studio space, we've got big plans."
Their debut collection "was an expression of the beauty of eroded sanctuary," the two told me in a follow-up email. "We wanted our pieces to be monumental, worthy of worship, but we wanted them to be light and wearable. So, we came up with the esthetic of the Gothic archway. The arches create a heavy vaulted lacework, drawing inspiration from sacred architectures."
Soon after it debuted, they started making rings for Morgan to wear. "Until then, our line was mostly geared towards women," Shira said, "and Morgan felt like he should be wearing more LACAR to promote our brand. Before we knew it, men were taking notice of our small ring collection. We decided to launch a men's line, one that would have androgynous appeal. The pieces are heavy and solid; we tried to keep it a little more streamlined – lots of clean lines, flat surfaces."
Though it's hard to pick favorites, Morgan said he really loves the Obelisk ear cuff. "We wanted to make a cuff that complimented the form of the ear," he said. "And the Signet ring, which we created as part of our new line, but that we've already customized for clients using family crests and other motifs."
"Nothing passes through the studio door if we are not happy with it," added Shira. "I really like all of the pieces that we have made. Morgan only wears some of them, but I get to wear them all. I would say that right now I've been wearing our gold Helm earrings with black diamonds pretty much every day, which we also have available without the diamonds and in silver and bronze, different price points, as well as the Vault bracelet with black jade inlay. Those pieces I wear every day and the other pieces kind of rotate. I've also been wearing our Siamese collar quite a bit. A bit more of a statement piece, but it looks really nice with a dress or even a casual pair of pants – it adds a nice detail."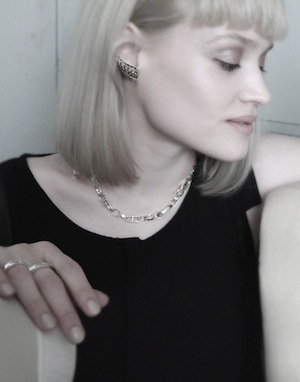 Favorites that they don't get to wear "are some of the custom pieces that we've created. These come out of a nice collaborative process with the client's ideas and our designs and technique. I've been really sad to see some of those pieces go! I specifically love working on engagement rings – that's the favorite for me. Right now, we're working on a beautiful ring, kind of a deco-inspired piece where the client brought in his girlfriend's grandmother's ring, which had a beautiful centre diamond and yellow gold, but he wanted something in white gold and with a different feel. We are using the diamond and creating a whole new piece that better fits her style and her esthetic.
"We do wedding rings, as well, and we're right now working on a whole bunch of bridesmaids gifts, so that's exciting…. One of the custom pieces that stands out was another art deco-inspired engagement ring that was inspired by the skyline."
LACAR has been a mainstay at some of Vancouver's pop-up shops, including at the Chinatown Experiment earlier this month. "It was with the Dreamlover Collective, which is friends of ours: Andrea Rokosz of Army of Rokosz and Karen La of Broken Promises and Marie Foxall of Wasted Effort…. They're hosting so many great local vendors and designers, everything from hot sauce to jewelry, ceramic works, stockings. Our studio mate, Anita Sikma, is one of my favorite jewelers in the city … she was part of it, too. It's great to be part of that, and a lot of fun."
Aside from more retailers, Shira said they would love to work on a fine collection. "That would be really satisfying. We're slowly building up, just continuing to work. Sometimes it's hard to hone in on doing one collection because you're constantly having so many ideas…. We just want to continue to create new things all the time!
LACAR is available at lacarstudio.com, their studio showroom (by appointment to [email protected]) and Cavalier in Gastown.