Joyce Goldstein was chef and owner of Square One restaurant in San Francisco; prior to that, she was chef at Chez Panisse café. Today, she is a cooking teacher, restaurant consultant and cookbook author. Her bibliography lists 60 cookbooks, the most recent being The New Mediterranean Jewish Table (University of California Press, 2016).
The introductory essays are very informative – "Jews in America," "Mediterranean Jewish Communities" and "Old World Food in a New World Kitchen." Goldstein reminds us that "not all Jewish cooking traditions come from Eastern Europe," and that the delicious and varied cuisines of North African and Mediterranean Jews "have been nearly unknown until recently."
She writes, "This Mediterranean Jewish cookbook for the modern kitchen will build and expand on carefully selected recipes from many of my cookbooks." The recipes are from the cultures of the Sephardim (those expelled from the Iberian Peninsula), the Maghrebi (those from Morocco, Tunisia, Algeria, Libya and Egypt) and Mizrachi (Jews from Muslim lands since biblical times).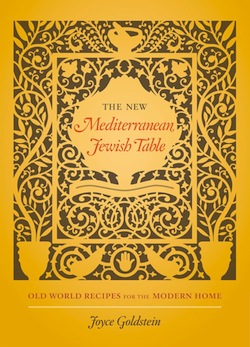 After an explanation about kosher laws and the food of Jewish holidays, there are 11 cookbook chapters covering appetizers, spreads and salads (49 recipes), savory pastries (21 recipes), eggs and fritters (24 recipes), soups (29 recipes), rice, pasta and grains (31 recipes), vegetables (48 recipes), fish (46 recipes), poultry (23 recipes), meat (49 recipes), condiments and preserves (24 recipes) and desserts (51 recipes). There are a whopping 395 recipes in all.
Each chapter has an explanatory essay, in addition to a list of ingredients and instructions. The volume is so large: recipes go from page to page.
The publisher calls this "an authoritative guide … a treasury filled with vibrant, seasonal recipes … the story of how Jewish cooks successfully brought the local ingredients, techniques and traditions of their new homelands into their kitchens."
Just reading about the origins of each recipe is a wonderful learning experience, but here are two recipes to try.
ARTICHOKE SOUP (CREMA DI CARCIOFI)
(serves six to eight)
juice of one lemon
12 artichokes
3 tbsp unsalted butter
2 cloves minced garlic
12 ounces russet potatoes, peeled and diced or 1/2 cup white rice
3 cups vegetable broth plus more for thinning as needed
salt and freshly ground black pepper
chopped toasted hazelnuts or pine nuts or chopped fresh flat-leaf parsley or mint for garnish
milk or heavy cream as needed for thinning (optional)
Have ready a large bowl of water to which you have added the lemon juice.
Working with one artichoke at a time, trim the stem to two inches if it is tender, then peel away the dark green fibrous outer layer. If the stem is tough, trim it off flush with the bottom. Pull off and discard all of the leaves. Pare away the dark green areas from the base. Cut the artichoke in half lengthwise and carefully remove the choke from each half with a small pointed spoon or a paring knife, then cut each half lengthwise into quarter-inch slices and slip them into the lemon water.
Melt the butter in a large saucepan over medium heat. Drain the artichokes, add to the pan and sauté for a few minutes.
Add the garlic, potatoes and about 1.5 cups of the broth or enough just to cover the artichokes. Cover the pan and simmer over medium heat until the artichokes are very tender and almost falling apart, 25 to 30 minutes.
Remove from the heat and cool slightly. In batches, transfer to a food processor and purée until smooth, then return the purée to the saucepan.
Add the remaining 1.5 cups broth and reheat, adding more broth if needed to achieve a consistency you like. You can also add a little cream or milk if you prefer a richer soup.
Season with salt and pepper.
To intensify the artichoke flavor, make the soup a few hours or a day ahead and reheat at serving time. To serve, ladle into soup bowls and garnish with hazelnuts, pine nuts, parsley or mint.
TURKISH HAZELNUT TEA CAKES (GATEAUX DES NOISETTES)
(makes 24 small cakes)
1 vanilla bean, cut into small pieces
3/4 cup granulated sugar
1 3/4 cups all-purpose flour
2 tsp baking powder
1 1/2 tsp ground cinnamon
1/4 tsp ground cloves
1/4 tsp salt
1/4 freshly ground black pepper
6 eggs
1 cup plus 3 tbsp unsalted butter, room temperature
1/2 cup confectioners sugar
grated zest of 2 lemons or 1 lemon and 1 orange
1 1/3 cups toasted, peeled and ground hazelnuts
Butter 24 muffin pan cups, dust with flour and tap out the excess.
In a spice mill or food processor, grind the vanilla bean with the sugar until the bean is ground to a powder.
In a small bowl, sift together flour, baking powder, cinnamon, cloves, salt and pepper.
In a separate bowl, beat together butter, confectioners sugar and vanilla sugar until creamy and pale. Add eggs and lemon zest and beat until incorporated. Fold in nuts and flour mixture until combined.
Spoon batter into muffin cups, two-thirds full. Let rest for one hour.
Preheat oven to 400°F. Bake until a toothpick inserted into the centre emerges dry, about 15 minutes. Remove from oven and turn on to racks. Let cool completely.
Sybil Kaplan is a journalist, foreign correspondent, lecturer, food writer and book reviewer who lives in Jerusalem. She also does the restaurant features for janglo.net and leads walks in English in Jerusalem's market.