Vancouver Talmud Torah head of school Cathy Lowenstein at the Sept. 25 ceremony that officially opened the school's new building. (photo by Lara Shecter)
Vancouver Talmud Torah recently completed a comprehensive redevelopment and renovation of its campus and, on Sept. 25, a ceremony was held in the new double gymnasium of the school to officially open the new building.
Members from all parts of the community came out to see the space the school has been touting as embodying "the concepts of 21st-century learning." The event included an introduction by Cathy Lowenstein, head of school, as well as words from the campaign chairs, Dan Pekarsky and Alan Shuster. While thrilled at having reached the goal of $20 million in their first campaign, they hope that enthusiasm for the new school will spur the community to give additional financial support.
Lowenstein clarified the need for a second fundraising campaign in an email interview. "Twenty million dollars was the amount we knew we would need to be able to finish any project we started, including the underground parkade," she explained. "By proceeding when we did, we were able to develop the parkade jointly with the BI [Congregation Beth Israel]. That saved us over $2 million and the disruption of excavating beneath the school that we would have faced if we had waited. In the meantime, we completed the final program design, engineering and budgeting for the new school and, once we had that information, set a final budget and campaign goal of $27.5 million."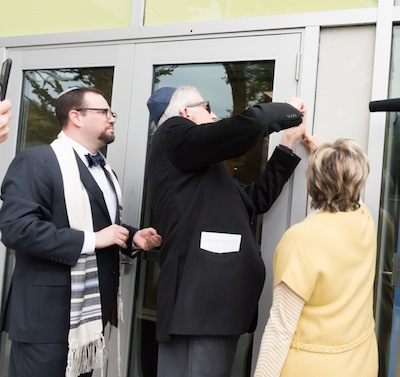 Those present at the opening event were impressed by the beauty, modernity and scope of the new campus. In addition, Andrew Merkur, a parent with two children currently attending VTT, was awed by the spirit of generosity and community. "I'm kvelling inside!" he said. "There are so many people who don't even have children here and they still give of their time and money. It's so wonderful to see how multi-generational the caring for the kids is."
Lowenstein acknowledged two audience members from the first graduating class of VTT in 1954, who now have grandchildren in the school. And Marcy Schwartzman and Larry Vinegar arrived with their children, who are in their 20s. "I'm a VTT grad and both of my kids went here," said Schwartzman. "We all wanted to see what the building is like."
Rose and Fred Mikelberg came to scout the space with their 2-year-old granddaughter. "She'll be here next year. It's exciting and such a beautiful building," said Rose Mikelberg.
One of the hallmarks of this modern building is the flexibility of space both for school purposes and potential rental. The spacious common areas, flooded with natural light, include a dining area adjacent to the kosher kitchen. It overlooks the gym and can be used as a viewing area for sports events or as a secondary area if someone wanted to host a large party. Open spaces between classroom "pods" (age-related clusters of rooms) serve as informal meeting places for students as well as places to engage in class group work.
The synagogue area is called a "sanctified space and multi-purpose room." It bears the following inscription: "Robert and Marilyn Krell and Family – Dedicated to Robert's Christian family, Albert and Violette Munnik, and their daughter, Nora, whose lives defined righteousness, having risked their lives to save his during the Holocaust in the Hague." Pekarsky said, "The school community will be reminded of the heroism of this family and this story will continue to inspire VTT for generations to come."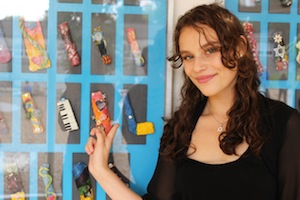 "Judaic offerings is an area that we know we must improve," acknowledged Lowenstein, saying that having a new school rabbi, Rabbi Marc Kasten is a step in that direction. A trip that Grade 7 students will take to the Museum for Human Rights in Winnipeg for the first time this year is another. "We are the first elementary school in Canada to do a trip like this and we're very grateful to the Asper Foundation, Diamond Foundation and Federation for their financial support, without which it wouldn't be possible," said Lowenstein.
Other new programs the expanded school will be able to support include after-school basketball, floor gymnastics, musical theatre, mixed media art, hip-hop and jazz for girls, floor hockey, badminton, field hockey and STEM Lego robotics. All of these programs are offered at market cost to students interested in these extracurricular activities. The learning commons area is open after school until 4:30 p.m. for what Lowenstein described as parents needing after-school options at low or zero cost.
The new school can accommodate up to 650 students. Although exact numbers were not available about current enrolment, Lowenstein said "enrolment is up slightly" and reported growth in the early years programming, which serves as a feeder for the regular school. "Early years enrolment is really thriving!" she said. "Of the 70 students in preschool (age 3) and junior kindergarten (age 4), 35 students are in the full-day licensed programs."
The new classrooms are enormous, with some of the latest educational technology. Students have access not only to two full-sized gyms but also a turf-covered playing field that covers the entire roof of the new building.
Shuster said, "VTT is poised and ready to embrace the next chapter in its story."
Michelle Dodek is a freelance writer living in Vancouver.