Artist rendering of Storeys in Richmond, one of two projects with which Tikva Housing Society is involved. (illustration by Duane Siegrist of Duane Siegrist-Integra Architecture Inc.)
Of the 26,000 Jews living in Greater Vancouver, 16% live below the poverty line (more than 4,200). While several organizations within the community work to support the various needs of those community members, Tikva Housing Society has been doing what it can to make sure they have a roof over their heads, as well. And, at an event on Sept. 30, the society will announce the development of two new projects within Greater Vancouver that will significantly increase the number of affordable homes available for those in need.
The first project, called Storeys, is part of a 14-storey highrise that is being built in central Richmond by a group of nonprofit housing societies. Tikva Housing will own four two-bedroom and six three-bedroom units on the top two floors, averaging 1,100 square feet each. Those units will house families earning $25,000-$55,000 per year, who will pay 30% of their income toward rent. Construction is set to begin on the building.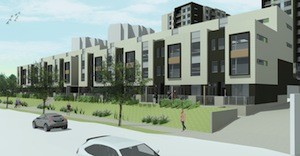 The second project – Community Housing Land Trust – will be a Vancouver-based building in which Tikva Housing will own 32 two-, three- and four-bedroom townhomes, also averaging 1,100 square feet. Residents in those units will have gross family incomes between $25,000 and $95,000 per year and will also pay 30% of their total income toward rent.
Both projects are expected to be complete in 2017.
"Vancouver is the least affordable city in Canada, with the highest rental rates," Michael Grudman, a Tikva Housing executive board member, told the Independent. "These two projects will be the first affordable family units that will be available to the Jewish community."
Until now, Tikva Housing has operated an 11-unit building in Marpole, the Danny Guincher House, which offers housing for individuals. They also provide rental subsidies for as many individuals or families as possible who need support for rental expenses in other facilities. However, they have never been able to keep up with the needs of the community.
Grudman said Tikva Housing is currently providing rental subsidies for seven singles, one couple and 10 families, for a total of 46 people.
"There are many more applicants waiting for support," he said. "We can always use additional funding."
The two new projects are being supported by the Diamond Foundation, the Ben and Esther Dayson Family Foundation, the Lohn Foundation, the Zalkow Foundation and various other donors, as well as government agencies.
Tikva Housing has also been supported by the Jewish Federation of Greater Vancouver, first as a housing society set to determine the housing needs of the community 20 years ago, then as an active participant in supporting those needs since 2006.
The Sept. 30 announcement event will take place at 6:30 p.m. at Schara Tzedek Synagogue. An RSVP to [email protected] is suggested. For more information on Tikva Housing Society, go to tikvahousing.org.
Kyle Berger is Jewish Community Centre of Greater Vancouver sports coordinator, and a freelance writer living in Richmond.