Beit Halochem Canada's Courage in Motion saw many riders return to do the five-day annual cycle in Israel again. (photo from Beit Halochem Canada)
The 12th annual Courage in Motion, an initiative of Beit Halochem Canada, Aid to Disabled Veterans of Israel, welcomed cyclists from across Canada, joined by some Americans and Israelis. From Oct. 27-31, these international cyclists rode alongside Israel's disabled veterans on five fully supported routes through northern Israel's archeological sites and landscapes.
Fundraising is open until Dec. 31, and it is expected that the ride will raise approximately $750,000 Cdn. Sponsors' support and cyclists' fundraising facilitated the participation of more than 100 injured Beit Halochem Israel members this year. Money raised also funds programming at Beit Halochem centres in Israel. Thanks to the ongoing success of the ride, cycling has steadily grown in popularity at the state-of-art centres.
Lisa Levy, national executive director of Beit Halochem Canada, is the ride's founder. An avid cyclist herself, she said, "Cycling in Courage in Motion means visiting Israel, supporting an incredible cause, and connecting directly with our members. Beyond the ride's huge fundraising component, I never fail to be excited by witnessing lifelong friendships taking shape. It is truly a life-altering experience that you never forget and one that participants want to repeat!"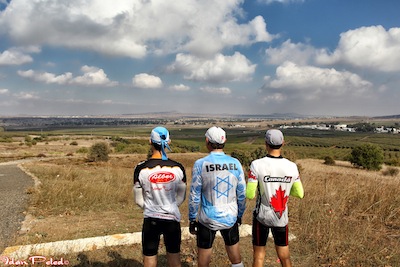 Annually, the ride welcomes both new and repeat participants. This year, returning cyclists included Toronto-born Keith Primeau, who rode in last year's CIM for the first time. Primeau enjoyed the experience so much that his daughter Kylie accompanied him this time.
Primeau played 15 seasons in the National Hockey League, most notably with the Philadelphia Flyers, prior to his career being cut short due to multiple concussions. He co-wrote the book Concussed! Sports-Related Head Injuries: Prevention, Coping and Real Stories (2012), detailing life after concussion.
Other international returnees included former cycling champion Eon D'Ornellas, who competed throughout the 1970s and 1980s on behalf of both Canada and his native Guyana. The proprietor of Toronto's D'Ornellas Bike Shop, he started a cycling club more than 25 years ago. In 2011, D'Ornellas, then 59-years old, suffered a stroke during a training ride.
Among the Beit Halochem members participating in Courage in Motion 2019 was Asi Mekonen. In 2012, just prior to his release from the Givati Brigade, Mekonen suffered severe head injuries, with resulting brain damage, vision and hearing impairment, and memory loss. Following five years of physical and cognitive rehabilitation at Beit Halochem, he is now a Jerusalem-based musician. Besides experiencing several Courage in Motion rides, he has completed two marathons. Mekonen was already known to many of the ride's Canadian participants through his on-stage appearances in this year's Beit Halochem Canada Celebration of Life concerts.
This year, cyclists may have ridden alongside a future Paralympics hand-bike medallist. Critically wounded in 2002 in a military operation while serving in the artillery corps, Amit Hasdai was left with paralysis on the right side of his body. During rehabilitation, he benefited from equestrian therapy, later competing internationally. Since turning to hand-bike racing at Beit Halochem Tel Aviv, Hasdai has enjoyed participating in Courage in Motion. Hasdai's natural talent, enhanced by Beit Halochem's support of his training and coaching, has resulted in his current ranking of eighth in the world. He is training to qualify for the 2020 Paralympics in Tokyo.
Courage in Motion's participants enjoyed group activities, including a cycling tour of the agriculture region of the Hula Valley and an evening with Israel's heroes – all Beit Halochem members – who shared their personal stories of tragedy and resilience.
The next Courage in Motion takes place in Israel from Oct. 18-22, 2020. Registration is expected to open in March 2020. See courageinmotion.ca.