Local jazz musician Ayelet Rose Gottlieb happily juggles music and babies. "You have to have music, right? Music is life. It's a necessity. And you have to have kids." Gottlieb just released her fourth album, Roadsides, and her adorable six-month-old twins, a boy and a girl, don't slow her down one bit.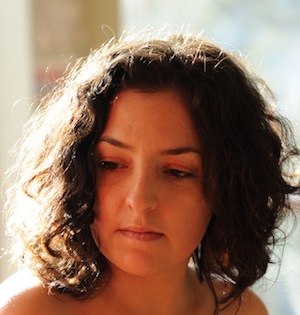 The music for all the songs on Roadsides was written by Gottlieb, with lyrics from work by various Israeli and Palestinian poets. "This project accumulated for a long time," she told the Independent. "There's lots of pain in Israel now, and nationalism is growing. It's hard for me. Israel is my country. My mother's family has lived there for 20 generations. All that time, there was a cultural interchange between Palestinians and Jews. It's almost gone now."
She feels that Israel today is missing a bridge between cultures, the connection that was flourishing even in her grandfather's days. "People of all backgrounds love this land. I believe that it is possible to elevate beyond the hurts of the past decades. We should try to restart the intercultural conversation. The poets I chose for the songs on this album represent such diversity: Israeli and Palestinian, young and old, male and female, Ashkenazi and Mizrahi. In a way, my album is a political statement, that of humanity. We can all coexist in Israel and the more we learn about each other, the more we talk, the better people we are."
She recalled being a student in Jerusalem at a high school for the arts. "I started writing songs and performing when I was 17. For 10 years, I performed with Arnie Lawrence, the famous American jazz saxophone player. He lived in Israel in the last years of his life, and he became my teacher of jazz. He shaped my thinking. We often performed with Palestinian musicians, both in Israel and Palestine. Music is an international language. With music, you can communicate with anyone. But it was easier then – there was no wall."
Some of the songs on Roadsides are light and quirky, while others are poignant, driven by emotions. All of them are in Hebrew, either originals or translations from Arabic. "When I compose songs, the text should trigger something inside me," she explained of her approach. "It doesn't have to be poetry. It could be a piece of prose, as long as it says something important. The quality of the text is paramount."
Occasionally, she uses her own lyrics, though not often. She has songs set to passages of artist Wassily Kandinsky's book on art and Martin Luther King Jr.'s famous speech. Kandinsky, in particular, fascinated her as a subject, as she used to paint as well as compose. "I don't do it anymore," she confessed. "But I hear colors. Certain colors resonate with certain notes. It's a personal interpretation, of course, when you set music to painting or paint to the music."
Gottlieb's songs are multifaceted, flowing around their listeners in audio waves, implying pictures and palettes, even if one doesn't understand the Hebrew. No surprise then that she has fans all over North America. But her heart belongs to Israel, she said. "I fly to Israel a couple times each year, to perform and to connect with my family." She also records in a New York studio, as a solo performer and as part of the quartet Mycale.
Musical collaborations increase her audience but also broaden her expressive facilities and add to her musical toolbox. She recorded one of the songs on Roadsides as a duet with Israeli pop star Alon Olearchik. Others, she wrote with particular musicians in mind.
Gottlieb also teaches composition, vocals and improvisation. In Israel, she taught at colleges. Here, she gives private lessons and workshops. "I enjoy working with children and adults, but I prefer adults, mature people who know what they want…. I learn a lot when I teach. Sometimes, I would explain a point to my students, and it would clarify the concept for me too. Students often surprise me. They do something unexpected, and I'd see a new perspective, realize a new way of doing things."
Moving every few years has also helped to keep her creativity fresh. "We lived in New Zealand for a while, in New York and in the U.K.," she explained. "Compared with New York, where there are many different cultures, Vancouver has a smaller music scene, fewer people to play for, fewer opportunities and venues. I'm still looking for my language here. Resonating with the place and the community is important, but it's an interesting exploration and a wonderful place to raise babies."
As for any parent, her children are an integral part of her life, and she plans to incorporate her music into their upbringing. "I dream of having house concerts at our place when the kids are a bit older. They should be exposed to music and art early. Art is playful. To be an artist, you have to keep some of the child in you alive."
Gottlieb's Roadsides CD release is Jan. 16 at the China Cloud on Main Street. To learn more, visit ayeletrose.com.
Olga Livshin is a Vancouver freelance writer. She can be reached at [email protected].