Bazelet HaGolan wine varietals include cabernet sauvignon, merlot and chardonnay. (photo from bazelet-hagolan.com)
The fourth in a series featuring nine Israeli wine producers features Yoav Levy of Bazelet HaGolan Winery. The most recent article – on Domaine du Castel – was published in the Jewish Independent and online July 11.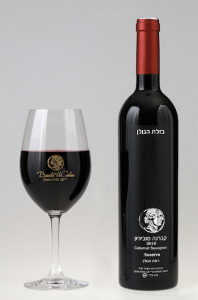 Yoav Levy: I am the winemaker of Bazelet HaGolan Winery. It's a boutique winery in the Golan Heights, near the border in the north. We make something like 80,000 bottles per year, mainly cabernet sauvignon, a little merlot and much less chardonnay.
Christopher Barnes: How did you get involved in wine?
YL: It is some kind of accident! We came to the Golan … and we make a lot of barbecue. We asked to have some wine to drink nearby. We have wonderful grapes in our village that we were selling to the Golan Heights Winery. I tried to make some wine [but] it was undrinkable in the beginning! I gave up, and asked the winemaker of the Golan Heights Winery how and what to do. He gave me the ingredients and the instruction.
We started in 1998 as a business. Before, it was … a hobby. So, when it became a business, we decided to call the winery Bazelet HaGolan. Bazelet is basalt. All of the Golan is basalt land, from volcanic activities. We had to go call it HaGolan … the idea was people [might] be confused between us, Bazelet HaGolan, and Golan Heights Winery. It sounds maybe similar and maybe people will buy from us!
Right now, it's a really amazing business – a winning joy for me. I'm telling you there is a God, because it's a blessed place for sure. We are selling everything. We are sold out every year and we [are starting] to get medals.
CB: Tell us about the terroir.
YL: The terroir in the Golan Heights is amazing [for] wine; I think one of the best in the world. I will tell you why. All the basalt that we plant our vineyard on, it's amazing land for the vineyard. The fact that we have a vineyard that belongs to us, we know how to control the quality, we know how to control the pH, the sugar. We're getting amazing grapes from our vineyard.
We are getting a lot of medals because when the judges are drinking our wine, they don't know where it's from, and they get shocked that, at the end of the competition, the Israeli winery gets the highest numbers.
People have to try Israeli wine. It doesn't matter which one – but I really recommend you to drink my wine, Bazelet HaGolan! You'll realize that Israeli wine is completely in a different position. We are going higher and higher every day, and we are producing amazing wine – and that's that.
This article is reprinted courtesy of the Grape Collective, an online publication for all things wine. For more information, visit grapecollective.com.