Jordana Saks gets great joy from baking. (photo from Saks of Sweets)
"I love baking, because it's a fun activity that allows me to be creative. More importantly, there is nothing more fulfilling than the wide-eyed smiles I see on other faces when they enjoy something that I have baked."
Jordana Saks' love of baking inspired her to create Saks of Sweets, which plans and leads kids' birthday parties. "What better way to celebrate a birthday than with friends while baking, decorating and eventually eating the delicious cookies?" she asks on the business's website.
Born and raised in Niagara Falls, Ont., Saks studied cognitive science at McGill University in Montreal, before heading to San Francisco for a year. She arrived in Vancouver about 18 months ago, and has been in love with the city ever since.
Recalling her early sweet baking impressions, Saks said, "I started baking as young as 6 years old. My mom and aunt inspired me to bake, and taught me the tricks of the trade. When the eggs in my aunt's fridge were past the expiry date, she used to call me over to practise the art of cracking an egg.
"Every year at Chanukah, for the family party, my aunt and I would make cookies and spend hours decorating them with unique designs. In addition to this tradition, we baked at least one new recipe each month. Still, to this day, when I visit home, we get together for a baking day – trying new recipes and recreating past ones."
When Saks was studying at McGill, she used baking as a stress reliever, leaving her and her roommate with an abundance of baked goods.
"To prevent ourselves from eating an entire cake or a couple dozen cookies, I started an Instagram account called Saks of Sweets, where I could share when and what I was baking," said Saks. "My friends would comment on what they wanted to try. I would find out where they were studying on campus and would deliver the goods, until nothing was left of that batch."
When she moved to Vancouver, Saks recalls listening to a podcast called Side Hustle School, with Chris Guillebeau. "The entrepreneurial wheels in my brain were turning," she said. "I was thinking about my passions and how I could channel those into a business. And, combined with my love for baking is my love for working with children. I've had many experiences working with kids and have enjoyed every one of them. After sitting down for an hour at a coffee shop and thinking about how to combine these two passions, the idea for Saks of Sweets quickly emerged."
Saks of Sweets provides in-house baking birthday parties. Saks' clients have loved the parties because, as parents, they do not need to stress or worry about anything except for inviting the children. The rest of the planning is in the hands of Saks of Sweets and Saks leads every party, along with one helper.
"We set up the individual baking stations, and the children will learn to roll out the Saks of Sweets shortbread cookie dough," said Saks. "They will then choose from a wide variety of cookie cutters to create their cookies.
"While the cookies are in the oven, the children will decorate and personalize their baking aprons. Lastly, they will have a wide range of icing colours and sprinkles to decorate their unique creations. As an extra bonus, the take-home box for the cookies and the personalized aprons double as a loot bag."
Prospective clients only need to provide a table for the rolling and decorating, and a working oven for the baking. Some parents like to provide a meal for the children, like ordering in pizza.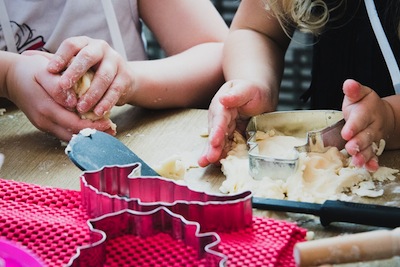 For those not wanting to have the party in their own home, Saks of Sweets partners with the Jewish Community Centre of Greater Vancouver, so that people can rent the centre's party room for the birthday celebration.
"Right now, I am doing cookie cutting and decorating, but I'd like to move more into baking other delicious things, such as cakes, cupcakes, pies and more," said Saks. "This expansion will happen soon, when the time is right.
"When I started this business, my hope was to channel my passions into throwing a creative birthday party that makes both the children and parents happy. I wasn't overly concerned about the business scalability or strategy, because I didn't want to get bogged down in the details or dissuade myself from taking that first step.
"From that perspective, my hopes have been met. Each party has been extremely well received by the parents, and the children are always smiling. My only new hope is that I can throw these more often."
Saks of Sweets is Vancouver's only in-house baking birthday party. The business concept is all about convenience. It is meant to be stress-free for parents, so they can also enjoy their child's party.
Saks of Sweets can accommodate most dietary restrictions or allergies and works with clients to tailor the party to any needs or wishes. "For example, in the past, I've had to ensure all ingredients are kosher … and I can do parties for families that are kosher," said Saks. "Furthermore, the ingredients and the cookies are all nut-free. However, they may contain traces of nuts, due to baking utensils that may have touched nuts in the past."
The cost for a Saks of Sweets party for 10 to 12 children is $300, and each additional child after 12 is $22. For more information, visit saksofsweets.ca.
Rebeca Kuropatwa is a Winnipeg freelance writer.