On the Jewish Independent's bookshelf are four books recently published by Second Story Press. All are inspired by real women and girls, and all share lessons of bravery, solidarity and compassion, as well as of the Holocaust.
Fania's Heart by Anne Renaud and illustrated by Richard Rudnicki, The Promise by Pnina Bat Zvi and Margie Wolfe and illustrated by Isabelle Cardinal, and The Brave Princess and Me by Kathy Kacer and illustrated by Juliana Kolesova are hard-covered picture books for readers ages 7-11. All About Anne, by Anne Frank House and illustrated by Huck Scarry (son of children's authors Patricia Scarry and Richard Scarry), is a soft-cover encyclopedia of sorts for readers ages 9-13.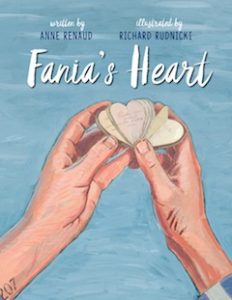 Fania's Heart is based on the story of Fania Landau Fainer, from Bialystok, Poland, who survived Auschwitz. In the book, her daughter, Sorale (Sandy), who is "almost 10," finds a heart-shaped book in her mother's dresser, where she "was not supposed to rummage." She takes it to her mom, who tells Sorale about the book's origin – a 20th birthday present of unimaginable meaning, made by fellow prisoners, at great risk, with breadcrumbs and stolen or bartered thread, pencil, paper and other materials. It is a story told with minimal sentimentality and with illustrations in the 1950s-style of the time in which it would have taken place in real life. An author's note explains the Holocaust very briefly and how the card, which unfolds "like an origami flower," ended up at the Montreal Holocaust Museum.
In The Promise, cousins Bat Zvi and Wolfe tell the story of their mothers, Rachel and Toby, who survived Auschwitz. It starts two years after the sisters were separated forever from their parents, who gave Toby three gold coins to use "only if you have to" and advised, "above all, stay together." When Rachel becomes ill and is taken from the barracks, the coins play a crucial part in Toby's rescue attempt. In a four-sentence epilogue are photos of the real sisters, but no context other than that in the story itself, which mentions Nazis and Auschwitz but not the Holocaust. The artwork for the book is somewhat creepy – the disproportionally large heads are photo-like, and placed on more traditionally illustrated bodies.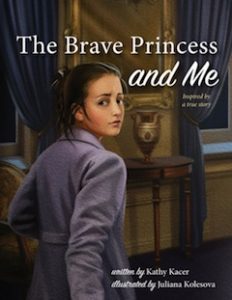 Less emotionally powerful – in part because there is too much text – is The Brave Princess and Me, which relates how Princess Alice hid Jewish mother and daughter Rachel and Alice Cohen in her home. The Nazis invaded Greece in 1941, and The Brave Princess and Me starts in 1943. Princess Alice, the mother of Prince Philip, was born deaf and she uses her impairment to protect the Cohens. More about the princess, who was honoured as one of the Righteous Among Nations, is included after the story.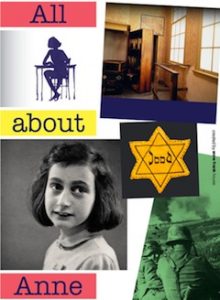 Rounding out the publications is All About Anne, a relatively comprehensive telling of Anne Frank's story, which uses drawings, photographs and text from the Anne Frank House museum in Amsterdam. Its content is based on the questions most frequently asked by visitors to the museum. While it centres around Anne, her life and her diary, it includes broader information about the Second World War and the Holocaust. It is an excellent resource.
For more information on these and other books from Second Story Press, visit secondstorypress.ca.