Bard on the Beach opened its 27th season with Romeo and Juliet. (photo by David Blue)
William Shakespeare wrote a beautiful but tragic love story in 1595 and called it Romeo and Juliet. Its theme of forbidden love resonates with modern-day audiences as much as it did with the Elizabethan crowd – and countless crowds in between. Bard on the Beach opened its 27th season under the red and white tents at Vanier Park on the BMO Mainstage last month with renowned Canadian director Kim Collier's innovative twist on the timeless tale.
Two prominent families of Verona, the Montagues and the Capulets, have been feuding for years. Their children, Romeo and Juliet, meet one night at a masked ball and become infatuated with each other. Then follows a secret wedding, a banishment, a miscommunication and two suicides – such woe.
Collier sets the story in its proper period but with some modern gadgets – Bose headphones on the friar, Moosehead caps and beer cans for Mercutio and Benvolio, Romeo's friends. Collier also has the cast break down the fourth wall to move into and interact with the audience – an interesting approach if used sparingly.
The success or failure of any Romeo and Juliet production depends on the actors in the eponymous roles. Collier imported her two leads from Ontario. Hailey Gillis portrays the 13-year-old Juliet in an endearing and playful manner and Andrew Chown, as the slightly older Romeo, has moments of brilliance. There is clearly chemistry between the innocent young lovers and their scenes together are lovely.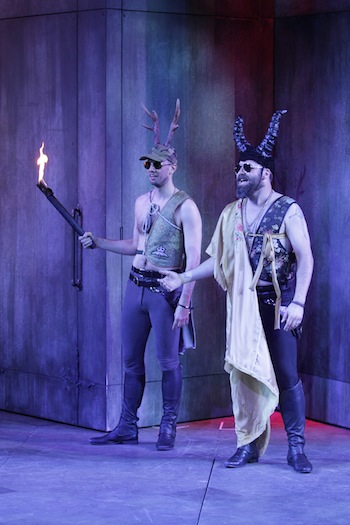 The supporting players, mostly Bard veterans, give depth to the story, one driven by supposedly intelligent adults, whose actions lead to the ultimate tragedy. Jennifer Lines plays the nurse – usually portrayed as older and subdued – as young, sexy and vibrant, more a friend and confidante than anything else. Scott Bellis is a kind and caring Friar Laurence, and Andrew McNee as Mercutio and Ben Elliott as Benvolio steal the scene every time they appear together.
Although McNee's forte is comedy, he shows the versatility of his thespian skills in Mercutio's death scene, as he chokes out, "A plague on both your houses." Killed by the sword of Tybalt – played by Jewish community member Anton Lipovetsky – Tybalt is subsequently killed in a sword fight with Romeo, who is banishéd from Verona by Prince Escalus (Victor Kolhai). Interestingly, it is not the sword that does Tybalt in.
Romeo's parents are played by David Marr and Amber Lewis and Juliet's by Ashley Wright and Dawn Petten. These are smaller roles but with some touching moments, particularly at the end, when the parents finally understand what the feud has done to their respective families.
This production is very much about the visuals. Pam Johnson's set design is simple but powerful: two grey metal bunker-like walls that are separated and joined as needed – perhaps a metaphor for the rifts and couplings of the feuding families – to create a ballroom, balcony, bedroom, tomb and other places, all against the spectacular backdrop of the North Shore mountains. Gerald King's lighting provides the proper mood. Nancy Bryant's costumes are a mix of the historical and the contemporary. Bringing it all together is Brian Linds' sound design, which runs the gamut, from soft romantic lilts to heavy metal clunk.
While the play gets off to a slow start, the second act picks up, culminating in the final scene that had most of the opening night audience on their feet. One hopes that, over the next three months, the shaky bits will be ironed out. Overall, it is certainly worth a trek to the beach to partake of the tale of the star-crossed lovers.
Rockin' Merry Wives
Playing in repertory on the BMO Mainstage with Romeo and Juliet is The Merry Wives of Windsor. This country and western musical farce played to soldout audiences on the smaller Douglas Campbell Stage in 2012. Moving it to the big stage has only added to its pizzazz. When you walk out of a theatre on opening night thinking you have to tell everyone to come see the show, you know you have just been treated to something special.
The play is set in Windsor, Ont., circa 1968, at the Garter Pub, a honky-tonk bar that is home to some eccentric characters. It is open mic night and mesdames Page and Ford (Katey Wright and Amber Lewis) start the evening off with a rocking version of "These Boots are Made for Walking." Portly Sir John Falstaff (Ashley Wright), an expat, penniless, full-of-himself Brit and frequent bar patron, decides to seduce the married housewives for financial gain. To that end, he writes each of them an identical letter. The women learn of Falstaff's deceit and set a scheme in motion to humiliate him to avenge their honor. Then, the fun begins.
Round 1: a secret tryst, the arrival of a jealous husband (Scott Bellis as Mr. Ford) and Falstaff's quick exit in a laundry basket, culminating in his unceremonious plunge into the river.
Round 2: Falstaff in drag, a golf club-wielding Mr. Ford and a hasty exit stage right.
Round 3: The final knock-out round of humiliation takes place at night near an abandoned curling club amid prancing fairies – a bit far-fetched but, surprisingly, it works.
A sub-story revolves around young Anne Page (Hailey Gillis) and her three suitors, Slender (Ben Elliott, who does double duty as the musical director), Dr. Caius (Andrew Chown) and Fenton (Daniel Doheny). Which swain will win her hand?
Ashley Wright, reprising his role as Falstaff, owns the stage. Katey Wright, Lewis and Bellis – also reprising their roles from 2012 – are even better this time around. In particular, Bellis' beatnik portrayal (a disguise to trick Falstaff) and that of the cuckolded husband are priceless.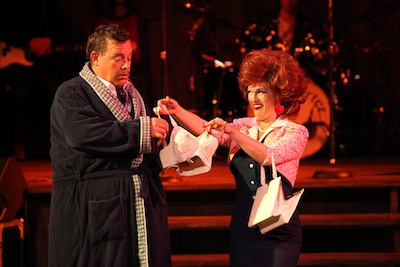 Other notable performances include David Marr as Justice Swallow bopping around on his scooter, Anton Lipovetsky as the hippie host of the bar, Dawn Petten as buck-toothed Simple, Jennifer Lines as Mistress Quickly – who takes her housekeeper character over the top with her flaming red hair, nails, lipstick and bawdy wiggle – and Andrew McNee as Pastor Evans, who has to quickly learn to fence to stave off the challenge of the foppish Dr. Caius.
It is a credit to the talent of this company that they can move from the tragedy of Romeo and Juliet to the light-hearted Merry Wives with such ease. Each of the cast is a quadruple threat – they sing, dance, play an instrument and, boy, do they emote. This is an ensemble that really works well together and their chemistry is palpable.
Pam Johnson's set is legion hall kitsch complete with moose heads, dartboards and the obligatory photograph of Queen Elizabeth. The sub-set – white picket fence, pink flamingos and garden chairs – is pure sixties nostalgia. The costumes are fab (kudos to designer Drew Facey) – very Mad Men, with pedal pushers, crop tops, saddle oxfords, crinolines, bouffant hairdos, zoot suits, and some Canadiana touches, a Hudson's Bay blanket and a curling sweater. Elliott's sound design and Valerie Easton's fancy choreography ties it all together. Director Johnna Wright notes that Merry Wives was Shakespeare's "love letter" to the Elizabethan middle-class, his only comedy that takes place on "home turf" and his only play written almost entirely in prose. What a gift.
While purists will shake their heads at the thought of this Shakespearean musical, their toes will be tapping to the likes of "Baby, Baby Don't Get Hooked on Me," "Your Cheating Heart" and "Ramblin' Man." The whistling and foot stomping of the opening night crowd seems to indicate that this will be the hit of the season. It is a lot of fun. Don't miss it.
Bard runs until Sept. 24, and reviews of its other two productions – Othello and Pericles – will appear in a future issue of the Independent. For more information and tickets, visit bardonthebeach.org or call 604-739-0559.
Tova Kornfeld is a Vancouver freelance writer and lawyer.