Congregation Beth Israel Rabbi Jonathan Infeld, right, and Howard Mickelson, QC, receive the Schechter Haggadah from the president of the Schechter Institute, Prof. David Golinkin, at the Schechter Institute of Jewish Studies in Jerusalem. (photo by Linda Price)
A group of 20 lawyers and judges from Canada visited Israel for a five-day Law and Justice seminar at the Schechter Institute of Jewish Studies in Jerusalem. Meeting with some of their Israeli counterparts, participants immersed themselves in the topics of Maintaining Security, Rule of Law, Democracy and the Jewish Way of Life.
Mission delegates participated in a reception at the Rooftop Restaurant, Mamilla Hotel, followed by a talk by the Hon. Justice Dalia Dorner, former Israeli Supreme Court justice. Mission delegates, several of whom are not Jewish, heard Dorner's explanation of the special character of Israel, which is both a Jewish and democratic state. She said, "Israel must unite both of these values. Indeed, certain Jewish values are very compatible with democracy. Furthermore, the founding fathers of Israel chose freedom, justice and peace as the basic values upon which the state is founded, and no one can change this."
The next day, the jurists met with Justice Elyakim Rubinstein, vice-president of Israel's Supreme Court and former attorney general. They also toured the award-winning building. Rubinstein explained the uniqueness of Israel's Supreme Court and how it differs from those of other Western countries. He also discussed topical issues such as the appointment of Supreme Court justices and the proposed Regulation Law.
Afterwards, delegates traveled to the Ministry of Justice in East Jerusalem and met with Israel State Attorney Shai Nitzan, who spoke about the difficulties of safeguarding human rights during times of war and insecurity.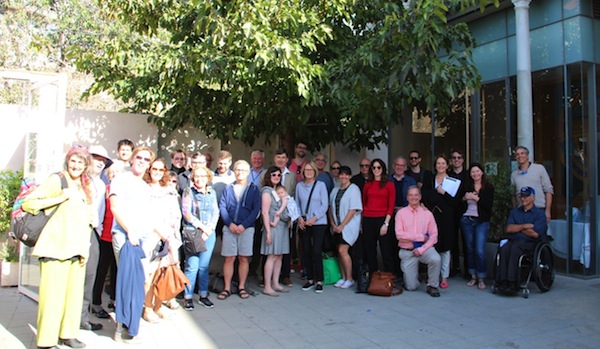 On the Thursday, Ambassador Efraim Halevy, the ninth director of Mossad, who was born in England, gave a talk on the interrelationship between Israel, the United States and Russia, and each country's interest in the Middle East. Halevy said, "Israel cannot be destroyed" and that "Iran never was and cannot be an existential threat to the state of Israel. There is no state or entity that represents an existential threat to the state of Israel."
On Friday afternoon, delegates visited the Neve Schechter Centre for Jewish Culture in Neve Zedek, Tel Aviv, and heard several lectures. Prof. Gideon Sapir from the faculty of law, Bar-Ilan University, and a candidate for the position of Supreme Court justice, gave a lecture explaining the issues of Israel's "blue laws." He noted the quandary of employing workers on the Sabbath in Israel and creative legal solutions to this dilemma, which counterbalances two values: one Jewish – the right to a day of rest; and the other democratic – the basic right to freedom of employment.
The mission was the initiative of Rabbi Jonathan Infeld of Vancouver's Congregation Beth Israel and one of his congregants, attorney Howard A. Mickelson, QC. A group of Jewish and non-Jewish lawyers meets regularly in Vancouver, in a Law and Learn program for lawyers that deals with contemporary issues in civil law, bringing in guest lecturers. A Jewish law component is added to each session by Infeld.
Because of Infeld's long-term connection to the Schechter Institute of Jewish Studies, Schechter was chosen to lead the mission and to implement the study program. The mission's goal was to enable a group of Canadian leaders to study, up close, the social, military and political issues facing Israel as a democratic and Jewish state, both from a general legal and a specific Jewish legal/religious standpoint.