A scene from Shop Class. (photo from NFB)
Hart Snider has followed up his award-winning animated short The Basketball Game with Shop Class, one of four National Film Board of Canada shorts selected for the 2018 Spark Animation Festival, which runs Oct. 25-28.
"I wrote and developed Shop Class while editing the TV series Yukon Gold, Klondike Trappers and Ice Pilots – documentary/reality series driven by 'manly men' who would run into big problems in remote locations, but then they'd break out some tools, rock music would start playing, there'd be a montage, and the guys would 'man up' to fix the problem," Snider told the Independent. "While they were very successful shows, it made me laugh to be a not very macho guy telling these stories. It reminded me about being 14 and wanting to take home ec, but instead being forced to take industrial arts class, where my teacher tried to scare us into becoming men. I was inspired to write the story, which, yes, felt very cathartic – especially when I shared it with friends who also had him for a teacher."
Not only does young Hart have to endure the bullying of his shop teacher, but he and his friends are targets for their bullying classmates. In one scene, Hart and his buddies are hanging out at a convenience store, when the friend checking out the latest Supermensch comic receives a punch in the stomach.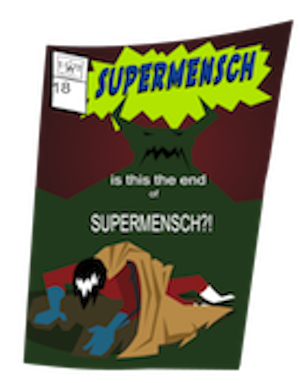 "The comic is not just a reference to being Jewish," said Snider, "but to my first film. Shop Class is actually a sequel of sorts, to my 2011 National Film Board of Canada animation The Basketball Game, another autobiographical story. It's about being 9 years old and at Jewish summer camp for the first time, when ex-students of notorious Holocaust denier/high school teacher Jim Keegstra come to our camp in Pine Lake, Alta., for a 'day of fun and fellowship.' Early in the film, my character is reading a Supermensch comic (which is there mostly because of the unnamed villain in Supermensch, seen fighting on the cover, that ends up inspiring a nightmarish transformation later in the story).
"Shop Class has a documentary-type scene that takes place in a convenience store, so I added a teenager reading Supermensch, issue #18, the same comic, to show that both the stories actually exist in the same cinematic universe."
Every single character in Shop Class is voiced by Corner Gas and Dan for Mayor star Fred Ewanuick.
"Fred went from listening to me imitating my old teacher's way of talking," said Snider, "to stepping into the recording booth and totally bringing that character to life – and he did it just by saying, 'Sit down, Turkeys,' over and over until he totally nailed it."
As for the other characters in the film, Snider said, "I'm still friends to this day with people I met in kindergarten at Talmud Torah in Edmonton, and I included a couple of them in both of my films. The love interest is totally inspired by my wife, Galit Mastai."
The couple lives in Vancouver and, according to his bio, Snider "can usually be found either in an edit suite or at the park with his wife Galit, daughter Leora and dog Wolfie."
In addition to writing and directing Shop Class and The Basketball Game, Snider also wrote and directed the animation segments for I Am Sam Kinison, a feature-length documentary about the late comedian that aired on Spike television. "I've edited animated short films as well," he said, "including Lisa Jackson's The Visit and Elisa Chee's Lucy. Most recently (outside of animation), I've written and edited the theatrical documentary features I Am Heath Ledger and Botero, which will be released next year."
On the NFB media site for Shop Class – on which he reveals his plan to create a third short "in this trilogy of animated films about growing up in Edmonton in the 1980s" – Snider traces his love of animation "back to being a little kid on Saturday mornings, glued to the TV. I have loved animation ever since," he says, "but it took attending a screening of adult animation shorts (which included the film Lupo the Butcher by Danny Antonucci) when I was in high school to make me realize I really wanted to write and direct animated films. After interning at Nelvana animation in university, I thought I was on my way, until a job in post-production on a doc series about Cirque du Soleil back in 2001 led me on a totally different path as a documentary editor and writer."
So, while he still loves animation, he doesn't do the art for his films. "I just love telling stories using the medium," he told the Independent, "and I've gotten to work with some brilliant artists – Sean Covernton animated The Basketball Game and the team at Jesters Animation, led by animation supervisor Brad Gibson, brought Shop Class to life."
Shop Class screens Oct. 26, 11 p.m., at Vancity Theatre (19+). The NFB's Animal Behaviour, by Jewish community member David Fine and Alison Snowden (jewishindependent.ca/animated-therapy-session), screens Oct. 25, 7 p.m., at Scotiabank Theatre. For the full festival lineup and tickets, visit sparkfx.ca.