The centrepieces of the show, two large paintings by Jazmin Sasky, are both based on Anita Diamant's novel The Red Tent. (photo by Olga Livshin)
Across centuries, artists in different countries have depicted women in their multiple incarnations – among them, mother, muse, beloved, temptress. The new show at the Sidney and Gertrude Zack Gallery, called Envisioning Women, brings a new slant to the theme: how 21st-century Canadian artists see women.
The centrepieces of the show, two large paintings by Jazmin Sasky, are both based on Anita Diamant's novel The Red Tent and, therefore, on the Torah. The women in the paintings could be just as easily from biblical or contemporary times, friends going on a camping trip or visiting a spa. The paintings' festive red palette with its multiple nuances communicates the women's contentment at being together, sharing the space. While the red tent in the novel refers to a place reserved for the females of the tribe, a place where they find mutual support and encouragement, in the paintings, the space alludes to a wider interpretation.
"I explored the sisterhood of women," said Sasky. "It's as relevant today as it was then, although in the biblical times, they all lived together. No secrets were possible, unlike us. We are much more private, but it was interesting to imagine those women, their lives."
Her women don't belong exclusively to the ancient tribe. They also live in the here and now, share our workspace and our holidays, walk along the same streets and into the same buildings. They are not afraid of change, of bursting out of the artificial confines of the "red tent" and into life.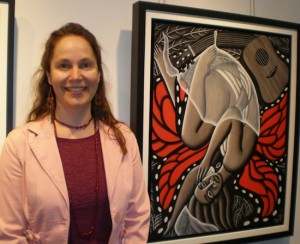 This courage and strength resonates in many other works in the show. The women in them assert their place in history and are willing to rebel, if necessary.
Nancy Henderson's painting with the title "Sk8r grrl one" is one example of such a rebellion. It depicts a young female hockey player in a ridiculous costume of the beginning of the 20th century. The artist's fiery words about her work read as a tribute to every Canadian woman: "I salute women of every generation who have defied everything from societal disapproval to outright bullying in order to get into every game, including the great frozen one."
Carly Belzberg's "Eve" doesn't look like a traditional Eve of old either. This Eve participates; she gets into games. In her shorts and a tank top, sitting in a meditation pose, perhaps doing yoga, she is not afraid of the world unfolding around her, and her quiet courage transmits to everyone who comes into the gallery.
Life is changing, and we're changing with it, coming out of our traditional cocoon of domesticity, where women were confined (by choice and not) for generations – that seems to be the message of the show.
Lori-Ann Latremouille's painting "Emerging" embodies this idea. Her woman is transforming out of her restrictive silken shroud into wings and the world. She will fly and sing, and the guitar incorporated into the image signifies the connection between music and freedom. "Rebirth after dormancy," commented the artist. Not surprisingly, she is a professional musician herself, and her painting is a story of metamorphosis. "It's a new painting technique for me, too. I used to do drawings," she said.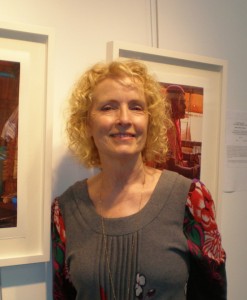 The line of timelessness, of connectivity, continues in Kathryn Gibson O'Regan's serene photographs. "I travel a lot and always try to find what unites women of all times and cultures. Creativity is common: weaving and spinning and making textiles, from the Bible to our times. I visited villages in many countries in Asia." Her photos of the weavers in India and Thailand emanate peacefulness, their deep colors soft and bright simultaneously.
In contrast, there is little that is peaceful in Linda Lewis' display of pottery cups. Each one has a face painted on it, or rather a hint of a face, the eyes. They are called collectively "Hints." About two dozen of the cups are arranged in two glass cases in the middle of the gallery, similar in shape and size, but varied in their facial expression. Some cups stand in groups, like friends gossiping. Others are alone, in pain or pleasure. Still others resemble family clans, with love and antipathy intermixed. The whimsical complexity of women's lives in pottery is fresh and unexpected.
It's impossible in a short article to tell about each of the 15 artists participating in the exhibit – all of them add their unique perspective to the image of "contemporary woman," and readers are encouraged to visit the gallery. Unfortunately, they won't be able to experience one aspect of the show – the JCC Shalom Dancers. As the exhibit is in collaboration with Festival Ha'Rikud, its opening night featured a group of young dancers, led by Marla Simcoff and Jessica Bradbury, who presented a short but beautiful routine, a teaser of their full-length performance. Six young women in long black dresses, trimmed with red and yellow, with large red fans, danced in the atrium of the community centre, bringing dramatic energy and gladness to gallery patrons. They were the real-life embodiment of the paintings, women of the 21st century.
Envisioning Women will be on display until May 25.
Olga Livshin is a Vancouver freelance writer. She can be reached at [email protected].