Today's Sedona Jewish community is spread out over the surrounding Verde Valley. (photo by Lauren Kramer)
"Whatever you do, please don't write about vortex or New Age stuff!" I was socializing after Friday night services with congregants at Sedona's synagogue when one of them, overhearing I was a travel writer, approached me with this earnest request. The "vortex stuff" was nonsense, she added – a real estate ploy that had gotten way out of control. Her warning: avoid the vortex at all costs.
I'd come to this Arizona city of 10,000 to check out the red rocks for which it is famous, and couldn't resist stopping into shul for services. The synagogue was bustling with locals and visitors as Rabbi Alicia Magen's melodic voice wafted through the sanctuary, serenading us with Sabbath lullabies as she strummed her guitar. After services, my husband and I joined the congregation for a kiddush, noshing on enchiladas and cheesecake as we chatted with locals. Most were retirees from afar who had settled in Sedona, lured by its combination of rugged good looks and the many amenities and festivals, created to cater to the two million visitors who come each year.
Some of them are only too happy to partake in the "New Age stuff" I'd been warned about, an industry spawned from the notion that vortexes, or spiritual energy points, are clustered around Sedona. Vortex tour brochures touted everything from spiritual growth and self-improvement to yoga and personal guidance at those sites.
But you either believe in that stuff, or you don't – and, since I don't, I chose to head out on horseback for a better view of the monolithic red stones that have made Sedona a tourism magnet. And it's no exaggeration to say this: they truly are magnificent. The first time you glimpse them, as you head towards Sedona on Highway 179, you could easily be forgiven for distracted driving. You round a corner and there they are: striking, massive, dignified and unmistakably fiery red.
Later, on a bumpy pink Jeep tour that takes us closer to the red rocks, I learn that these are not mountains but sand dunes that rise up to 6,592 feet. The rocks get their blazing hue from hematite, a reddish form of iron oxide deposited as water seeped through layers of ancient sandstone millions of years ago. Time has carved spirals, hills and camelback shapes into the sandstone, structures that extend their arms to the sky and create a vivid backdrop that can't help but startle and amaze. "No matter how long I live here, I never get tired of the view," one congregant told me.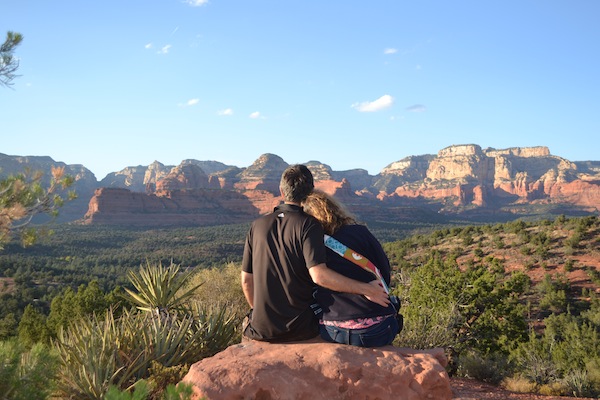 The average age is 65-plus at Sedona's Shabbat service; somewhat puzzled, I inquired if there were any children in the community. There are kids, indeed, I was told, but their families can't afford to live in the city, where home prices start at $500,000 and climb to $2 million. Instead, they have established homes in the surrounding Verde Valley, in areas like Cottonwood, Camp Verde and Prescott. The Sedona Jewish Centre, whose facilities include the synagogue and a Hebrew after-school program, serves the entire valley.
With our Jeep bumping over rocky terrain in the Coconino National Forest, just minutes from Sedona's retail strip, our guide pointed out agave plants, prickly pear cactus and Arizona cypress trees. Though it may look dry and arid, red rock country is biologically rich, with a range of different plant communities that support a huge variety of wildlife, from peccary herds to fox and coyote, bears, badgers and roadrunners. For archeologists, the ground below us is a living museum littered with fragments from the past, including pottery shards from the Sinagua people who resided in the area until 1400 AD.
Later, back in Sedona's uptown cluster of stores, I sampled the fruit of the desert: syrupy sweet prickly pear ice cream and a plate of hot cactus fries, before ambling around the strip. Its stores are a touristy mix of art and pottery galleries and made-in-China souvenirs, interspersed with resort timeshare sales people inside so-called tourist info offices. So I cut short the window-shopping and instead, hit the road to try an adventure treetop experience called Flagstaff Extreme.
I admit, I was scared when I strapped on a harness and climbed ladders into the upper reaches of Ponderosa pine trees. I nearly talked myself out of the experience, and it was only my husband's coaxing assurances that the obstacles looked scarier than they were, that kept me moving. But after a few minutes of navigating through the forest's pines using swings, ziplines and bridges, my confidence soared. The wind was blowing through the treetops as I found courage I never knew I had. After completing each of the five levels of adventure, an exhilarating wave of achievement washed over me, propelling me forward.
On my final day in Arizona, we joined Mary McDowall for an ATV tour a half-hour from Sedona in Prescott National Forest. The owner of Arizona Offroad Tours, she took us 25 miles into the hilly Verde Valley, pointing out desert willows, manzanita, hollies and other desert shrubs along the way. "This is one of the most beautiful parts of the state," she said, gesturing at the million-acre forest around us and the mountain plateaus in the distance. Clambering on the spanking new ATVs we powered up a dirt road, then took a sharp turn from it and zoomed noisily along a meandering, dry creek bed created by the swirling waters of flash floods during monsoon season. It was a striking contrast to the boutiques and gift shops we'd been browsing a day earlier in Sedona.
McDowall agreed. "You go to Sedona, you're going to see Ferraris," she said with a shrug. "It's touristy. But if you're an outdoor person, this is the place for you, because there's nature everywhere."
Lauren Kramer, an award-winning writer and editor, lives in Richmond, B.C. To read her work online, visit laurenkramer.net.
If you go: