Sara Omer and her kids lost their husband/father Reuven in 2008. (photo from IMP Group)
May 1 was Yom Hazikaron (Israel Memorial Day), May 2 celebrated Yom Ha'atzmaut (Israel Independence Day) and this month marks the 50th anniversary of the Six Day War and the reunification of Jerusalem. For the widows of Israel's fallen soldiers, who paid the ultimate price so that Jews all over the world could revel in the modern-day rebirth of the Jewish state, these anniversaries stir varying emotions.
At 94 years old, Devorah Arkin Roth is one of the country's oldest war widows. Her husband, Mordechai Arkin, was killed while defending Hadassah Hospital in Jerusalem just weeks before the official outbreak of the War of Independence in May 1948. She shares fond memories of her husband, as she stares at the photo album of their wedding and the newborn pictures of their first child.
"He was a very talented man who wanted to go to Columbia University in New York to study physics," she recalled. "But the deteriorating security situation in the country wouldn't permit him to leave. He worked at Hadassah Hospital and doubled as a guard when he was killed. At the time of his death, I was already pregnant with our second child."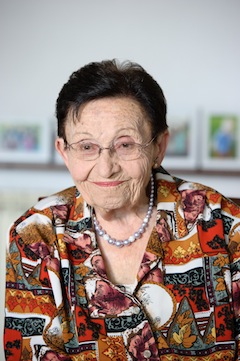 Though Roth remarried and feels privileged to be a mother, grandmother and great-grandmother, she still gets the jitters each time one of her grandchildren goes into the army. "It's difficult to see your grandchildren being drafted into the IDF [Israel Defence Forces] after what I had to endure, and even more so because one of my grandchildren was injured as well in battle," she said.
The Six Dar War was an astounding military accomplishment, as the IDF beat back the armed forces of Egypt, Syria and Jordan – but 776 IDF soldiers lost their lives.
Pte. Yossi Mori was killed on the first day of the Six Day War (June 5, 1967) after his unit was shelled in a minefield. His widow, Dania, recalled, "We had a great group of friends and, to this day, we meet every Memorial Day at his grave. During these years, you keep going, building your home, raising children and grandchildren. You don't just sit all day thinking about your loss, because then your life would stop."
First Lieut. Yehuda Ram died while liberating the Golan Heights on the last day of the war (June 10). "Yehuda died when he was 23 years old and we had only been married for a year. It was young love, an innocent one," Shoshana, his widow, remembered. "I actually came back from the war filled with guilt. Why did I survive and he didn't? Those feelings disappeared with the years because you can't keep living like that."
Even in between wars, when IDF soldiers constantly train in order to be ready for the next conflagration, there are inherent dangers, which can exact a toll.
For example, Sara Omer's world was nearly destroyed in 2008, when her husband Reuven was killed in the midst of a training exercise as part of his IDF reserve duty. She had to face life alone with her three young boys, twins Nadav and Yotam, who were 6 years old, and Guy, then 2 years old.
"The unexpected loss of my husband was indeed shocking and, when Yom Hazikaron comes around every year," she said, "it is a difficult day for all of the widows, but my children, who are now teenagers, attend a special ceremony at the Knesset, which is both uplifting and inspiring."
Run by widows and orphans, the IDF Widows and Orphans organization (IDFWO) creates a support network to help them through difficult times. The organization provides services that touch every aspect of their lives, from a communal bar/bat mitzvah service at the Kotel, to professional training courses.
One of the most important activities of the IDFWO is to bring together people with common experiences for mutual support. Regular retreats give widows a break and a chance to benefit from mutual understanding. The IDFWO Otzma Camps give orphans the same opportunity.
"Once a war widow, always a war widow, even if you remarry and love your second husband. The IDFWO gatherings and activities are very important for a very specific reason," one of the widows explained. "We might not always agree with each other's opinions about different things, but we all speak the same language and understand each other, as widows. Since we have all experienced the same loss and trauma, we can speak to each other in our language and help each other when we need to, especially on Yom Hazikaron, when we all could use a hug and a smile."
To learn more about the IDFWO, see idfwo.org/eng.