Eppy Rappaport welcomes new and old customers to Omnitsky's new location at 5775 Oak St. (photo by Cynthia Ramsay)
Kreplach. Smoked meat. Tongue. Turkey pastrami. Salami and eggs. If this list of dining options makes your mouth water, read on because the new Omnitsky's is open for business.
Taking over the location previously occupied by Kaplan's, Eppy Rappaport has done a gut-renovation of the space in order to create a 21st-century kosher deli. The new Omnitsky's has actually been open since just before Rosh Hashanah, but only for the retail end of the business. After a number of setbacks, Rappaport was able to cut through the last of the tangles of red tape and, once the licensing came through late last month, he was able to unveil his brand new restaurant and kitchen.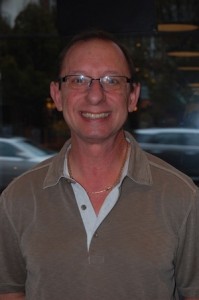 About the delays, Rappaport was pragmatic. "I want it to be right," he told the Independent. He's excited to reveal the new space to the public. At long last, he said, his dream is coming true.
The new Omnitsky's concept is different from the old store on Cambie at 43rd Avenue. There has been a reduction in dry goods available, but a large expansion of the refrigerated and frozen sections of the retail space. The increase in retail and take-out deli products reflects an emphasis on the expanded menu the new Omnitsky's has on offer.
"The designer and contractor got the maximum out of the space," Rappaport explained, adding that he hopes the look and layout will foster positive dining and shopping experiences. The deli has a traditional feel, with both food and décor to match. There are tables with banquets along the walls and the fresh deli counter is located at the back by the kitchen.
Rappaport has developed several new products, as well, including an apple turkey sausage that is nitrate-free, along with other sausages he makes himself in his plant on Annacis Island. "We have an expanded product line including fresh baked goods, salads, four soups every day," he said. There will be the usual chicken soup with noodles or kneidelach, but now you can add kreplach, as well.
Alongside an array of deli sandwiches, there are several hot items on the menu, including kasha and shells, knishes, three kinds of hot dogs with five choices of toppings, and turkey shwarma. Omnitsky's signature dish? "Deli done the old-fashioned way," Rappaport said proudly.
Not only has he added variety to the menu, but Omnitsky's hours are also extended. Monday through Thursday, he plans to serve breakfast, lunch and an early dinner, staying open 8 a.m.-8 p.m. Friday and Sunday, he will be open for breakfast and lunch – with plenty offerings to take home for dinner. To satisfy those who crave breakfast all day, he said that salami and eggs, a classic, is an all-day affair.
Rappaport is thrilled that his restaurant is finally open for business and reaching a new and expanded clientele. The Oak Street location has brought him a much bigger client base, he said. "People remember the old Kaplan's. I've had old Kaplan's customers returning, wishing me luck and waiting for the restaurant to open."
Along with the street parking available for much of the day, Rappaport said there are 20 or so parking spots behind the restaurant. He believes that the growth in the kosher meat business is on the restaurant side of things and, with his new and expanded menu and a loyal customer base, he's ready for things to really take off.
One of the well-loved features of Kaplan's was the baking, the desserts that reflected an Old World taste and style. Fortunately, Rappaport said that the same woman who baked those familiar treats is working in his new kosher kitchen. This is welcome news for people who are looking to nosh on a shtikl kuchen after a chazerai of smoked meat on rye.
Wait no more, lovers of kosher meat and all that it can become. Omnitsky's doors are open and the blue tarp that has covered the rear half of the store for months is gone. Whether it's a trip down memory lane you're looking for or a new culinary experience with an "old" twist, the only classic kosher deli west of Winnipeg is open for business.
Michelle Dodek is a freelance writer and community volunteer living in Vancouver.