Cornelia Oberlander collaborated with architect Arthur Erickson on many projects, including the Downtown Vancouver Law Courts. (photo by Joe Mabel via commons.wikimedia.org)
At 95 years old, landscape architect Cornelia Hahn Oberlander can look back on a string of stellar accomplishments.
From the Arctic Circle to Vancouver, from Ottawa to New York to Berlin, Oberlander has carved out a new relationship between the urban environment and nature, created innovative approaches to playgrounds for generations of children and spearheaded initiatives for environmental sustainability.
But she is still struggling with one of the most intractable problems that she has confronted throughout her career, now stretching into its seventh decade. What does a landscape architect do?
When she walks onto the stage of Temple Sholom's Dreamers and Builders Gala dinner on March 5 at Vancouver Convention Centre East, Oberlander will come with a simple message. "I do not just bring the bushes," she says. "I take care of the environment."
During a recent interview at her home near Pacific Spirit Park, Oberlander repeatedly comes back to the challenge of explaining the work of a landscape architect.
She passes quickly over projects that made her an influential trailblazer on the global stage. She does not want a spotlight shining on her own life story and her quiet but unwavering lifetime commitment to Temple Sholom. She is hesitant to say too much about projects she is now working on.
"Look at the big picture and not all the other stuff," she tells me. She wants to talk about the design process, building landscapes commensurate with climate change, and the need for green spaces in cities.
She sees the gala as an educational opportunity. "It's about tikkun olam, which means, to heal the earth," she says.
At the inaugural Temple Sholom Dreamers and Builders Gala, Oberlander will be honoured for her work as a landscape architect and as a founding member of the synagogue. A highlight of the evening will be biographer Ira Nadel in conversation with Oberlander. Among his numerous books, Nadel, in 1977, co-authored with Oberlander and Lesley Bohm Trees in the City, which advocates for integration of trees into the pattern and function of urban activity.
Temple Sholom will also unveil an $1,800 youth award for a teen who has demonstrated a passion for healing the world through tikkun olam.
Oberlander has been called a national treasure, the dean of Canada's landscape architects. With a feisty personality and resolute sense of purpose, she has been regarded as "a force of nature" and "the grand dame of green design."
World-renowned "starchitect" Moshe Safdie has collaborated with Oberlander on several projects over the past 35 years, including the Vancouver Public Library and the National Gallery of Canada in Ottawa. "It was a joy to work with her," he says.
Oberlander is passionate about integrating landscape with architecture, says Safdie. "Above all, Cornelia is a great craftsman of landscape, paying as much attention to concepts as to the craft of sustaining plant-life both in the natural and built environment."
Oberlander is a fearless innovator, says Phyllis Lambert, architect and founder of the Canadian Centre for Architecture in Montreal. Oberlander not only considers the ecology, the natural environment and the nature of soils, plants, light and shade, she also looks into the history associated with the landscape and the architectural design. "No one else does that," says Lambert.
When I phone Oberlander for an interview, she has difficulty finding time to speak with me. She maintains an incredibly busy professional life. "I just got another job this morning. I have six huge jobs," she says shortly after we finally meet.
Oberlander works from a studio in her spectacular 1970 post-and-beam home on stilts above a ravine, surrounded by hemlocks, western cedars, big leaf maples and 20-foot-high rhododendron species. The boundary between indoors and outside is fuzzy. With huge glass walls, she can see forest and sky from most spots in her home.
Oberlander's mother Beate Hahn, a horticulturalist, published books on gardening. Oberlander, born in Mulheim, Germany, decided when she was 11 that she wanted to create parks. Susan Herrington, in Cornelia Hahn Oberlander: Making the Modern Landscape, writes that Oberlander, by the age of 15, was sketching drawings of wooded parkland and experimenting with organic gardening, using birds and insects to mitigate pests.
Oberlander's father, an industrial engineer, died in 1932 during an avalanche while skiing. Oberlander came to the United States in 1939 with her mother and sister and, after completing high school, enrolled in Smith College, a women's college in western Massachusetts.
By the time she graduated from Harvard University's Graduate School of Design in 1947, she viewed landscape architecture as much more than gardens. She had been taught to look for inspiration for design and plant material in history, art and culture and to seek out collaboration across disciplines. Oberlander now describes her approach as the art and science of the possible. The spark of creativity is the art; research coupled with analysis is the science.
Her perspective continued to evolve. "I am trying to show in my landscape today the impact of climate change and clean air, emphasis on alternative energy with low carbon emissions, sustainable use of water and land, preservation of endangered species and protection of the biodiversity," she says in the interview. "We [landscape architects] are no longer just garden-making. We are creating environments for human beings that are commensurate with saving the environment."
Oberlander worked in the early 1950s in Philadelphia before moving to Vancouver in 1953 with Peter Oberlander, who she met while at Harvard. Peter had been invited to Vancouver to establish the School of Community and Regional Planning at the University of British Columbia.
In her early years in Vancouver, she designed landscapes for private homes and children's playgrounds. Her innovative approach to playgrounds began to attract attention following her work on the Children's Creative Centre at the Canada Pavilion at Expo '67.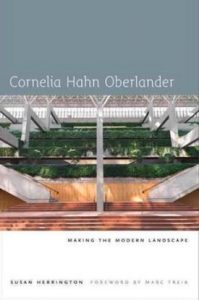 Oberlander reimagined what a playground could be. She replaced swings and metal climbing structures with trees, piles of sand, a stream, logs and covered areas. In the following years, her ideas about spontaneous exploration and unstructured play spread across the continent.
Although her name-recognition is limited outside professional circles, most Vancouverites have enjoyed the benefits of her designs. Oberlander reshaped how Vancouver relates to its waterfront with an idea she had in 1963, as she was driving along Jericho Beach. City staff were burning logs that had washed ashore. She recalls going straight to the park board office with a proposal to use the logs as benches. They gave her a hearing and heeded her advice.
It was her work in the 1970s with architect Arthur Erickson that took her reputation beyond the playground. Beginning a relationship that lasted more than 30 years, she collaborated with Erickson on the Robson Square courthouse and government complex, one of the earliest green roofs in North America. She created an oasis in the centre of Vancouver with white pines, Japanese maples, white azaleas, roses, dogwoods and citrus trees. Her work on Robson Square established her reputation for meticulous research into soils, plants and structures, her creative ideas, and her "invisible mending" for weaving nature into urban development.
At UBC's Museum of Anthropology (1976), she designed a simulation of an open meadow in Haida Gwaii with indigenous grasses and plants used by First Nations for medicine and food. At the National Gallery of Canada in Ottawa in 1988, she envisioned the landscape as an extension of the museum's collection of Group of Seven paintings. Her work in the 1990s on the C.K. Choi Building at UBC, with its biological marsh to process recycled water, and the legislative building in the Northwest Territories, reflect her commitment to sustainability, the inclusion of social and cultural values and the use of native plants. Determined to rely on indigenous plants in the Arctic, she collected seeds and cuttings, and brought them to Vancouver to propagate. Three years later, she took the plants back and nestled them among the rocks outside the building.
Oberlander brought greenery to the heart of Manhattan in 2007, planting northern birch trees amid sculpted mounds in a central courtyard of the New York Times building. In Vancouver around the same time, she turned to botanist Archibald Menzies, who accompanied Captain George Vancouver in 1792, for the selection of plant material, bulbs and grasses on the roof garden at the Van Dusen Botanical Garden Visitors Centre. She used only plants that he described more than 220 years ago.
Pointing to stacks of research notes, drawings and books scattered about her studio and in two other rooms, she stresses the importance of research and of integrating the site with the building. She says she is constantly looking for new technologies to advance sustainability and respond to climate change. "As a landscape architect, you have to know the building, the reason for the building, the way the building works," she says.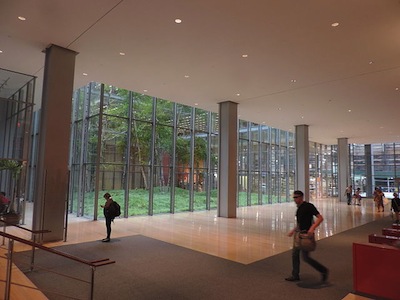 Oberlander is hesitant to reveal all her current commissions, saying some are "political." But she mentions that, after our interview, she is going to a meeting on restoring the grounds of the so-called Friedman House, designed by Swiss architect Frederic Lasserre. The mid-century modern house, built in 1953 for Sydney and Constance Friedman, was her first project when she moved to Vancouver.
Also, she is part of a team redesigning a garden at the National Gallery of Ottawa, she is conducting research on the lack of green spaces in downtown Vancouver and she is working on a roof garden for a small apartment block in South Granville. As we talk, she pulls out drawings of a new roof garden at the Vancouver Public Library, where she is working with a team redesigning the roof garden that she designed in the early 1990s.
Oberlander has received the most prestigious awards in the world of landscape architecture but she diverts the focus away from her achievements. "What is amazing is that landscape architecture, the way I practise it, is being recognized," she says.
Throughout her career, she and her husband Peter maintained close ties to Temple Sholom.
In searching for their place in the early 1960s in Vancouver's Jewish community, the young couple with three children felt that something was missing. They decided to bring Reform Judaism, already familiar to Peter from his childhood in Vienna, to Vancouver. Gathering a small group of Jews in their living room in 1964, they were among the founders of Temple Sholom.
Oberlander shared her passions and talents with Temple Sholom over the years: providing honey and home-grown apples at Rosh Hashanah, reading the Book of Jonah with Peter on Yom Kippur for more than 20 years, and beautifying the holy community both inside with flowers for the High Holidays and with peaceful exterior landscapes. She also designed Temple Sholom's cemetery in Surrey.
As I step outside at the end of the interview, she recalls the words of her husband Peter three days before he died in 2008.
"He said to me, tikkun olam," she says. "I said, yes, you have done that all your life with the city and I with my greening efforts.
"And he looked me straight in the eye and said, you, Cornelia, must carry on.
"And so I know every day what I am supposed to do."
Robert Matas, a Vancouver-based writer, is a former journalist with the Globe and Mail.