Atomic Falafel poster. (photo from Atomic Falafel PR via israel21c.org)
While world headlines focused on the landmark Iranian nuclear deal, an enormous billboard outside a Tel Aviv building announcing the upcoming opening of an Iranian embassy in Israel in August had the local social media community wondering whether it was an art installation, an anonymous peace group's campaign or someone's idea of a joke.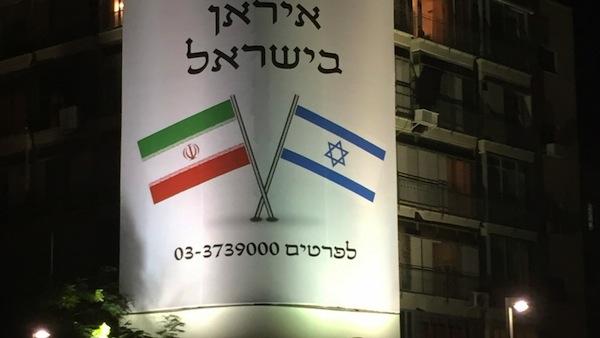 The Hebrew billboard included pictures of the two countries' flags, a local phone number and the text: "Opening here soon – embassy of Iran in Israel." It was erected at Rabin Square, the favored site for political peace rallies.
The mystery was solved in the last days of August by the people behind the sign. It was a public-relations stunt to drum up publicity for the new Israeli comedy Atomic Falafel, a madcap film about a nuclear conflict between Israel and Iran.
"A satirical comedy mocking ultra-militarism" is how producer Avraham Pirchi explained the film, which was scheduled to open in Israel on Sept. 10.
Atomic Falafel is the latest from director Dror Shaul, winner of the 2007 Sundance World Cinema Jury Prize for his semi-autobiographical film Sweet Mud. It tells the story of two girls – one in Israel, one in Iran – who spill their countries' most valuable secrets on Facebook to prevent a nuclear crisis. The movie pits a wifi-connected younger generation against old-school warmongers in an effort to stop a preemptive Israeli attack on Iran's nuclear facilities.
"Teenagers around the world today are much more similar than different to each other. They dress the same, listen to the same music and are not really interested in wars. I hope that the sane, logical side of Israel and the world will overcome the irresponsible one, and that my little boy born just two weeks after the end of shooting will be rewarded with a safe future," said Shaul.
"When we started to make Atomic Falafel, we didn't know we would be releasing the film when Iran's nuclear power would be so relevant. But that's what's happened," Pirchi told variety.com, adding that the film is "pro-peace and optimistic."
The film is co-produced by New Zealand's General Film Corp. and Germany's Arden Film, Getaway Pictures and Jooyaa Film. It stars Israeli actors including Shai Avivi, Mali Levy, Yossi Marshak and Zohar Strauss, as well as Germany's Alexander Fehling (Inglourious Basterds).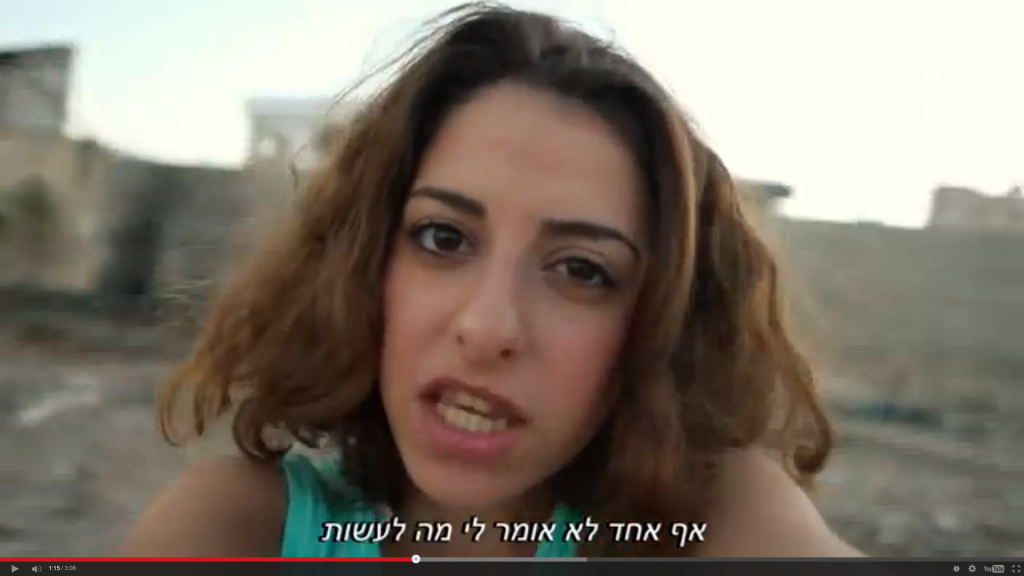 Tara Melter, a German actress of Iranian descent who plays a supporting role in Atomic Falafel, raps the soundtrack's title track, "Hitchki." The song, composed by Bahar Henschel, is addictive.
Production company United Channel Movies (UCM) announced on Facebook that Atomic Falafel has all the makings of a hit, citing that the movie's trailer (in Hebrew only) racked up more than 100,000 views in its first two hours online. UCM says it is in talks with international agents to secure wide distribution of the movie following its Israel release.
Israel21C is a nonprofit educational foundation with a mission to focus media and public attention on the 21st-century Israel that exists beyond the conflict. For more, or to donate, visit israel21c.org.