Gustavo Perednik, right, with Alberto Nisman in Jerusalem. Nisman's work inspired Perednik's novel. (photo from Gustavo Perednik)
The day before he was to present to Argentina's parliament allegations that the government tried to cover up Iran's involvement in the 1994 terror attack against the AMIA (Asociación Mutual Israelita Argentina) Jewish community centre, federal prosecutor Alberto Nisman was found shot dead in his home on Jan. 18.
Led by another prosecutor, Nisman's AMIA case was dismissed last week by a federal judge on the basis of insufficient evidence. An appeal will likely follow (as at press time, it had not), and the case will continue. No one has been found responsible for the bombing of the AMIA, nor that of the Israeli embassy in 1992. Nisman's suspicious death is under investigation.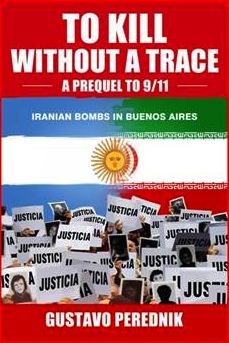 It is within this context that Argentina-born Israeli writer Gustavo Perednik visits Vancouver (and elsewhere) to discuss his novel To Kill Without a Trace: A Prequel to 9/11. Originally published in Spanish in 2009 by Planeta, the English edition was published by Ontario-based Mantua Books Ltd. on Sept. 11, 2004. It was translated by Dennis Burton, and Vancouverite Elena Feder wrote the foreword.
Written as an historical novel, writes Feder, To Kill Without a Trace "recounts the events leading up to the bombing of the AMIA and beyond, exploring the social and political implications both for Argentina and the world. Never losing sight of the human dimension of the tragedy, Perednik's lightly veiled fiction is accurately based on reported facts and original legal documents, put at the author's disposal by none other than the chief investigator of the case, Argentina's prosecutor, Alberto Nisman.
"As it did for its Spanish readers when it was first released," Feder continues, "this translation of Perednik's account will make the AMIA bombing and its aftermath more accessible to its English readers. It will help them unravel the complex threads surrounding the facts and events leading up to and following the bombing, and will steer them through the arcane legal and political intricacies of this decades-long case."
"I was motivated to write the book when I knew the fantastic work done by Alberto Nisman for justice in Argentina," Perednik told the Independent in an email interview. "Here you have a man fighting by himself against all odds, inspired by the ideal of pursuing truth by all means. Moreover, I was encouraged by the fact that I was able to get plenty of information on Iranian terrorism thanks to my friendship with Alberto."
Perednik has published novels, essays and countless articles in anthologies and academic journals. He said he chose the fictional form for To Kill Without a Trace "to make it more readable and compelling. The life of Alberto combines many aspects that are appropriate for a fictionalized chronicle: perseverance, idealistic youth and the metamorphosis of a personality due to the sense of a mission he felt about one specific case – the investigation of the AMIA terror attack."
Perednik and Nisman met about 10 years ago, "when he read an article I wrote and emailed me that he agreed with me and that we should meet. Once we met, he told me that when he was a teenager he had heard me speak several times at the Jewish institution that I headed in Argentina."
For the novel, Nisman provided "reports, opinions and projects," explained Perednik. "Sometimes he also gave me pictures, and he often provided me the names of people who could help me in my research for the book."
Perednik and Feder have been friends for about 15 years. "She translated my book Judeophobia into English – it is still unpublished," he said, referring to the English edition. The book, which examines the origins and development of hatred towards Jews and various theories explaining it, has already been published in Spanish, Portuguese and Hebrew.
"It all started when she wrote to me about my article 'Europe the Aggressor,'" he said. "She was on her way to a conference on Jew-hatred in Paris. She was the Canadian representative. Elena put me in contact with the publisher – Mantua Books – and she was kind enough to write the excellent foreword that helps to understand the case."
Feder has volunteered many hours to the publication. "I do it out of conviction," she wrote in an email. "I do it to honor the memory of my parents and the decimated family I never met, courtesy of the Nazis, who serve as models and heroes to the current instigators of hatred against the Jewish people.
"I stand on the side of those who consider Iran's extensive, long-term and long-ranging aim to take over and cleanse the planet of all 'infidels,' instrumental in the resurgence and spread of Jew-hatred worldwide. Like my ancestors, I feel personally at risk, not for what I do or what I may or may not believe in, or where I may choose to live, but for who I am in the distorted lens of those who consider both my life, and this life as a whole, worthless."
"I think Alberto Nisman's devotion for the cause of justice should be valued everywhere," said Perednik, "especially during these times in which the terrorist state of Iran seems to get away with its murderous campaign without anyone having the courage to confront it. Alberto had the courage and paid for it with his life. He was a true hero."
Perednik will appear on CBS's 60 Minutes on March 8, at 7 p.m. He will be at the Isaac Waldman Jewish Public Library on March 23, 7 p.m., with Feder. An RSVP is required to 604-257-5111, ext. 248, or [email protected] by March 19.