Chabad Nanaimo Rebbetzin Blumie and Rabbi Bentzion Shemtov with their children. (photo from Chabad Lubavitch BC)
All around the world, Chabad houses welcome Jews of all ages and stages to participate in a variety of activities from social Jewish identity gatherings to serious Torah study. According to chabad.org, "4,000 full-time Chabad emissary families direct more than 3,300 institutions." Traveling in China and yearning for a Shabbat dinner? Nine cities have Chabad houses. Thailand has four, Sweden has three and even Armenia has a chief rabbi in the capital city, Yerevan.
This fall, two new areas locally are being served by Chabad because the organization saw a need. In early September, just in time for the High Holy Days, Rabbi Mendel Mochkin, his wife Miki and their three young children arrived in West Vancouver to begin their outreach work on the North Shore, as well as in Squamish and Whistler. The rabbi had spent time in Vancouver in 2008 and again in 2011 so, when he was asked to return by Rabbi Yitzchak Wineberg, executive director of Chabad Lubavitch BC, Mochkin jumped at the chance to start his own Chabad House in British Columbia.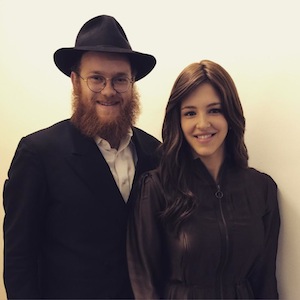 "I love it here. I feel very privileged to have moved here and to raise my family here," said Mochkin about his new home. "I love every day, meeting new people, starting new programs." He said his wife is also working hard to start programming for women. Miki Mochkin hosts, for example, Chabad's Loaves for Love, which is a women's circle; participants meet in her home and make challah as a group. The couple also hosts people every week for Shabbat meals, which is not an easy task, considering their own children are ages 3, 2 and 1.
The programming is not only out of their home. With a wide geographical area spanning the Sea-to-Sky corridor, Rabbi Mochkin said they have big plans for the winter. On the North Shore, they had a menorah lighting and festive food at Lonsdale Quay on Dec. 9 and they have a weekend planned at the Pan Pacific hotel in Whistler Dec. 11-12 to celebrate Chanukah, as well.
Even more freshly arrived in the province is Rabbi Bentzion (Bentzi) Shemtov and his wife, Blumie. They and their 3-and-a-half- and 2-year-old children are still adjusting to life in Nanaimo. They arrived in Victoria on Oct. 20, where they stayed briefly with her brother, Rabbi Meir Kaplan, who is the Chabad rabbi in that city. On Nov. 10, they moved fully into their house and they hosted their first Shabbat meal with guests just over a week later. Shemtov spoke with the Jewish Independent as he was driving to meet Nanaimo's mayor to confirm plans for a Chanukah party at city hall along with a menorah lighting scheduled for Dec. 8.
"In the past, my brother-in-law has driven up to Nanaimo to light the menorah. He was there for half an hour and then he'd take it down and move on. This year, it will be a real Chanukah party, with hot latkes inside city hall," said Shemtov.
Although he's been in town just a few weeks, he has already met quite a few people who are Jewish.
"Every time I walk into a grocery store, someone new approaches me and tells me that they're also Jewish and that there are no other Jews in Nanaimo," Shemtov said. He estimated that, in the central Vancouver Island area, which is his new turf and includes Parksville and Qualicum Beach, there are between 1,000 and 1,500 Jewish residents. There are Jews but no Jewish community.
As they plan programs in Nanaimo and the surrounding area, the Shemtovs will serve as the only full-time, functioning Jewish presence. "We were worried that, at first, there wouldn't be enough to do but the response has been so amazing, far beyond what we had imagined," said the rabbi. "There is a need and a thirst for a Jewish connection."
As did Miki Mochkin, Blumie Shemtov started a Jewish women's circle in her home. The first session, called The Miracle of Oil, was on Dec. 1 and it was filled to over-capacity. Her husband explained that his wife had "bought supplies for 15 to be safe but she had over 20 women register."
While neither new Chabad family know each other, they have a great deal in common. All four adults grew up in homes that were Chabad houses. They also all have siblings who are running Chabad houses around the world. Once married, members of Chabad are eligible to go out and fill a need for a Jewish presence. The Mochkins have siblings in places as far apart as St. Petersburg, San Francisco and St. Denis, just north of Paris, the neighborhood from which the recent Paris attacks were organized. For the Shemtovs, there are siblings in Pu Dung, China, and, notably, Malmo, Sweden. "My brother-in-law just received the unfortunate title of most persecuted Jew," explained Bentzi Shemtov. "He lives in Malmo, Sweden, and he has reported over 600 hate crimes against him, but there are Jews who need him there so he stays."
For more information on either North Shore or Nanaimo Chabad, visit their websites: chabadnorthshore.com and jewishnanaimo.com, respectively.
Michelle Dodek is a freelance writer living in Vancouver.