The HMS Caroline, a First World War light cruiser, is worth visiting. (photo by Deborah Rubin Fields)
Identified for so long – from the late 1960s to the late 1990s – by "the Troubles," peace appears to be bringing both social and political stability to Northern Ireland. This, in turn, has led to an economic upswing.
Greater Belfast, and some of the other coastal towns, such as Derry, once had successful shipbuilding and textile industries. At the height of Belfast's shipbuilding, for instance, Harland and Wolff, the biggest company, employed 35,000 workers. Edward James Harland and Gustav Wilheim Wolff, who came from a German-Jewish family, started this company in 1861. They designed and built the White Line ships, the most famous of which was the doomed Titantic.
Heavy industries suffered during the Depression and were later largely knocked out of the game by the terrible decline during the Troubles – the 30-year conflict between the unionist and mostly Protestant majority, who wanted to remain part of the United Kingdom, and the nationalist/republican and mainly Catholic minority, who wanted an independent Northern Ireland – by Chinese industry and/or both. Today, Belfast's scaled-down dock industry focuses on ship repair and iron works.
Over the past 10 years or so, Northern Ireland has moved creatively to remember its more glorious industrial past. It maintains the history of shipbuilding in two ways: by awarding historic preservation distinction to two large, biblically named shipyard cranes, the Samson and the Goliath, and by recently expanding the whole area, which is referred to as the Queen's Island, to encompass the Titanic Quarter. If visiting, worth seeing are the HMS Caroline, a First World War light battle cruiser, local businesses (studios, etc.), educational facilities and apartment buildings, and worth doing are such leisure activities as boating and cycling.
Northern Ireland's maritime culture dates back hundreds of years. Paralleling the region's general history, Northern Ireland's naval life features a lot of rough water. Some locals might tell you it was the fairies, banshees and vampires that caused nautical disasters, but non-believers will tell you human error or unpredictable stormy weather caused numerous shipwrecks.
Thus, for example, while the Spanish had the money and manpower to fight the British fleet in the late 16th century, the rough coast of Northern Ireland, on-board disease and a scarcity of supplies wiped out a not-insignificant part of the Spanish Armada, mockingly referred to by non-Spaniards as the "Invincible Armada."
Since the late 1960s, Northern Ireland divers and archeologists have sought to locate some of the many ships that foundered along their coast. Fascinatingly, underwater discoveries are now exhibited in Derry's Tower Museum and at Belfast's Ulster Museum. Shipwreck sites are likewise marked along the stunning Giant's Causeway cliff path.
While on the subject of walks, Northern Ireland offers a lot of unspoiled, green countryside. If you're outfitted correctly, hiking is a great way to see this stunning part of the world.
Northern Ireland's extended social, religious, political and economic battles ended in 1998. Probably nothing currently recalls the Troubles more than the murals painted in Belfast and Derry. What visitors might not realize is that a significant number of the murals are actually part of the high walls separating the unionist (largely Protestant) neighborhoods from the nationalists (mostly Catholic) neighborhoods. Since the peace agreements, the barbed wire at the top of the walls has been removed, and the gates that nightly lock the sectarian neighborhoods are bolted by a private security firm rather than by British military or police.
The murals cover a wide range of topics. Understandably, some of these locally painted murals focus on remembering the significant events of the Troubles, such as the civil rights marches and Bloody Sunday. Some of the art portrays political allegiance; some pays tribute to dead paramilitary fighters; and some are memorials to murdered children.
Today, however, the murals have expanded their scope to include conflicts from around the globe, such as the Israeli-Palestinian conflict. The pro-Israeli mural on Northumberland Street is dedicated to Lt.-Col. John Henry Patterson, a Christian Zionist who commanded the Jewish Legion in the First World War. The pro-Israel mural seems to receive less respect than the Palestinian and, this past summer, it was vandalized in a reported hate crime. Similarly, two years ago, an Ulster History Circle plaque erected at Israeli President Chaim Herzog's Belfast birthplace was removed following defacement and building vandalism.
While on the subject of symbols of Northern Ireland, you may notice an open hand, often painted red, over building lintels. While it is hard to pinpoint the exact origin of what is known as the Red Hand of Ulster, it bears a similarity to Judaism's "hand of God." In Judaism, the "hand of God" has been a fairly common symbol, generally referring to God's stepping into human affairs, but can be a subject in and of itself. Moreover, in both Judaism and Islam, the five-fingered hamsa is used as an amulet against the evil eye.
Belfast has a small assortment of sites with a link to Judaism, its texts or symbols. For example, in front of Customs House, there is a large stone water trough dedicated to Francis Calder, who founded the SPCA in Belfast. The trough contains a quote from Proverbs 12:10: "A righteous man regarded the life of his beast." Close by is Albert Memorial Clock, dedicated to Queen Victoria's husband. Undoubtedly better known for the way the tower leans, due to a sandy base, it has six-pointed stars carved into the stone.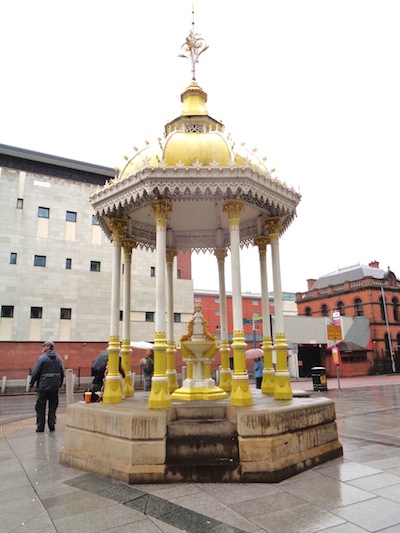 Not far from downtown's Victoria Square shopping mall, there is a striking yellow fountain donated by Daniel Joseph Jaffe (1809–1871), the founder of the Jewish community. Jaffe's son, Sir Otto, was the mayor of Belfast twice (1899 and 1904). Sadly, his German birth led to his leaving Northern Ireland. During the First World War, when the Germans torpedoed the Lusitania near Cork in May 1915, anti-German sentiment rose to the point where, even as a leading industrialist, philanthropist and naturalized U.K. citizen, Jaffe was accused of being a German spy. He left Northern Ireland in 1916 for London, England.
The most known Jewish and Canadian connection to Northern Ireland is a tragic one. On April 2, 1912, the Titanic left its Belfast shipyard. At its Southampton launching, it carried an unidentified number of Jewish passengers, some wealthy, established Jews, but many poor Jews seeking a better life in the United States. When the Titanic sank around Newfoundland on April 15, 1912, a small number of unidentified Jewish deceased were buried at Baron de Hirsch Cemetery in Halifax, N.S.
If you plan to travel to Northern Ireland, read This Man's Wee Boy: A Childhood Memoir of Peace and Trouble in Derry by Tony Doherty and Reading in the Dark: A Novel by Seamus Deane, and listen to Tommy Sands' "There Were Roses." Seek in-person and/or virtual assistance from the attentive staff at Discover Northern Ireland, Northern Ireland's tourist facilities (discovernorthernireland.com) and visit the small Belfast Jewish community's website (belfastjewishcommunity.org.uk) and its lively Facebook page. While you're in the country, you can attend Shabbat morning study sessions and services.
Deborah Rubin Fields is an Israel-based features writer. She is also the author of Take a Peek Inside: A Child's Guide to Radiology Exams, published in English, Hebrew and Arabic.