Leah Goldstein shares her life story in No Limits. (photo from Leah Goldstein)
Leah Goldstein put the "severe" into persevere. The physical demands and rigors she has experienced in her life include being a kickboxing champion, a Taekwondo champion, a professional road-racing cyclist, an officer in the Israeli commando and elite police unit, and a participant on the Race Across America, a 3,000-mile bike trek. The B.C. local recently published her memoir, No Limits, outlining the triumphs and the tragedies of her athletic life.
Lessons in fortitude and grit began with her grandparents – survivors of the Shoah – trickling down to her parents, who arrived in Canada from Israel with very little English and a hundred dollars to their name. To make ends meet, her parents worked opposite shifts.
"It's just the determination of somebody wanting something that bad, and would do anything to get there," Goldstein told the Independent.
That would be something of a mantra throughout her life, beginning with Taekwondo lessons at age 9. By 16, she achieved a black belt as National Junior Champion. She then moved on to kickboxing. While jugging high school classes, she became World Bantamweight Kickboxing Champion.
As a teenager, her coach had her follow a strict regimen of "no smoking, no drinking, no friends, no phone, no junk food, and seven days a week of training. I did exactly what he said and I didn't have a teenage life," recalled Goldstein, now 47.
She went on to win a slew of championships provincially, nationally and in the United States. "Those sacrifices were worth the payoff at the end," she conceded.
That distilled willpower carried into her Israeli military service. She became one of a handful of women instructors of the elite commando division and, later, a krav maga self-defence trainer for special unit soldiers.
Goldstein was one of only two women to successfully complete the harsh commando training of Course Madaseem, and the only woman out of about 30 recruits to graduate from a then newly established special program at the Israeli Police Academy. She went on to work in the undercover narcotics division, the intelligence services, anti-terrorism department, violent crime investigations, and was an instructor for officials and field workers.
In one 20-hour long grueling military training session that she describes, recruits subsisted on 30 minutes of sleep, then had to repeat the exercise. While many "dropped like flies," she learned that survival depended largely on what "happens in our mind."
That was a lesson that went back to her tournament days as a youth. As a second-degree black-belt kickboxer, she had won virtually every bout, but an admitted inflated ego led her to be distracted, and badly defeated, in one match in particular.
"Refocus, and be humble," she recalled her coach insisting. "And, with every opponent that I had, or any challenges, treat it like it's your biggest threat."
When she left policing, she shifted to professional cycling. While her law enforcement career left her emotionally tattered, it was cycling that left her the most battered and bruised physically.
In a Pennsylvania race just prior to the 2004 Olympics, she fell off the bike, breaking her hand. And then, in 2005, after winning nine of her first 11 races, she was involved in what she calls "the mother of all crashes" during the Cascade Classic – she landed on her face at 80 kilometres an hour, "breaking practically every bone in my body, ripping my face right off."
Doctors were astounded she survived at all, she said.
More astounding was her outlook on the situation: "I actually came back out of that stronger than I was prior."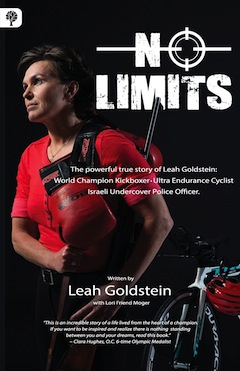 It was in 2007 approximately when she started to consider taking David Spanner's advice – he wrote a feature on her for the Province newspaper – to write a book for the purpose of inspiring others.
"I didn't understand that at the time because, when you're an athlete, you're very self-absorbed and everything is about you," she said.
The decision to write a book solidified as she did more public speaking engagements. Attendees were quite moved by her stories of resilience.
"I said, 'Woah, if my story is really that powerful, and I can potentially change lives and help inspire, motivate people, then this book has to be written,'" she explained. "For many of us, it's easy to be safe. We're so afraid to fail. But part of succeeding is facing failure. I think it's just having movement in life, and not watching great things that other people do, but starting to do great things and wowing yourself."
Goldstein walked her talk or, rather, pedaled her talk, returning to the racing circuit in 2011, winning the women's solo category of Race Across America, breaking the previous record by 12 hours.
"It's really using your mind," she said of perseverance. "When you feel every element of pain, and you're exhausted and tired, and you just don't want to be there – and then it starts raining and it's minus-two degrees – it's just all about being able to keep it together."
Dave Gordon is a Toronto-based freelance writer whose work can be found in more than 100 publications globally. His is managing editor of landmarkreport.com.