Sidi Schaffer's current exhibit, In Partnership with Nature, is at the Zack Gallery until March 3. (photo by Olga Livshin)
Sidi Schaffer's art has gone through several different incarnations. At the beginning of her career, in postwar Romania, she adhered to a realistic approach. "For several years, the central images of my work were people," she said in an interview with the Independent.
After her family immigrated to Israel, she continued her studies and received her art education degree. "At that time, I fell in love with the Impressionists, especially Cezanne, and started painting more landscape and still life," she said. "I tried to catch the essence, the light and beauty of my surroundings. Even my palette changed."
The next stage in her artistic development came after she immigrated to Canada in 1975. It was as if every country triggered a twist in her artistic road. "I needed to establish new roots and master new challenges," she recalled. "In 1980, I went back to school to study printmaking at the University of Alberta. They told me: 'Paint abstract, throw away realism.' I followed my teachers' good advice … and totally immersed myself in abstraction. I simplified my work; my focus became my inner world, my feelings and my emotions. The art-making process became a sacred ritual."
But pure abstraction didn't hold her interest for long. Her abstract compositions acquired random elements of realism. "I tried to make my works integrated, bring together abstract and figurative," she said. "I tried to express the concept of unity between the internal and the external, between the spiritual and the physical."
Her current show, In Partnership with Nature, which opened at the Zack Gallery on Jan. 31, combines her inclination towards abstraction, her love of nature and her ability to bridge the realistic and the spiritual in her paintings. It also highlights her innate optimism. The show is airy, uplifting and charming, the works prompting a quiet gladness in viewers.
It's about flowers, but in an oblique, complex way. "I love flowers," said Schaffer. "Nature is my biggest inspiration. When it surrounds me, I feel alive, free, and in awe of all its beauty and miracles."
For years, she has been drying flowers between pages of books. "I have piles of those books in my house," she said. "I always wanted to preserve the flowers' beauty, even after the original bloom. I have been doing it since I was a young girl…. In autumn, I also dry leaves with their amazing colours and abstract designs. Nothing is more beautiful. Sometimes, I pick a flower just to remind me of a place and time."
A few years ago, Schaffer decided to try and incorporate those dried flowers and leaves into her art. "I wanted to make them the subject matter," she said. "Every picture in this show, except one, has one or more dry flowers or leaves in them."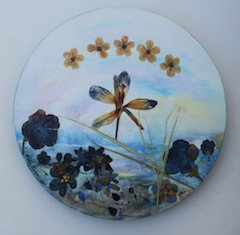 All of the images in the exhibit are mixed media. She experimented with acrylic and oil paint, with old prints and new drawings, with collage. The dried leaves or flowers form the heart of the compositions.
"I wanted to give them importance," she explained. "Some of the landscapes in this show look fantastic, because dry leaves play the part of trees. Some abstract collages were like memory boxes for me, with layers. There are dry petals there, and lettering and musical notes."
Schaffer's collaboration with the elements of nature tends towards whimsical. Flower petals float on the visual breeze. Mundane dandelions turn into exotic palm trees. Waves of musical notation sparkle with rainbow colours.
"I played with the images," said the artist. "I didn't take myself seriously when I prepared this show."
Schaffer said every image in the exhibit started with an idea. "But I never knew how it would come out," she said. "It's a process, a discussion between me and the flowers. Sometimes, it is a struggle. I look at the flowers and they supply more ideas. This one flower I had, I put it on the painting and the petals came off. I left them off, incorporated into the image.… From a flash of excitement to the end result, each image reflects my emotional journey. By the time I finish a painting, it seldom resembles my original starting point. What is important for me is the visual poetry, the relationship of form, space, colour and light."
Schaffer's exploration into creative possibilities is nourished by her rich inner life. Before her retirement, she taught art and painted commissions, but never, for example, something made specifically to harmonize with anyone's living room décor.
"I paint what is inside of me," she said. "I don't paint for anyone's sofa. I enjoy the hours I spend in front of my canvas. It is an intense emotional outlet and, when I'm finished, I feel happy, but, at the same time, drained and vulnerable."
In Partnership with Nature is at the Zack until March 3.
Olga Livshin is a Vancouver freelance writer. She can be reached at [email protected].