"Overseas" by Ivor Levin. (photo by Ivor Levin)
Ivor Levin's path to artistic photography was a long and gradual one. "Photography is my hobby," he said in an interview with the Independent, but one couldn't have guessed it from his solo exhibition at the Sidney and Gertrude Zack Gallery.
Levin's images reveal an artist's perception. Where anyone else might see a dirty warehouse, he sees a play of light and shadows, a mosaic of colors and shapes. Peeling paint on a wall or a rivet screwed into corrugated metal transform under the magic touch of his camera into fascinating pieces of art.
By his education and day job, Levin is a dentist. By inclination, he is an artist, walking around Vancouver in his spare time with his camera, capturing amazing and unexpected pictures.
"I like simplicity," he explained. "I don't like cluttered images. All my images have one focal point. I'm interested mostly in two genres. One is urban geometry and abstraction: I look for patterns there, for lines and colors. Another is street photography: when I find an interesting geometric setting, I wait there until a person appears, walks into my scene, and then I take a picture. I don't do landscapes or faces. No mountains. And absolutely no flowers."
Levin said there was always a camera in the house when he was growing up. He snapped pictures during family gatherings, trips and holidays, but, in the last eight years, his passion for photography deepened.
"I started looking around with more of an artistic eye," he said. "I also discovered Flickr and opened an account there, saw what other photographers were doing on the site and taught myself to achieve the effects I like. Gradually, people started noticing and liking my pictures, too. Friends and family were the last to notice, and they began saying: 'Your photos are so interesting; why don't you have a show?' It happened about two years ago."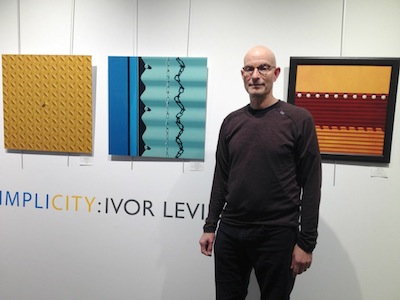 The idea of a show took root and, last year, Levin applied to the Zack Gallery. "I sent them a link to my Flickr account, and they liked it. They offered me a show. It's the first time I actually printed my photos. Before that, I only had them digitally, on my computer and on Flickr."
The show at the Zack – called Simplicity – reflects the artist's vision not only of Vancouver, his hometown, but also of some other places he has visited. One of his favorite hunting grounds for images is Granville Island, and a few of the images exhibited came from there. Others he found during his international travels, like "Overseas," which originated in Cape Town, South Africa. "There is the ocean there, and a swimming pool on the other side of the walkway, and the sky above. Everything is blue, but different shades of blue. When I saw a woman in a blue dress on that sidewalk, I knew I had to take the picture," Levin explained.
Most of his images depict bright and cheerful colors.
"I can appreciate black and white, too," he said, "but only when the image demands it."
One such image is his black and white street scene "Piano Man." He shot it under an overpass in Brooklyn, and its punchy graphics are only slightly enhanced by computer editing.
"I rarely use the images straight from the camera, but most of my modifications are minor," he said. "I adjust exposure and saturation. Sometimes, I crop or tilt the images."
Unlike many photographers, he doesn't use Photoshop, but rather the online program PicMonkey. He taught himself to use it, like he taught himself the other aspects of photography. "I learn from the other photographers' photos and from some internet sites," he said.
As the years go by, Levin spends increasingly more of his free time on his hobby, although he confessed that taking pictures absorbs him much more than the editing process. "I prefer creating with the camera, not with the computer," he said. "I'm always on the lookout for the 'Wow!' factor. In the beginning, I kept everything, thousands and thousands of images. Now, I'm much more selective. When I see an image, I know: it's a keeper. Otherwise, I just delete them."
Titles for his images are also important to him.
"I've always liked to play with words, make puns. For me, it's half the fun to find the right title for the image. Each one needs a catch phrase to catch the people's attention."
Despite his love for photography, he doesn't have plans to abandon his day job.
"I like my job," he said. "Of course, if I could make the same living with photography as I do as a dentist, I'd probably choose photography." He didn't sound too sure.
Simplicity is at Zack Gallery until Nov. 20.
Olga Livshin is a Vancouver freelance writer. She can be reached at [email protected].