When Jeanne Abrams told a friend she was planning to do her doctorate dissertation on an aspect of Colorado Jewish history, her friend replied, "What a wonderful idea! You'll hardly have any work to do." She proved wrong.
"While I was researching my dissertation and finishing up my PhD, I visited the Beck Archives of Rocky Mountain Jewish History at the University of Denver," Abrams told the Independent. "The director, when she retired, asked me to interview for the job. The rest is history. As director of the Beck Archives, one of my tasks was to become an expert on Western American Jews, and that's how the book came about," she said, referring to Jewish Women Pioneering the Frontier Trail: A History in the American West (New York University Press, 2006).
"I've always had an interest in American Jewish women, and found there were some differences that I wanted to point out, and that Jewish women played a very important part in settling and developing Jewish communities in the American West," she said.
Abrams herself was born to Holocaust survivor parents in Stockholm, Sweden. Sheltered there after the war by the Swedish Red Cross, her family moved to the United States when Abrams was less than a year old.
Through her research, she has learned that, in the United States, while Jewish men were very involved in city and organization building, it was often left to the women to develop religious continuity and community.
She said Jewish women "were in the forefront of founding synagogues, keeping Jewish tradition alive in the home, and they also branched out in many areas – particularly strong in philanthropy and charitable enterprises. At the same time, because of a combination of factors, including the more open environment in the West and that kind of spirit of adventure, Jewish women also really ventured into professions, into higher education.
"I think this environment in the West made this area of the country different for Jews in general. I certainly don't want to suggest that there was no antisemitism in the West but … [Jews] were more prominently accepted into general society, so American Western Jews, men and women … were often leaders in both the general community and the Jewish community simultaneously."
Throughout Denver's history, there have been many endeavours that have involved people of different faiths. As an example, Abrams cited the Denver Charity Organization Society, which was organized in 1887 by a Jewish woman, a rabbi, a Catholic priest and a Protestant minister. The society evolved into what is now known as the United Way.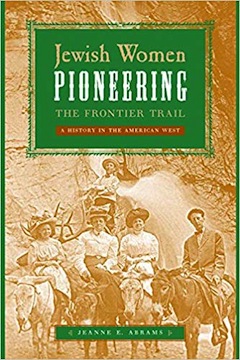 "Jewish women were also in the forefront of political life here in many ways, and I don't think that most people realize that women voted in the West long before they did on the East Coast…. We're coming up to the 100th anniversary of the amendment that allowed women to vote in the U.S.," said Abrams. "In 1893, women were already voting in Denver. It was the largest city in the U.S. in which women could vote. I think people often think of women's suffrage with the East Coast, New York, and minimize the amount of influence that early suffragettes had in California, here in Colorado, and in many other cities."
In 1899, the National Jewish Hospital was founded as a place for people with tuberculosis. It drew patients and staff from all over the country, and was funded by people all over the country. According to Abrams, this was likely one of the first national Jewish organizations to hire a Jewish woman in the role of executive director, in 1911.
While Abrams' research has primarily focused on Denver's Jewish population, she also has come across parallels in Canada.
"We know Jews have a very long tradition of philanthropy and social justice. I found that across the border as well," said Abrams. "But, in terms of the hospitals, when I studied them, I'd say, in Denver, the two Jewish sanatoriums actually had more interaction by women than I saw in Montreal."
With her book, Abrams wanted to impart a sense of appreciation for women in the American West – of them having been leaders.
"They've often been overlooked, because historians tend to be very East Coast-centric," she said. "I think that people generally seem to be surprised that there are Jews living out in the West. If they thought of anyone, they had the stereotype of cowboys living there."
While more people associate Denver with the gold rush, Abrams noted that more people actually came to Colorado in search of health than wealth, specifically referring to the tuberculosis treatments available.
These days, Abrams has mainly been studying early American history. Her most recent book was, she said, "on America's first three ladies. It's called First Ladies of the Republic: Martha Washington, Abigail Adams, Dolley Madison and the Creation of an Iconic American Role. I've moved back and forth, but I've enjoyed the different topics I've covered."
Rebeca Kuropatwa is a Winnipeg freelance writer.