The outdoor fair features live entertainment. (photo by Galit Lewinski)
The Jewish Community Centre of Greater Vancouver invites the entire community to its annual JCC Festival Ha'Rikud. The theme this year is "Seasons of Israel," with a variety of programs to inspire, inform and entertain visitors. The highlight of the month-long celebration, which runs May 9-26, will be the outdoor community fair.
Beginning at noon on Sunday, May 12, the JCC parking lot will be transformed into an Israeli street fair with food trucks offering shwarma, falafel, vegan Middle Eastern choices and other popular treats; a marketplace (shuk); live music performances; family activities; dancing and more. Admission is free and everyone is welcome.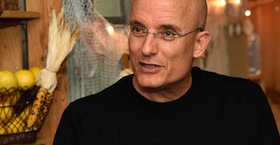 For Israeli dance lovers, there will be two shows in the Rothstein Theatre, at 1 and 3 p.m., featuring Orr Vancouver dancers and visiting performers from Mexico and Miami. For foodies, there will be a presentation at 5 p.m. by Gil Hovav, a leading Israeli culinary journalist, author, TV personality and speaker.
Other festival events include a group art exhibition in the Zack Gallery, which opens May 9; Israeli recreational dance workshops May 10-12, hosted by the Vancouver Israeli Folk Dance Society; an evening of poetry inspired by the artwork in the gallery, on May 16; and an Israeli song sing-along on May 26. Visit israelifestival.com for the complete schedule.